Democrats Need These California Seats to Win Back the House
Seven of the state's Republican representatives look particularly vulnerable in 2018. And they share a few things in common.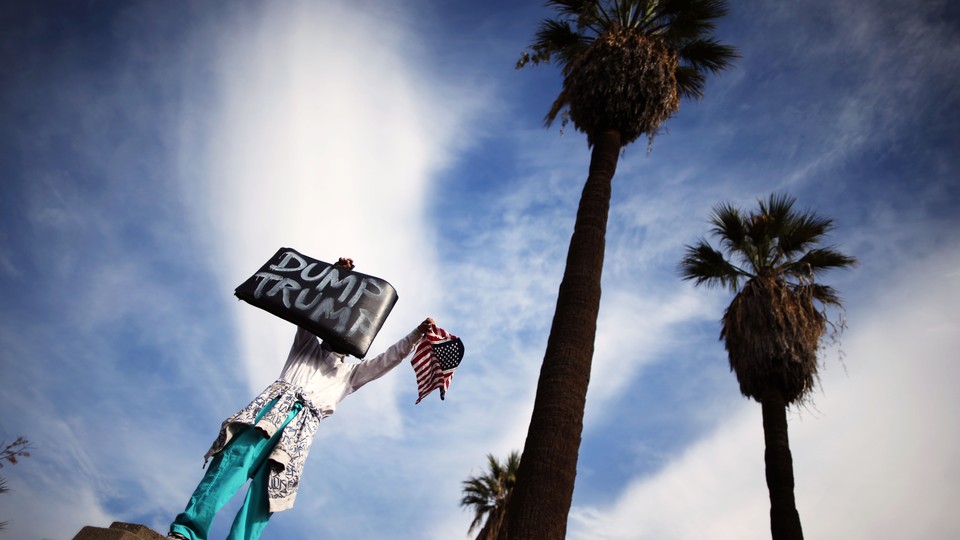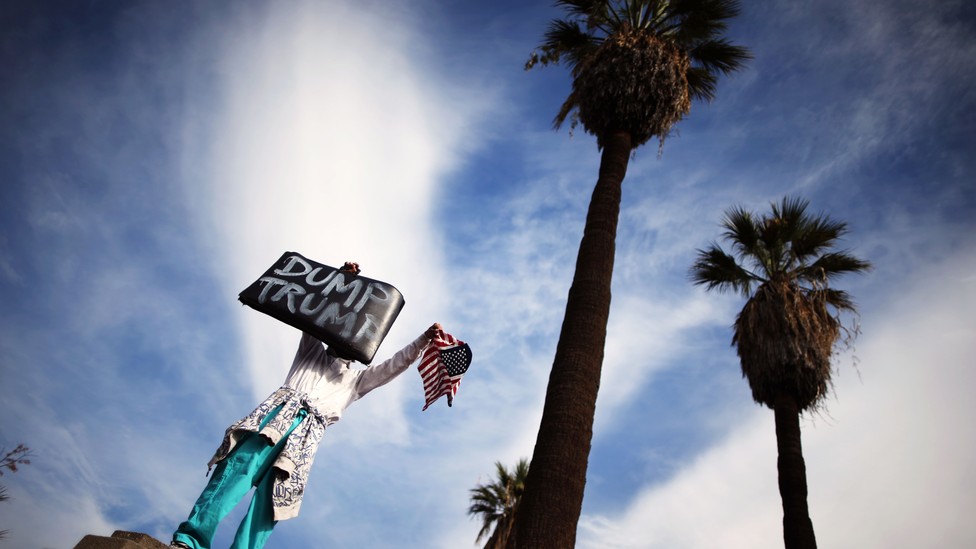 Despite its size, California has become little more than a fundraising stop in national elections because it has grown so reliably Democratic over the past two decades. But the razor-thin vote in the House of Representatives earlier this month to repeal and replace the Affordable Care Act has moved the state into an unaccustomed position: ground zero in next year's battle for control of Congress.
Even before the vote, the state began registering on the 2018 radar because seven of its House Republicans represent districts that backed Hillary Clinton over Donald Trump last November. That's nearly one-third of all Clinton-district Republicans in the lower chamber, and the largest concentration in any state.
But when all seven unexpectedly voted for the GOP health-care bill, California suddenly moved to the very center of Democratic efforts to capture the 24 seats the party needs to regain a House majority. "If they get back the House, they are going to have to take a big chunk of these seats," said Bill Carrick, a longtime Southern California-based Democratic strategist. "If you don't win seats here … then you have to chase Southern seats and rural Midwestern seats."
The unanimous support from the "California Seven" for the deeply controversial repeal bill was stunning in two respects. First, it clearly distinguished them from the 16 other Republicans in Clinton districts: Outside of California, more of those representatives opposed (nine) than supported (seven) the bill. Instead, their "yes" votes aligned them with the seven California Republicans from districts Trump carried. (That unanimity, California Republicans say, may have partly reflected personal loyalty to House Majority Leader Kevin McCarthy of Bakersfield.)
Even more striking, those repeal votes came even though California has arguably benefited more than any other state from the ACA. Nearly 4 million of its residents have gained coverage under the law, more than double any other state. California adults are now far less likely than people in demographically similar Texas and Florida to report difficulty paying medical bills or delaying needed care because of cost.
The California Seven represent two broad geographic areas. Five of them hold seats in Southern California: Ed Royce, Mimi Walters, and Dana Rohrabacher in Orange County; Darrell Issa in a district that straddles Orange and San Diego counties; and Steve Knight in the northern Los Angeles exurbs. Jeff Denham and David Valadao represent seats in the agricultural Central Valley.
Privately, Democrats acknowledge that allowing all seven to survive in 2016 was a missed opportunity. With Trump's insular nationalism deeply unpopular in diverse, global-facing California, Clinton won the state by more than any Democrat since Franklin Delano Roosevelt in 1936—and became the first party nominee since FDR's run that year to carry Orange County, a onetime conservative bastion now being reshaped by growing racial diversity and rising education levels. Crowded with the white-collar voters who recoiled from Trump, the SoCal districts held by Walters, Issa, Rohrabacher, and Royce were among the 30 nationwide where the president's performance deteriorated most from Mitt Romney's in 2012. Clinton also routed Trump by over 15 points in Valadao's district and beat him soundly in Knight's. (She carried Denham's seat only narrowly.)
Yet Democrats last year mounted serious, well-funded challenges only against Knight, Issa, and Denham, and came close to ousting just the latter two. Operatives in both parties acknowledge Democrats should be able to recruit more consistently strong candidates for 2018 because the state filing deadline for last year's election, in March, fell before it was clear Trump would win the GOP nomination. And, especially after the health-care vote, these races are guaranteed to draw more local and national media and fundraising attention than they did in 2016. Democrats are aggressively recruiting candidates even in the seats where credible 2016 challengers Douglas Applegate and Bryan Caforio are seeking rematches with Issa and Knight, respectively.
With California trending so Democratic, the Republican mantra in these seven seats has been to localize the races. And even Democrats acknowledge that several of the Republicans have effectively connected themselves to their districts. That's especially true for Valadao and Denham, whose districts have voted Democratic in all three presidential races since 2008. Knight and Issa also tried to establish distance from Trump by supporting an independent counsel on Russian election meddling before the Justice Department named former FBI Director Robert Mueller.
But maintaining separation from Trump will grow more difficult for the California Seven as they cast votes on Trump priorities, like the deeply conservative budget he released Tuesday. "In '16, polling showed voters separated Republican candidates from Trump and that helped all of these incumbents," said Kevin Spillane, a California GOP consultant. "Now Trump [will] be a central factor in these campaigns."
The California Seven will benefit in 2018 if turnout among strongly Democratic minorities and young people continues its usual falloff from presidential elections. But Census figures show that in almost all of these seats, the shares of minorities and college-educated whites—two groups persistently hostile to Trump—are growing: Minorities now represent over half the population in the Valadao, Denham, Royce, and Knight seats; just under half in Walters's; and around two-fifths in Issa's and Rohrabacher's. "These districts aren't the districts most of them got elected in," Carrick noted. The state's open primary system adds another complication: In next year's gubernatorial race, the two finalists both may be Democrats, potentially depressing GOP turnout and hurting these incumbents.
From its voters through its elected officials, no state has expressed more vehement opposition to Trump than California. And now, unexpectedly, no state has a greater opportunity to empower Democrats to hobble his agenda by winning back the House of Representatives.