DNC Chair Tom Perez to Meet With Pro-Life Democrats
The outreach follows controversy and questions over whether Democrats who oppose abortion are welcome in the party.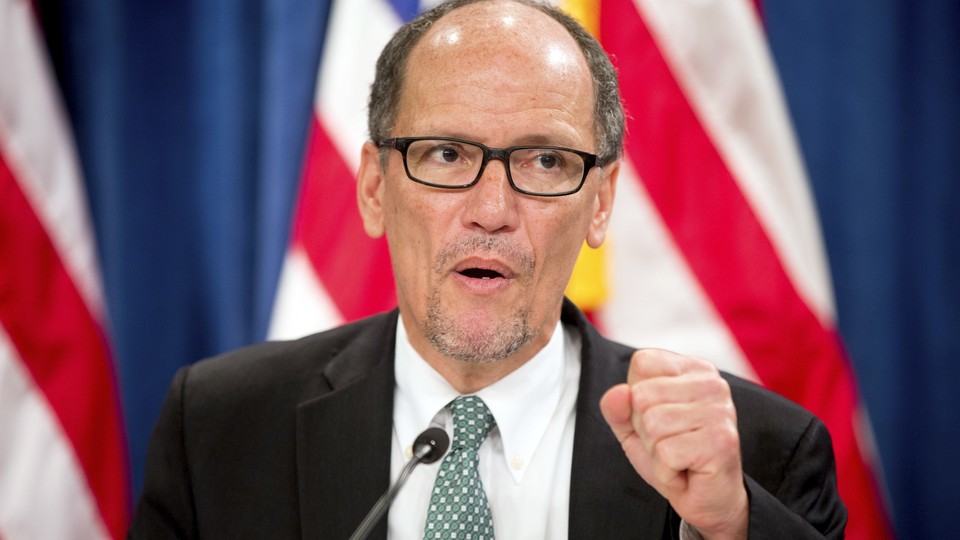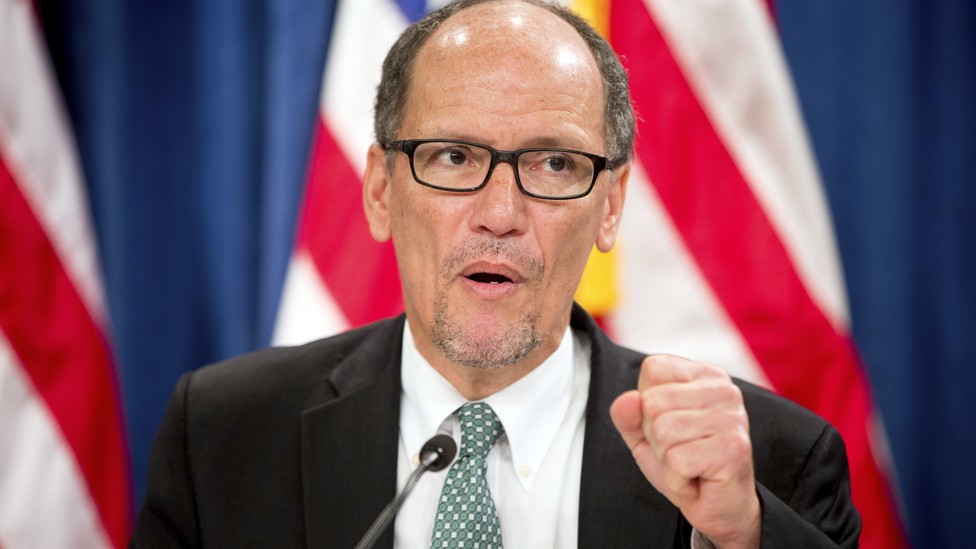 Democratic National Committee Chair Tom Perez plans to meet with pro-life group Democrats for Life of America, amid an ongoing controversy within the party over whether and to what extent Democrats should pursue voters who oppose abortion. Democrats for Life advocates for pro-life Democrats and describes itself as "the pro-life voice of the Democratic Party."
The meeting, which the DNC is setting up at the group's request, is one of several conversations that Perez is having with pro-choice and pro-life Democrats, an aide to Perez confirmed to The Atlantic. As part of that outreach, Perez has spoken with Democratic elected officials and party leaders, and held a meeting earlier this month with women's groups. The effort comes at a time when prominent Democrats are  attempting to walk a fine line between affirming their party's pro-choice platform and suggesting that there is room in the party for pro-life voters and candidates.
The party's 2016 platform supports access to "safe and legal abortion," and vows that Democrats will "oppose, and seek to overturn, federal and state laws and policies that impede a woman's access to abortion." The DNC recently named Jess O'Connell as it's new CEO, the former executive director of EMILY's List, which works to elect pro-choice Democratic women to office.
Earlier this month, Nebraska Democratic candidate Heath Mello lost a mayoral election in Omaha following national backlash over his "personally pro-life" views, and legislative record on access to abortion. At least some of Mello's supporters in Nebraska believe fallout from the controversy stalled the campaign's momentum at a crucial point in the race.
When news broke last month that Independent Senator Bernie Sanders, the country's most popular progressive lawmaker, and Deputy DNC Chair Keith Ellison would attend a rally with the self-described "personally pro-life" mayoral candidate, pro-choice organization NARAL Pro-Choice America went after the DNC, saying that its support of an "anti-choice candidate" was "disappointing" and "politically stupid."
Perez had previously suggested that the Democratic Party should not "demand fealty" on every issue, including abortion. After NARAL's criticism, however, the DNC Chair put out a statement widely viewed inside and outside the Democratic Party as a demand for unequivocal support for the party's pro-choice platform.
"Every Democrat, like every American, should support a woman's right to make her own choices about her body and her health," the chair said. "That is not negotiable." He added: "We must speak up for this principle as loudly as ever and with one voice."
A race against an incumbent Republican mayor in a state Trump won handily would not have been easy for any Democratic candidate, but a source close to the Mello campaign argued that backlash from pro-choice activists and Perez's statement that the party should speak "with one voice" on the issue of abortion, hurt Mello by opening him up to attack from national progressive groups and Republicans in Nebraska all at the same time.
Perez's comments on the race were used against Mello by his Republican challenger Jean Stothert. The Stothert campaign cited Perez saying "it is a promising step that Mello now shares the Democratic Party's position on women's fundamental rights,"—a reference to the candidates' pledge not to restrict access to reproductive healthcare if elected—to accuse Mello of having "dramatically changed his stance on [the] issue of life as an elected leader to satisfy pro-abortion activists." A mailer urging voters to pick Stothert pointed to the same Perez quote to argue that Mello was closely tied to "The Liberal Washington, DC Establishment," warning "Heath Mello Will Take Omaha Backwards."
"The fundamentals of the race were a challenge to begin with, but the whole situation did a lot of damage," the source close to the Mello campaign said, speaking on condition of anonymity. "The DNC chair shouldn't be saying things that can be interpreted as a litmus test that will alienate people from the party."
Red-state and pro-life Democrats denounced Perez's statement as a litmus test on the issue of abortion. And in the aftermath of the controversy surrounding the Mello campaign, prominent Democrats, and the DNC, have suggested that while the party advocates a pro-choice platform, there is room in the "big tent" for pro-life Democrats.
"The party does not believe in a litmus test," Xochitl Hinojosa, a DNC spokeswoman, said in response to a request for comment. "Our role is to support state parties and candidates up and down the ballot and that's exactly what we did when we invested in the state party in Nebraska as well as Mello's campaign." An aide to Perez told The Atlantic last month the DNC Chair never said he doesn't support pro-life candidates.
Democratic leaders in Congress, meanwhile, have argued even more explicitly that there is space within the party for pro-life voters and candidates.
House Democratic Leader Nancy Pelosi said last month that "of course" Democrats can be pro-life, while Senate Democratic Leader Chuck Schumer said that Democrats are a "big-tent party." Pelosi later told The Washington Post that Democrats are "not a rubber-stamp party," adding that there are people in her "family, extended family, [who] are not-pro choice. You think I'm kicking them out of the Democratic Party?" Pelosi and Schumer both have 100 percent ratings from Planned Parenthood Action Fund's congressional scorecard.
Appeals from prominent Democrats to the idea that the party is a "big tent," however, and news that Perez is expected to meet with pro-life Democrats have frustrated some pro-choice activists who fear that Democratic leaders are signaling that support for access to abortion is negotiable, despite the party platform.
"It's incredibly discouraging to hear what sounds like equivocating on this issue," said Erin Matson, a reproductive rights advocate based in Virginia. "That's what it looks like when Democrats, in Congress or at the DNC, indicate a willingness to support, or set aside time to meet with, anyone who doesn't believe that women's reproductive rights are fundamental human rights." Matson added that the DNC should be transparent about the details of Perez's outreach to pro-life Democrats, including who participates in any conversations with the chair, and what is discussed.
NARAL and Planned Parenthood declined to comment for this story.
For now, the DNC faces pressure to act as a sort of ideological compass for Democrats and show that it the party is learning from past mistakes. Part of the challenge in pulling that off, however, is that there remains widespread disagreement among Democrats over exactly where the party went wrong in the first place, and why its power has so severely eroded at the federal and state levels in recent years. Abortion is just one of the issues at the center of that ongoing debate.
A date has not yet been scheduled for the meeting between Perez and Democrats for Life, but it is expected to take place at DNC headquarters in Washington, DC.
Kristen Day, the executive director of Democrats for Life of America, said her organization hopes to make the case during the meeting with Perez that "there needs to be a stronger message from the top of the party on down that we want to include pro-life Democrats in the party." She added: "that means the party needs to help find pro-life Democratic candidates to run for office, help raise money for them, and help them win."
According to Day, Democrats for Life met with past DNC chairs, including Terry McAuliffe, Howard Dean, and Tim Kaine, adding that the group made attempts to meet with former chair Debbie Wasserman Schultz, but was not granted a meeting.
In an interview, Dean confirmed that he met with the group while serving as DNC Chair. "I don't believe we should exclude people from the Democratic Party just because they call themselves pro-life," he said.
A spokesman for Wasserman Schultz said she does not recall declining a meeting with the organization. As DNC Chair, Wasserman Schultz did, however, generally invoke the idea that the Democratic Party is a "big tent." Representatives for McAuliffe did not respond to a request for comment.
Jane Kleeb, the chair of the Nebraska Democratic Party, and a board member of Our Revolution, the progressive organization that formed out of the embers of the Sanders presidential campaign, said she has not been approached by the DNC to talk about Perez's intervention in Mello's race for mayor of Omaha.
Kleeb commented that if the DNC is reaching out to pro-life Democrats that would be "a step in the right direction," but added: "if the party has learned a lesson, it's a shame that one of the rising stars, not only in Nebraska, but in the party, [former Nebraska mayoral candidate Heath Mello] essentially had to become collateral damage for it to be learned."
Kleeb added: "I hope that never happens to another Democratic candidate ever again."