'A Mercy Move for Milwaukee'
As assistant secretary in the Department of Homeland Security, Sheriff David Clarke might have less direct authority than he wields over inmates in the county jails.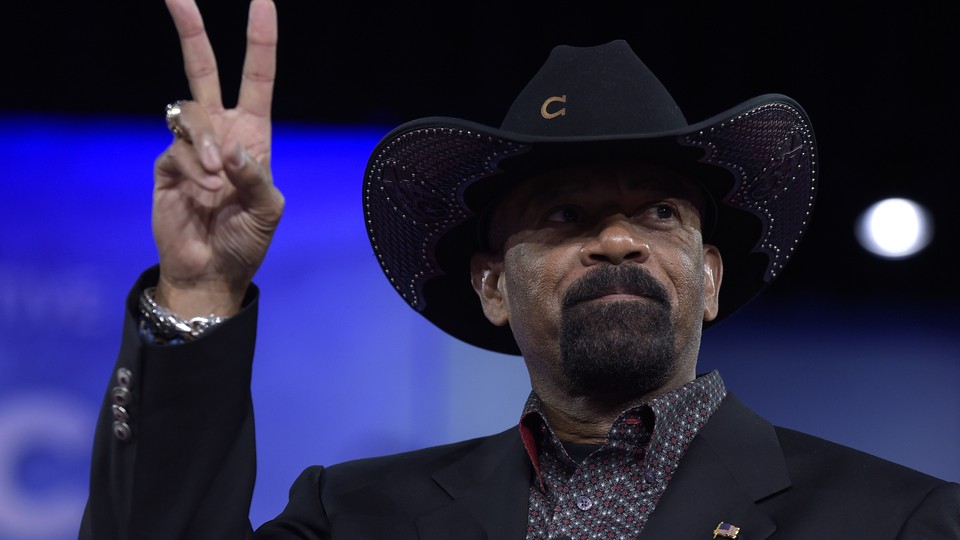 There's a good reason why the rumored appointment of an assistant secretary in a Cabinet department does not ordinarily generate a political uproar: It's not a particularly powerful position. In the government hierarchy, an assistant secretary falls below not only the Cabinet secretary, but also the deputy secretary, the under secretary, and a few other senior staffers.
Sheriff David Clarke, however, seems to court controversy whenever he speaks, and to the great dismay of his critics, he might be taking his Trump-era brand of political incorrectness to the Department of Homeland Security. The appointment of the Milwaukee County sheriff as the assistant secretary for public partnership and engagement isn't official, and it might not even happen: Clarke claimed in a local radio interview that the job was his, but as of Friday afternoon, his would-be boss, DHS Secretary John Kelly, had curiously refused to confirm his hiring. "No such announcement with regard to the Office of Partnership and Engagement has been made," department spokeswoman Jenny Burke wrote in an email.
Kelly's hesitation didn't stop Sebastian Gorka, the White House aide embroiled in his own recent PR troubles, from celebrating Clarke's news on Twitter. If he got the job, Clarke would be escaping a deepening scandal in Milwaukee, where since the beginning of last year four inmates have died in the jails he is responsible for overseeing. As many as seven officials, including two supervisors, are facing possible charges of neglect in the case of Terrill Thomas, who died from dehydration while in solitary confinement. Moving to Washington would take Clarke out of a position of direct authority into the middle of the federal bureaucracy, where his power would be more diffuse.
Democrats have sounded an alarm nonetheless. They're aghast at the message Trump might send by rewarding Clarke with a plum posting in the administration, and they sense that Kelly's delay in announcing his position might given them a final chance to scuttle the appointment. None have been more vocal than two of the three people who held the same job in the Obama administration, Juliette Kayyem and Phil McNamara. "This is like a joke," Kayyem told me, repeating a message she's delivered on Twitter and in an op-ed for CNN.com in the days since Clarke "announced" his new position. Kayyem served in the position for two years during President Barack Obama's first term, while McNamara held it for nearly the entire second term.
Clarke's name had been linked to higher-level jobs in the department, but the White House likely considered him for assistant secretary because it is one of the most senior jobs that does not require Senate confirmation. He wouldn't need Democratic votes to win approval, but his history of controversial statements—he refers to Black Lives Matter as Black Lies Matter—and his record overseeing Milwaukee County jails would probably scare off Republicans as well.
At DHS, the assistant secretary in charge of the Office of Partnerships and Engagement is on the same level as the FEMA administrator, the ICE director, and the TSA administrator. The job is largely a coordinating position rather than a decision-making one, and for the most part, it is performed out of public view. The assistant secretary serves as the department's chief liaison to governors, mayors, county executives, police chiefs, tribal leaders, and yes, county sheriffs. "As I called it, topic du jour," McNamara told me by way of describing his regular duties. "You could go from talking to them about immigration enforcement to talking to them about a FEMA disaster relief grant to talking to them about long lines at TSA checkpoints."
"It's truly a cross-departmental job," he said. "You went from Ebola one day to unaccompanied children crossing the border the next day."
Both he and Kayyem argued that Clarke's penchant for provocation made him exactly the wrong person for the job, which they said required someone who could work equally well with Republicans and Democrats. (Clarke actually runs as a Democrat in liberal Milwaukee, although his public policy stances are decidedly conservative.) Oftentimes, the assistant secretary is the first call for governors or mayors who need to complain about DHS policy. "Their teams knew that they could come to our office, that they could trust us," McNamara said. "We weren't going to be confrontational with them, and I'm not sure if Sheriff Clarke can do the same."
Kayyem and McNamara said they worried that Clarke could have a significant influence particularly in immigration and law-enforcement policy. The assistant secretary for partnerships and engagement would be heavily involved in the Trump administration's effort to force cities to cooperate on stricter immigration enforcement, and he would also have a role in determining how DHS distributed grants to local police departments. The Obama administration, for example, had started to pull back on sending heavy military equipment to local departments, and Kayyem said Clarke could reorient DHS toward favoring aid to cops instead of an "all-hazards approach" to grant-making that steered more money to public health programs.
Yet the assistant secretary's power is inherently limited, and dependent to a large degree on the authority the department secretary chooses to invest him with. Kayyem recalled that then-DHS Secretary Janet Napolitano brought her into high-level meetings and decisions. She dispatched her to the Gulf of Mexico to represent the department in the response to the BP oil spill in 2010, and she participated in meetings in the Situation Room when the government responded to the H1N1 flu outbreak.
That doesn't have to be the case if Clarke gets the job, particularly if it's an assignment forced on DHS by the White House. "Kelly could isolate him," Kayyem said. "The best-case scenario would be that he's not at the meetings."
There's no isolating Clarke in Milwaukee, where although his jurisdiction is limited to the county jails, he is directly responsible for the safety and security of nearly 1,000 inmates. For those who believe the punitive treatment of prisoners in his charge is endangering lives, couldn't his "promotion" to a middle-manager role in Washington be considered an act of mercy toward the citizens of Milwaukee?
Kayyem, for one, isn't about to concede that possibility. "It may be a mercy move for Milwaukee," she told me, "but it's a middle finger to the homeland."