'We're Trying to Create the Village Again'
A California nonprofit uses lessons on Latin American heritage to keep at-risk youth on the straight and narrow.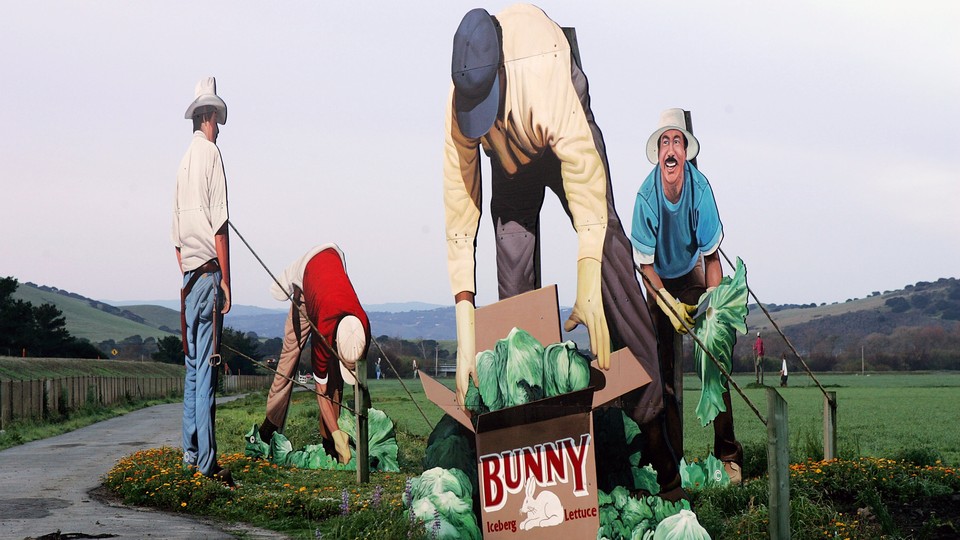 SALINAS, Calif.—On a recent Friday, Israel Villa had a lesson to share with the young adults at his office downtown: the meaning of the word palabra. It's a core concept of la cultura cura, which is Spanish for "culture cures"—the principle that there's a modern need to teach traditions indigenous to Latin America. Palabra, which translates to "word," stands for integrity and connection.
And for speaking up for yourself, Villa added, looking to the youthful black and brown faces looking back at him. "It's a tool that is needed. We should not be suppressed. In village cultures, where community was concerned, everyone was sacred," he went on. "Everyone was approached like they had power."
Villa, age 39, is a program assistant at MILPA, a nonprofit group designed, in part, for at-risk youth that's run by formerly incarcerated staff members. Its four-year-old program is rooted in teachings from the Aztec and the Maya, as well as peoples from the U.S.-Mexico borderlands—before there actually was a border. The participants meet at MILPA's office several times a week to share their achievements, vent about stressors, and learn from la cultura cura.
Through these sessions, staff members try to bring a sense of close community to the teens and 20-somethings, and help them steer clear of making choices that could jeopardize their futures. "We introduce cultural heritage and a political education. Some folks might be weary around their identity because they're ashamed of it, or removed from it, or unaware of it for a long time," said Juan Gomez, a co-founder of MILPA and its resident evangelist of la cultura cura. "We're going back to family values, to neighborhood. It takes a village to raise a child. What happens if the village is absent, is wounded, is hurting, is fragmented? We're trying to create the village again."
By his estimation, few of the 100-plus people who've gone through MILPA have ended up in legal trouble, save for relatively minor, drug-related infractions. That isn't a precise way to measure outcomes from the program—to show how and whether it achieves its goals. And it's difficult to tell, this early in its lifespan, whether its teachings will influence young people in the long term. But the participants themselves seem to believe in MILPA as a personally transformative force.
"When I started coming here, I was not in good shape. I was getting bad grades, I was asking my mom, 'Can I drop out?'" said one 17-year-old high-school student who is a MILPA regular. "I was so anti-everything." But "coming here and seeing more about my culture and my heritage, I felt more connected to it." And she began to change her mind about school.
MILPA, the Uto-Aztecan word for "field," is an acronym for Motivating Individual Leadership for Public Advancement. Its home of Salinas is about three-quarters Latino, just as most of the young people in the program are. Many of the area's residents are immigrants who migrated from Mexico to work in its vast agricultural fields; the city, about an hour south of Silicon Valley, has been dubbed the "salad bowl of America" because it produces so much of the country's greens.
But Salinas, in Monterey County, is also known for its youth violence. Dubbed the "youth murder capital of California" by Vice Magazine, the small, pop. 156,000 city had a 2016 homicide rate that was four times the national average, and higher than that of Los Angeles. According to 2013 government data compiled by a gun-control group, Monterey County had some of the highest homicide rates in California for people ages 10 to 24. Many of the recent cases appear to be gang-related. "You're poor, you're looking for power, you're looking for belonging," Gomez said, summing up the outfits' influence.
Gomez, who is 34 years old and grew up a half-hour north of Salinas, wasn't involved in gang activity growing up. But he did get into serious trouble at a young age: At 15, he was sentenced to seven years for non-fatally stabbing another teen.
It was during his incarceration that MILPA's roots began to grow. Through reading, he discovered Native American history, which whet his appetite to learn more about his Mesoamerican heritage. (His parents and grandparents moved to California from Mexico before he was born.) Shortly after his release, Gomez started working as a youth advocate for a nonprofit organization focused on "restorative justice," an approach to criminal restitution that emphasizes mediation and making amends. But the work—speaking at professional conferences, collaborating with social services—wasn't entirely fulfilling. It felt whitewashed, he said: "I was successful, but it was very challenging because I couldn't find me."
That began to change after Gomez was introduced to la cultura cura by Jerry Tello, the co-founder of a group called the National Compadres Network that trains people on its methods around the country. "I'm like, 'Oh shit, I can be successful by being a good man,'" he said, recalling how he took to the teachings. "I can be successful by feeling good about myself."
Four years ago, he decided to form his own organization with an eye on juvenile justice; he wanted to teach other kids lessons that he thinks his own teenage self should have heard. Most of MILPA's staff were also incarcerated in their younger years, which was a deliberate hiring decision: Gomez suggested that personal experience informs their work, and that the job has benefits for them, too.
Gomez puts his own spin on la cultura cura during lessons. On a given day, he may draw from Mesoamerican traditions, African American history, and contemporary culture. (He recently read work from American writer Rebecca Solnit and was compelled to introduce the concept of "mansplaining," which she coined, to his mentees).
At the meeting I witnessed—where Villa led a "healing circle," one of group's core practices—participants were given a chance to talk about anything weighing on them. In this group of a dozen or so mostly immigrant descendants, the presidency of Donald Trump was a common theme of their venting. Monterey County has the highest rate of undocumented immigrants per capita in the state of California. In East Salinas, where many of MILPA's members live, an estimated 18 percent of residents are undocumented and up to 40 percent of children have an undocumented parent.
Trump's campaign promises to deport millions of undocumented immigrants, as well as executive orders broadening enforcement, could have tangible consequences here. One young woman discussed how the president's rhetoric—particularly his allegations about immigrants' criminal histories—doesn't match reality within her own family. Another worried about her undocumented in-laws; she accompanies them on errands because they are scared to go out.
MILPA doesn't only get political in the context of these discussions. Indeed, it has something of a political arm. The staff members are regulars at rallies and at city and state legislative hearings—advocating for criminal-justice reform and immigrant rights—and Gomez is part of a state advisory committee on juvenile justice. The young people are encouraged to be activists, too: One recently made public comments at a hearing on state laws that would improve the standards at county juvenile lockups, and another told me she marched for Salinas to become a "sanctuary city," a jurisdiction that doesn't cooperate with federal immigration authorities.
Over time, MILPA participants become eligible to go through a right-of-passage ceremony, after which they assume a quasi-leadership role among the young people. The 17-year-old high schooler said MILPA staff offered praise at her own ceremony, describing her as a future community leader. "I felt honored, of course—they were speaking about me in such a high manner," she said. It affirmed that she was on the right path, and recently, she's started to ask her teachers about applying to college. At the ceremony, "I felt like, 'OK, I can actually do this,'" she said. "People see this potential in me and I can keep going."