Jeff Sessions's Agenda for the Civil-Rights Division
The Trump administration's budget envisions staff reductions and a diminished focus on traditional civil-rights enforcement.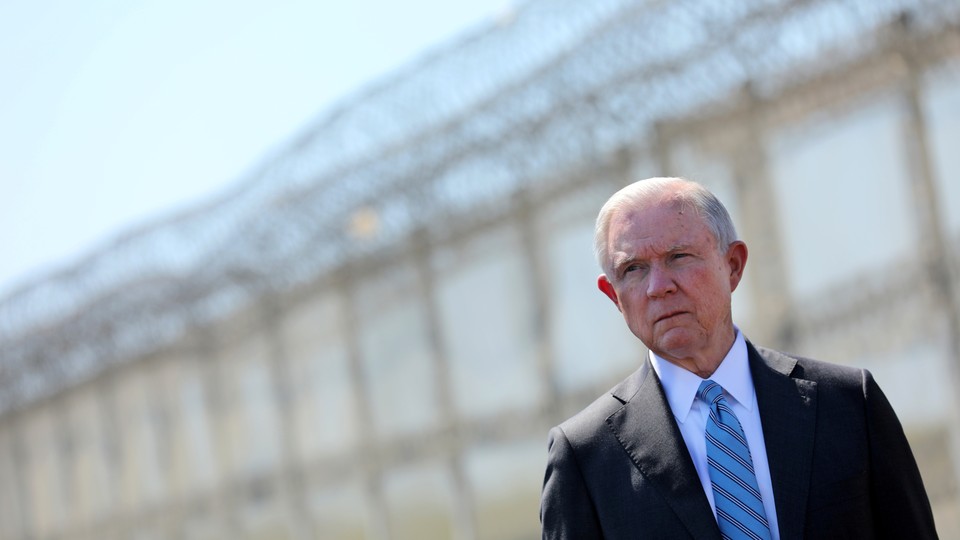 President Trump's proposed budget assumes a major reduction of staff in the civil-rights division, the section of the Justice Department charged with enforcing laws against discrimination and protecting the right to vote.
"This is especially troubling as communities continue to be hit hard by issues such as voter suppression, hate crimes, police shootings of unarmed civilians and other problems that call for a strong and robust civil rights enforcement agenda," said Kristen Clarke, a former civil-rights division attorney who now runs the Lawyers' Committee for Civil Rights.
Funding for the division remains virtually flat, with an increase of only $168,000 to its $148 million dollar budget. The proposal projects the civil-rights division would see a loss of more than 121 staff positions, including 14 attorney positions.
Vanita Gupta, who ran the civil-rights division from 2014 until 2017, and is now president of the Leadership Conference on Civil Rights, cautioned against reading too much into the budget proposal, but said the Trump administration had shown its hand in other ways.
"I don't think that public can know enough based on this," said Gupta. "I think what is more revealing is the actions taken by Jeff Sessions on LGBT rights, and police reform, and voting rights."
Since taking office, Sessions has rescinded Obama-era guidance on discrimination against trans students and announced his intention to end the civil-rights division's aggressive oversight of police departments, even seeking to rescind a court-monitoring agreement overseeing police in Baltimore.
Even without details however, the budget proposal also outlines priorities for the division, clearly reorienting it further towards Sessions's policy preferences, particularly on immigration. The budget proposal also makes no mention at all of fighting discrimination against people with disabilities, a notable change from the Obama-era 2016 request, which described it as a major priority.
The budget proposal states that the division will "prioritize enforcement of the Immigration and Nationality Act to ensure that companies do not discriminate against U.S. workers in favor of foreign visa holders." While the 1986 law does protect Americans from discrimination based on nationality, it has typically been used to prevent discrimination against workers who are assumed to be in the U.S. illegally but are not. Hiring non-citizens ineligible to work in the United States is already illegal, and enforcement of those laws is handled by Immigration and Customs Enforcement.
"This is a statute that has been used quite appropriately to protect Latinos, to protect Asian Americans and Asian immigrants from discrimination based on the concern or the stereotype that they aren't authorized to work when they are," said Samuel Bagenstos, a former high-ranking official in the civil-rights division who now teaches law at the University of Michigan. "This seems to change the orientation of that enforcement to go after employers who aren't hiring American workers."
The budget proposal may also bode ill for ongoing school desegregation efforts, Obama-era rules governing sexual assault and harassment on college campuses, and voluntary affirmative action or desegregation programs in schools. The budget proposal states that the division will "continue to work collaboratively with the Department of Education's Office of Civil Rights to review regulatory materials" and to "to prioritize the review of approximately 170 longstanding consent decrees."
"That means they're going to look through consent decrees and find which ones they can get rid of," said Bagenstos. The consent decrees they're talking about are school desegregation cases."
The section on voting rights is identical to the budget request from 2016, with one key sentence omitted in the 2017 version: a promise to "focus on detecting and challenging practices that violate Section 2 of the Voting Rights Act."
While the proposal states that the division will "continue to protect voting rights through efforts to detect and investigate voting practices that violate federal laws," Gupta expressed concern that might not accurately reflect the division's new priorities.
"It's not clear to me what that looks like in an administration that established the voter integrity commission with Kris Kobach at the helm," said Gupta. Kobach, the Kansas secretary of state, is a major supporter of restrictive voting laws across the country and has frequently overstated the extent of voter fraud in the U.S. as a justification. The voter integrity commission was established after President Trump blamed his popular vote loss to Hillary Clinton, a margin of close to three million votes, on voter fraud. Most voting-rights advocates fear the commission will be used as a pretext for pushing for more voting restrictions.
Civil-rights groups vocally opposed the nomination of Sessions for attorney general over past allegations of racist remarks and his civil-record in the Senate. Anticipating the opposition, the Trump administration sold Sessions as having a "strong civil rights record" that was in many cases embellished or fabricated.
During his confirmation hearing, Sessions sought to reassure civil-rights advocates that he understood their concerns.
"I deeply understand the history of civil rights and the horrendous impact that relentless and systemic discrimination and the denial of voting rights has had on our African-American brothers and sisters. I have witnessed it," Sessions said at the time. "I understand the demands for justice and fairness made by the L.G.B.T. community. I understand the lifelong scars born by women who are victims of assault and abuse."