Will Congress Save the Children's Health Insurance Program?
Funding for the 20-year-old law runs out in September, and a bipartisan extension is taking a backseat to the all-consuming Republican push to repeal the Affordable Care Act.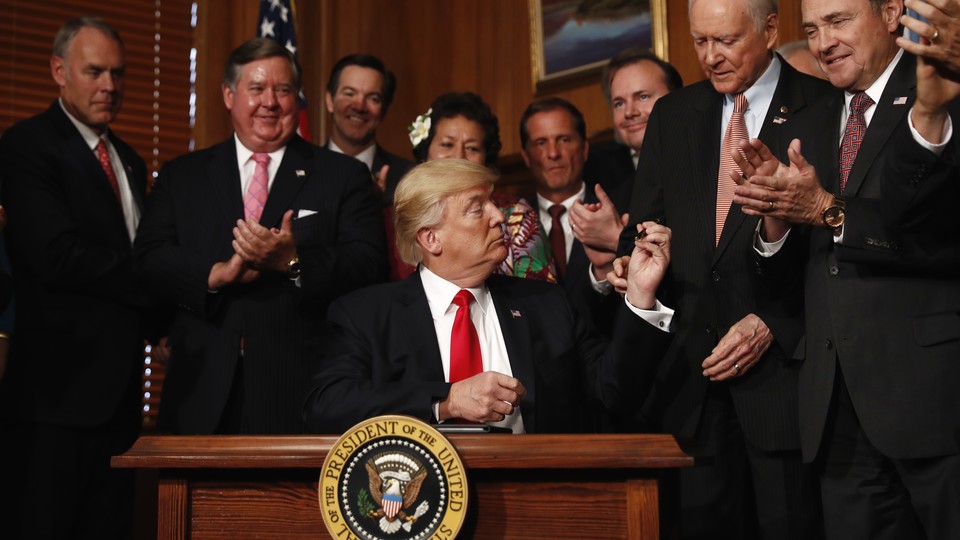 As Congress debates the future of the Affordable Care Act, will lawmakers forget about the kids?
Federal funding for the Clinton-era Children's Health Insurance Program runs out at the end of September, and its supporters fear the bitter ideological divide around Obamacare could threaten a bipartisan consensus in support of a law that insures nearly 9 million kids nationwide. "We're very worried, because this debate is going to drag on for some time," said Bruce Lesley, CEO of First Focus, a group that advocates on behalf of children and families. Now 20 years old, CHIP provides coverage for low- and moderate-income families through policies administered by the states with matching funds from the federal government.
In an indication of just how much legislative oxygen the Affordable Care Act is consuming on Capitol Hill, the Senate Finance Committee postponed indefinitely a hearing it had scheduled for Tuesday on the future of CHIP as soon as House Republicans passed their bill last week to partially repeal and replace the much broader health law. Aides in both parties said that senators were concerned that the policy fight over the American Health Care Act—and in particular its deep cuts to Medicaid—would dominate the forum instead.
Congress enacted the Children's Health Insurance Program in 1997 as a more modest and more bipartisan expansion of federally funded insurance than compared with the failed bid of Bill and Hillary Clinton for universal health care in 1994. George W. Bush vetoed efforts to increase the program's reach, but Democrats succeeded in expanding it once Barack Obama took office in 2009 and again as part of the Affordable Care Act a year later. The Obama administration and Republican congressional leaders struck a deal in 2015 to reauthorize the program, which by then had been credited with helping reduce the uninsured rate among children from nearly 14 percent two decades ago to under 4.5 percent.
As with so many long-standing policies, Donald Trump's election in November threw CHIP's future into question. Would Republicans now fully in charge of the government maintain their support for a program associated with Trump's opponent at the same time as they tried to dismantle the Affordable Care Act? Noting that there was now "uncertainty about other sources of coverage," the Medicaid and CHIP Payment and Access Commission pressed lawmakers in January to extend the program's funding for another five years. "At this time, the urgency of congressional action to preserve health-insurance coverage for the nation's low- and moderate-income families cannot be overstated," wrote the commission's chairwoman, Sara Rosenbaum.
So far, however, Congress has done nothing aside from scheduling its now-cancelled hearing. Advocates were hopeful that once the House initially failed to pass the GOP health-care bill in March, it would create an opening to reauthorize CHIP. But now that the Senate is taking up its own Obamacare repeal bill, "all bets are off," Lesley said.
It often takes a deadline for Congress to act, and there's little concern yet that the House and Senate will let CHIP's federal funding lapse entirely. But the program's advocates say lawmakers must move by this summer or as many as 1.1 million families will receive letters warning them that their insurance policies could end. Millions more would not necessarily lose coverage immediately but could face higher costs if federal support for the program runs out. "The closer we get to the deadline, the more havoc it wreaks," said Lisa Shapiro, vice president of First Focus. Families "start feeling like [CHIP] is not an option for them any longer. And it's hard to get those families back once they think the program is up in the air for their kids and is not going to be there for them any longer." Adding to the legislative headache is the litany of other urgent deadlines Congress will face in September, when lawmakers are likely to confront both a possible government shutdown and a must-pass increase in the debt ceiling.
Some states operate CHIP through Medicaid, while others run it as a separate program. The GOP's health-care bill does not directly affect CHIP, but its more than $800 billion in cuts to Medicaid could force more families to turn to CHIP and raise the cost of the program to the federal government. And that uncertainty will make it difficult for Congress to determine its funding before it settles the question of Obamacare. "We'd like a bipartisan CHIP extension, but we don't even know what world we're going to be living in when and if we get to that stage," a Democratic congressional aide told me.
For the moment, both parties are trying to maintain a sense of comity around CHIP—at least in comparison with their rhetorical fisticuffs over Obamacare. "There is a bipartisan desire within the Finance Committee to ensure funding for CHIP is continued and services for vulnerable children [are] maintained," said Amelia Breinig, a spokeswoman for Senator Orrin Hatch of Utah, the committee's chairman and an original co-author of the program. "Chairman Hatch is currently working with members to find a viable path forward."
Yet Hatch has not rescheduled the hearing that was scrapped for Tuesday, and after a party meeting in the afternoon, Republican senators said their top priority for the next several weeks would be trying to write a new health-care bill. The Children's Health Insurance Program, and the millions of families who rely on it for coverage, will have to wait.