Should Communities Have a Say in How Residents Are Punished for Crime?
A new "restorative justice" court in Chicago will test this idea, by soliciting broader input on how offenders can make amends and stay out of jail.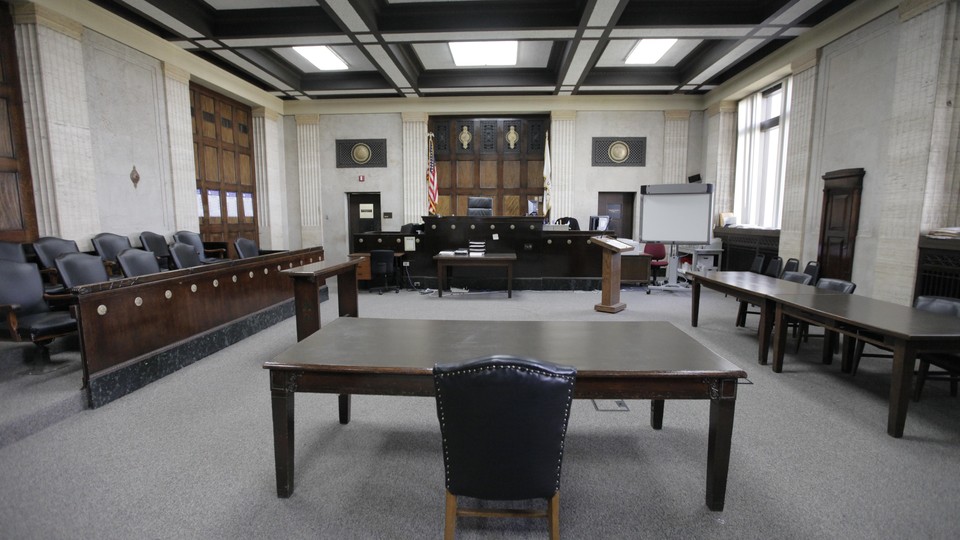 CHICAGO—In most courts in the Cook County district, a person accused of a crime will have their case decided in a courtroom, by a judge. There's little attempt to tackle any issues underlying the crime, and few alternatives to incarceration if they're found guilty.
A new court opening this summer in Chicago's North Lawndale neighborhood is looking to change that equation for some offenders. The Restorative Justice Community Court will offer select young people charged with non-violent felonies or misdemeanors another way to redress alleged wrongs. Backed by a Department of Justice grant, the court will test whether its more holistic approach to confronting crime—offering mediation between the accused and accuser, and restitution targeted at the local community—will result in fewer young adults going to jail.
"It seeks to really create a new way of looking at the harm from crime," said Judge Colleen Sheehan, the court's overseer, adding that its processes will emphasize crimes' effects on the neighborhood and amplify victims' voices. She's been working since 2014 to integrate restorative justice into the circuit court, per a directive from its chief judge.
The Circuit Court of Cook County was one of 10 jurisdictions around the country chosen last year to receive two years of funding, or $200,000, to pilot a community court—the likes of which, the Justice Department played up in its announcement, "can reduce crime and substance use, increase services to victims, reduce unnecessary use of jail, save money, and improve public confidence in justice." The North Lawndale grant is administered by the Center for Court Innovation, a public-private partnership between New York state's court system and a community-development charity.
Chicago's court is distinctive among the grantees because of its foundation in restorative justice: a philosophy for dealing with conflict that brings together the victim, the person who allegedly harmed them, and community members to settle on an agreement for making amends. While the techniques used in restorative-justice programs aren't new—they are connected to peacemaking sessions long used by Native American and Aboriginal communities and their courts—they began to be more commonly employed during prison-reform movements in the 1970s.
Today, the use of restorative justice is increasingly popular in classrooms and community organizations across the country—including in Chicago—and it's slowly being integrated into the traditional criminal-justice system. Courts in Colorado and New York have also incorporated its elements. The tools of choice are often a peacemaking circle, where the group discusses the crime committed and a possible solution, and a "repair from harm" agreement, which details the next steps the offender must take.
The North Lawndale court will be run entirely on a restorative-justice model, using those very tools. Stakeholders—including a board with local residents, representatives from the broader court system, and authorities on restorative justice and court reform—are regularly meeting to establish procedures ahead of its launch as early as this summer.
For now, the enrollment process will work like this: Offenders will be diverted to the court through a screening system already set up by the state's attorney's office. If prosecutors come across someone qualified to take part—North Lawndale resident, 18 to 26 years old, charged with a non-violent felony or misdemeanor that was committed in the neighborhood itself—they'll offer the person a chance to visit the court and learn more about it. Then, at the defendant's next court date, he or she can choose whether to continue the proceedings in the restorative-justice court instead. The court expects to see 100 offenders in each of its first two years—primarily for crimes like burglary, property damage, and theft.
There are open discussions on nearly every aspect of the court's setup, from how an individual will be greeted when they arrive to where documents will be housed, Sheehan said. The board hasn't confirmed a space for the court yet, but is considering using a closed school in the neighborhood. "When somebody comes through this court, it will look and feel different," she said. "There is a real intention to be welcoming."
That welcoming atmosphere is key: The court's success and survival depend substantially on the cooperation of victims, who might be skittish about attending. After all, the court will require them to face not only someone who's allegedly harmed them, but to find solutions in front of representatives from the broader community. If a wronged party isn't willing to participate, the court isn't likely to take up an offender's case—although in some circumstances, Sheehan said, a victim may be able to send a representative in their place. Crimes without a clear victim, which are many, are also unlikely to be accepted; those offenders would continue to be routed through the traditional system.
North Lawndale was chosen from among a handful of other neighborhoods to house the court, in part because of its distinctive history of community organizing. In 1966, Martin Luther King Jr. chose North Lawndale, known at the time for its poor housing and endemic poverty, as his base for activism in Chicago. Fifty years later, the majority African American neighborhood still struggles with those issues. "This area here represents the poorest of the poor in the city of Chicago," activist Billy Lamar Brooks Sr. noted in a 2014 Atlantic documentary filmed in North Lawndale.
It's also home to an innovative social program that already employs restorative justice. Since 2015, the Community Restorative Justice Hub—a coalition of community groups, police, and local politicians—has worked to extricate young people from the criminal-justice system. Advocates for the court hope that because of the hub, some in the community may already be familiar with the principles under which the court will operate.
Cliff Nellis, the executive director of the Lawndale Christian Legal Center, who co-chairs the court's steering committee with Sheehan, told me he wants the court to mitigate some of the distrust residents feel toward the traditional criminal-justice system. "This court will function so much outside the regular system. You aren't trusting the judge or the prosecutor—you're trusting your neighbor who is sitting in the circle next to you," said Nellis, whose center provides cheap legal services to young people and oversees the hub. "This court has got great potential to be a far more effective court, the likes of which we've never seen."
Betty Allen-Green, the executive director of the Lawndale AMACHI Mentoring Program, which connects troubled young people to adult mentors, anticipates the court will offer people consequences for their actions, but not push them into a situation where a felony conviction dogs them for years—keeping them from decent employment or housing. "I think this court will be one of the best things that has ever happened to our community," Allen-Green said. "We have a lot of kids who have excellent leadership skills, but we need to redirect them in a positive manner."
Juvenile courts in the area already offer victim-offender mediation that's based on restorative-justice principles—another way residents might be aware of the court's underpinnings. But when an offender turns 18, he or she is booted into the adult system. More young people ages 18 to 24 go through Cook County Jail than any other age demographic. The facility is the largest single-site jail in the country and has struggled with chronic overcrowding. According to a dataset released by Smart Chicago Collaborative's Civic Works Project—a technology-focused civic-development program—nearly 50,000 people ages 18 to 24 were convicted in the circuit court between 2005 and 2009, compared with about 26,000 people aged 25 to 29.
Sheehan, who serves primarily as a judge in Cook County's juvenile courts, argues that the population of "emerging adults"—as these 18- to 24-year-olds are called—should be offered more flexible punishment when they commit a crime than the adult system provides, because their reasoning capacity is still developing. "Many of the people I work with are so young, and there is so much possibility for their lives," Sheehan said.
There are challenges still ahead for the court, including the matter of additional funding. Though the Justice Department grant will sustain it for two years, from the start participating offenders may need resources to fulfill the terms of their court sessions. For example, a "repair from harm" agreement could mandate that an individual secure a high-school diploma, undergo drug or alcohol treatment, or connect with another social service. (Terms could also include something more community-focused, like cleaning up an area that the individual burgled.) Beyond other, more individual constraints that could affect offenders' ability to fulfill agreements, budget woes up through the state level could make accessing social services difficult. Illinois's legislature hasn't passed a budget in over a year, resulting in drastic cuts to social services, and Cook County is expecting a $174.3 million budget shortfall in 2017. Several social-service agencies in Chicago have cut back on mental-health and substance-abuse programs, in large part because of the state budget.
Nellis acknowledged that funding for social services is a concern, but suggested it's one they are planning for. The restorative-justice hub is hiring for a position that will be focused on fundraising, either through grants or other partnerships, to help offenders follow through on their agreements. That could mean paying for someone's GED, or giving funding to another organization where offenders can seek treatment. "We are going to make sure the mental-health providers and social-service providers in the neighborhood have the money they need to provide services," Nellis said.
Another challenge is a conceptual one: how to operate between the opposing philosophies of restorative justice and the mainstream criminal-justice system. The court's backers worry that the latter could, even inadvertently, influence the new setup—that the community court will be more punitive than originally intended, for example, or that it won't effectively develop an agreement satisfying to all parties. "The criminal-justice system for years has been doing the opposite of generating further investment in the community by removing people who have caused harm … and meting out punishment that is often unrelated to the needs and desires of the person who was harmed," said Sharlyn Grace, an attorney at the advocacy group Chicago Appleseed Fund for Justice and a member of one of the new court's working groups. "Given all of that, trying to create a restorative-justice process that operates with fidelity inside the traditional criminal courts is a really challenging and important effort."
Offenders, too, will play a significant role in the court's future: Can it truly redirect them away from the traditional system, including incarceration, and prove the model's success? And what happens if the court is successful and begins to expand—can it maintain its record with more cases?
For his part, Tim Evans, the circuit court's chief judge, is already thinking beyond North Lawndale—watching closely to see if the model can be replicated in other neighborhoods around Cook County. He sees potential promise outside of the city, too: "If we can get something like this to work in Chicago, it can work in Los Angeles or Detroit or Miami."
Once the court opens its doors, Judge Sheehan hopes it will be healing to young people who today face sometimes-exorbitant punishment for their crimes, and to victims who, in the traditional criminal-justice system, get short shrift. "The victims I have known are very generous, and they really just want something good to come out of a negative thing," she said. And for the offender, the restorative-justice process "can keep a person accountable and allow them to pay their debt, so to speak, so they do not have to pay it over and over again by being saddled with a felony conviction for the rest of their life."
City Bureau contributed reporting to this story.