Can Jeff Sessions Be Independent?
Recent revelations suggesting the president pressured his now-ousted FBI director raise questions about the attorney general's autonomy.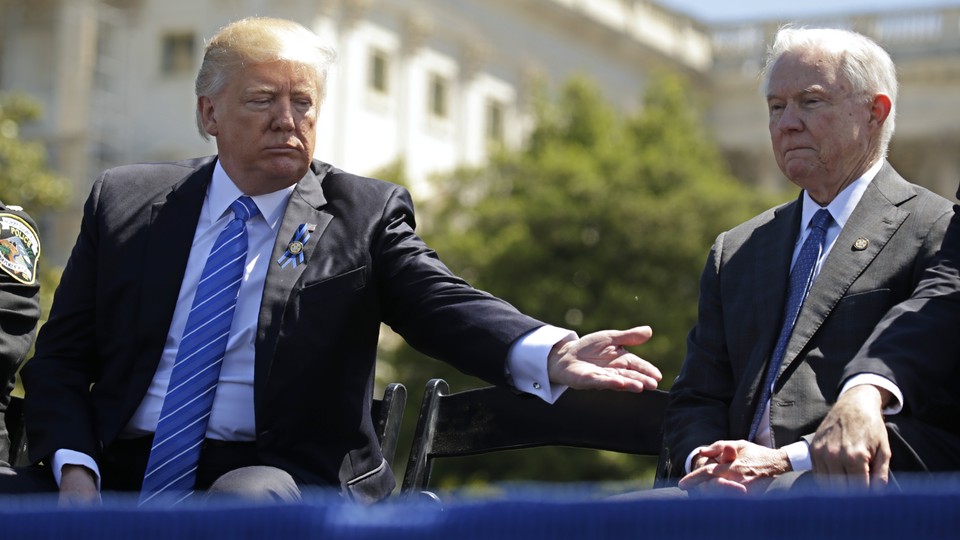 The appointment of former FBI Director Robert Mueller as special counsel in the investigation into Russian interference in the 2016 election briefly united Republicans and Democrats in praise. It followed a week in which President Trump was engulfed in a political storm over whether or not he pressured former FBI Director James Comey to end a criminal investigation into Trump's former National Security Adviser Mike Flynn during a private conversation at the White House.
But despite the universal approval of Mueller's selection, those developments also raise questions about the independence of the Justice Department and Attorney General Jeff Sessions. The New York Times reported that Trump asked Sessions and Vice President Mike Pence to leave the room before he broached the subject of Flynn with Comey.
"Why did Sessions leave the room? What did he think the conversation was going to be about, basketball? Or something under Comey's jurisdiction?" asked Bruce Green, a former federal prosecutor and associate counsel in the Iran-Contra affair, now a law professor at Fordham University.  "The White House has denied it, so if he knows it's true, doesn't he have an obligation in some forum to step up and tell the truth? He understands, or he ought to, that the president telling the FBI director to shut down an investigation is improper."
As the attorney general, Sessions plays a unique role in the Cabinet, because his job is not simply to serve the president but ensure that the president himself follows the law. Sessions said as much during his confirmation hearing in January.
"The office of the attorney general of the United States is not a political position, and anyone who holds it must have total fidelity to the laws and the Constitution of the United States," Sessions told the Senate Judiciary Committee. "He or she must be willing to tell the president no if he overreaches. He or she cannot be a mere rubber stamp to any idea the president has."
Trump's admission that he had the Russia investigation in mind when he dismissed Comey, and reports that contemporaneous notes taken by Comey indicate an attempt by the president to shut down the investigation into Flynn, have prompted accusations that Trump engaged in obstruction of justice at worst, or at best improperly tried to influence a federal investigation.
"It's inappropriate for the president to have a conversation with the FBI director about any criminal investigation, let alone involving his campaign and his close associates," said a former high-ranking Justice Department official.
"It is Sessions who is ultimately responsible for guaranteeing DOJ's independence," said Matt Miller, a former spokesperson for the Justice Department under Obama.  "If he had any suspicion the president was making this sort of inappropriate request, he needed to find out and make it clear to the president that this kind of interference was unacceptable."
The events as recalled by Comey also raise other questions about the extent of Sessions's knowledge of these events and his independence as attorney general. In March, Sessions recused himself from "any existing or future investigations of any matter relating in any way to the campaigns for president of the United States" after revelations that he misled the Senate about the extent of his contacts with Russian Ambassador Sergey Kislyak during the 2016 campaign. Mueller was appointed by Deputy Attorney General Rod Rosenstein, due to Sessions's recusal.
But even after his recusal, Sessions went on to participate in Comey's removal, and in the selection of his potential replacement. Sessions reportedly recommended that Trump replace Comey, a Republican with a reputation for independence, with Texas Senator John Cornyn, the second-highest ranking Republican in the Senate. No one, let alone a party leader, has ever gone directly from elected office to serve as FBI director.
On Wednesday, 11 Senate Democrats signed a letter urging the Department of Justice's inspector general to open an investigation into whether Sessions violated his recusal pledge by participating in Comey's firing. The letter states that "the president's recent admission that Comey was fired, at least in part, due to the Russia investigation only raises further question about the role of the Attorney General in his termination, his willingness to provide cover for a political decision, and both his and the Department of Justice's ability to perform an independent investigation."
Sessions's conduct after the fact is just one of the questions the Comey memo raises. If Comey's notes are accurate, why did Sessions leave the room when asked given the fact that he knew Trump associates were under FBI investigation? When did he learn about Comey's notes describing an attempt by the president to shut down an investigation into a former advisor? Why did he believe that his recusal did not cover Comey's dismissal or the search for his replacement? Did he know about the contents of the Comey memo prior to his firing Comey? And what actions has he taken since? I posed all of these questions to the Department of Justice, which declined to comment.
On May 9, Comey was fired by Trump with the approval of Sessions and Rosenstein. Rosenstein wrote a memo arguing that Comey's conduct related to the investigation into Hillary Clinton's emails during the 2016 election, particularly his press conference excoriating Clinton while declining to seek criminal charges, and his late October letter to Congress indicating that the case had been re-opened, amounted to misconduct.
Two days later, in an interview with NBC News's Lester Holt, Trump acknowledged he was thinking about the Russia investigation when he fired Comey, and that he had decided to dismiss him before Rosenstein even made his recommendation. Then on Tuesday, The New York Times reported notes from Comey written in February described Trump pressuring the FBI director to end his investigation into Flynn, after asking Pence and Sessions to leave the room.
Several former Justice Department officials told me that, if the events described in the Comey memo are accurate, Sessions never should have left.
"Absolutely, Attorney General Sessions should have stayed in the room, but he at least should have asked why he was being asked to leave the room and asked to stay given the topic," said Dawn Johnsen, law professor at Indiana University who was a high ranking official in the Justice Department's Office of Legal Counsel, which is charged with ensuring the executive branch acts lawfully. "As much as I disagree with him on so many policy issues, he has a very important responsibility to direct President Trump in the right direction in terms of complying with the law, that's his number one job right now."
Johnsen emphasized that much about Sessions role isn't known—including whether Sessions asked to stay and was rebuffed or whether he sought to find out what was said during the meeting.
Others disagreed. "Sessions is not as I see it, to be criticized for having left," said John Q. Barrett, a former counsel for the office of the prosecutor in the Iran-Contra affair and a law professor at St. John's University. "If I were Sessions and I was bounced from the room, I would consult with my advisers, and then through my advisers, have multiple people approach Comey to find out what happened." If Sessions had asked Comey directly immediately after the meeting, Barrett points out, he could have made himself a witness to a potential crime.
If Sessions knew that Trump was firing Comey over the Russia investigation, or that Comey believed the president had pressured him to dismiss the inquiry into Flynn, Johnsen said, that could put Sessions in a position where he might be obligated to resign.
"When you go to the Department of Justice as a top official, you know part of your job is sometimes to say no to the president, and to keep him from doing anything illegal, because you're serving the nation, and not the president as an individual," said Johnsen. "That's something everyone who goes into the Department of Justice knows."