All the Lessons Republicans Didn't Learn From Democrats on Health Care
From making unrealistic promises to striking back-room deals, the GOP is repeating the same mistakes in trying to repeal Obamacare that they criticized when it was enacted.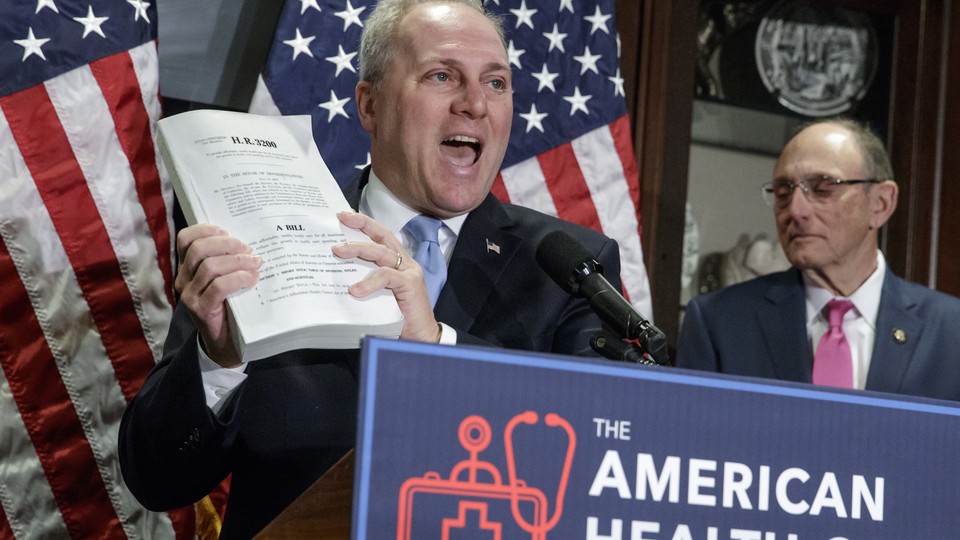 Appearing on "Morning Joe" on Friday morning, Representative Steve Scalise of Louisiana didn't flinch when host Willie Geist asked him a direct question about what would happen if the American Health Care Act—which the House narrowly approved a day earlier—became law.
"So everyone with a pre-existing condition right now who is covered under Obamacare will continue to have coverage?" he asked the congressman, who as House majority whip is the third-ranking Republican in the chamber.
"Absolutely," Scalise replied.
"Everyone?" Geist pressed him.
"Everyone," Scalise confirmed.
From off camera, Mika Brzezinski let out a sound that was somewhere between a groan and a gasp. In the interest of reassuring the public about the GOP's plan, Scalise had made the kind of blanket commitment that could come back to haunt the party in the future. While Republican leaders were careful to maintain the federal requirement under Obamacare that insurers offer coverage to anyone, including those with pre-existing conditions, their bill would allow states to wriggle out of the mandate that insurers charge those customers the same price. As a result, people with pre-existing conditions could find insurance unaffordable in states that get a waiver to opt out of the federal law.
Did Republicans learn nothing in the last eight years?
From making unrealistic promises to cutting back-room deals, Republicans are ignoring many of the lessons they should have taken from the Democrats' experience selling a complicated health-care plan to the public.
Don't Over-Promise
"If you like your plan, you can keep your plan."
That one concrete pledge repeated dozens of times by former President Barack Obama—and many other Democrats at the time—became an albatross for his party once the Affordable Care Act took effect in 2013. They had made the commitment to try to sell the public on the plan and get it passed initially, having seen how the fear of change illustrated in ads by the fictional couple "Harry and Louise" torpedoed the Clinton health-care bill 20 years earlier. But although Obamacare did not directly force people off their insurance, many had to change their plans because insurers stopped selling due to the new coverage requirements under the law. That broken promise helped the GOP expand its House majority and retake the Senate in the 2014 elections.
Republicans, however, have ignored that lesson repeatedly in 2017, making all kinds of assurances about their health-care bill that will be all but impossible to keep. Most egregiously, President Trump told The Washington Post in January that his Obamacare replacement plan would provide "insurance for everybody." In fact, Republicans made no attempt at universal coverage; their bill cuts Medicaid deeply, and the Congressional Budget Office projected that it would result in 24 million fewer people having insurance after a decade.
In recent days, House Republicans like Scalise have made claims about people with pre-existing conditions that are unlikely to stand up over time. Like Democrats before them, GOP lawmakers may genuinely want their assurances to bear out, but they are putting themselves at political risk by not being forthright about the tradeoffs involved in health policy and the potential consequences of a sweeping new law. If the American Health Care Act never gets enacted, it'll be a moot point. But if it does, Republicans better watch out.
Read the Bill
Or at least don't admit publicly that you didn't.
After Democrats enacted the Affordable Care Act in 2010, Republicans succeeded in making a couple of key quotes infamous as they rallied opposition to the law. Then-House Speaker Nancy Pelosi uttered one of them just two weeks before final passage: "We have to pass the bill," she said during a speech, "so that you can find out what's in it."
No matter the context, the comment perfectly encapsulated the GOP's criticism of the bill—that at nearly 1,000 pages, it was too long for members of Congress to read and understand, much less the general public, and that Democrats were intent on jamming it into law before people found out what it would actually do. (Just watch then-House Minority Leader John Boehner make the case right before the final vote.)
Republicans did take heed of Obamacare's length when they wrote its replacement. As Sean Spicer passionately demonstrated, the American Health Care Act is just 124 pages, and even after the amendments Republicans added, it comes in at less than 200 as passed by the House.
But even that was too long for some GOP lawmakers. "I fully admit, Wolf, I did not," Representative Chris Collins of New York told CNN's Wolf Blitzer when he was asked if he had read the complete and final text of the AHCA. Two other Republicans admitted as much to CNN, although they noted that their staff read the bill and briefed them on its content.
The lawmakers have a point when they say they rely on policy experts on their staff to fully read and summarize to them the legislative text of legislation, particularly when it comes to massive spending bills that the House and Senate vote on just days after they are unveiled. But it seems that Collins's team didn't even fully explain the impact of the GOP health-care bill to him. As the Buffalo News reported, the congressman was unfamiliar with a provision that could decimate a state health plan that serves 635,000 New Yorkers.
Unlike staff, it's the members of Congress themselves who are elected by the public and accountable to their constituents, and it's not too much to ask that they personally read bills that could affect health care for the entire country. Failure to do so just feeds the perception that Republicans rushed the AHCA to passage without sufficient scrutiny, especially after the House adopted late changes that had only been public for a few hours before the vote and after the GOP spent years accusing Democrats of doing the same thing.
Avoid Back-Room Deals
The Cornhusker Kickback. The Louisiana Purchase.
Democrats relied on these side agreements benefitting individual states to secure the 60 votes needed to pass the Senate's version of Obamacare in late 2009. The additional Medicaid money for Nebraska wasn't even included in the final bill, but the back-room deals helped sour the public on the new law. Republicans seized on them to argue that Democrats were buying off senators in secret, undermining a bill that actually went through months of public scrutiny and debate.
Eight years later, the GOP resorted to the same kind of tactic in the "Buffalo Bribe" (or, if you prefer, the "Tammany Haul")—a provision the House leadership added to the AHCA at the urging of five members of the New York delegation that would shift the Medicaid tax burden away from upstate counties.
But there's a reason this kind of horse-trading is a time-honored, if unsavory, part of legislative politics: It helps to win votes, and members of Congress have a legitimate responsibility to look out for their constituents. The New York lawmakers publicized their victory, so it wasn't a secret, but the provision's inclusion after Republicans reported their bill out of committee underscored the legislation's relative lack of public hearings or lengthy formal debate.
Just Stay Away From Health Care Entirely (Or Don't Tackle It Alone)
Maybe Republicans were doomed from the start. "The mover on health care loses; to do something is to lose," the always-blunt Democratic strategist James Carville reportedly told party donors earlier this year. Twice now, Democrats have lost their House majority in the next election after pursuing a major overhaul of the health insurance system. With their vote on Thursday, Republicans could be at the same risk next year.
As the president recently discovered, health care is incredibly complicated. But more than that, it is intensely personal. The tradeoffs between cost and coverage will always cause controversy. The economics of private insurance necessarily require younger, healthier people to subsidize the care of those who are older and needier. And changes in policies will almost always mean some will pay more so others can pay less.
Republicans may be missing a lesson the Democrats learned in another way. The party that controls government might not be able to avoid touching health-care policy entirely, but it doesn't have to do so alone. Bipartisanship doesn't guarantee a better result, and it can't happen if both parties don't agree to cooperate. But like insurance itself, it's at least a way to share the risk.