A Bipartisan Spending Deal That Shortchanges Trump
Congress is giving the new president a boost in funding for the military and a little extra for border security, but that's about it.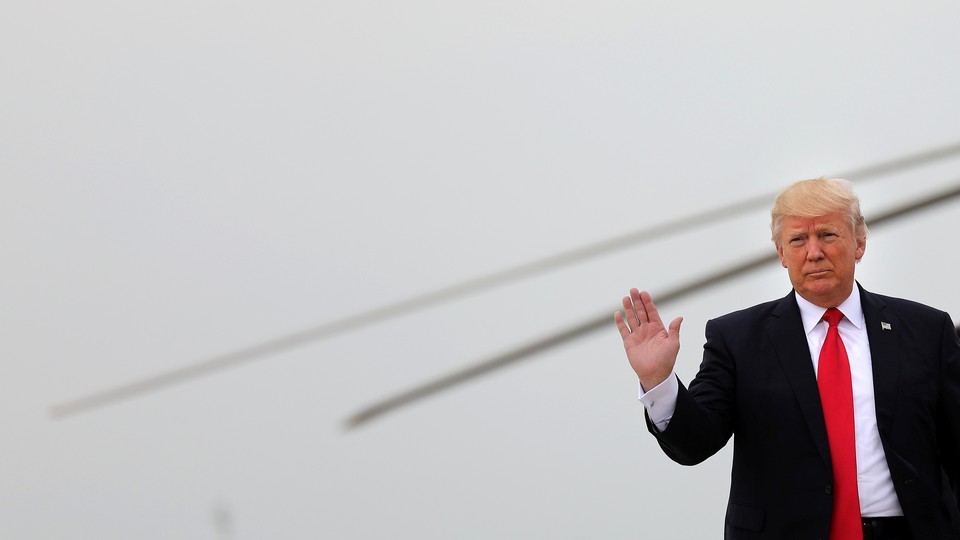 Updated on May 1 at 2:03 p.m. ET
President Trump has indisputably rocked the conventions of political culture and international diplomacy during his first 100 days in the White House. His initial imprint on the federal budget, however, will be much lighter.
In the $1.1 trillion spending bill Congress unveiled early Monday morning, Trump secured up to $15 billion in additional defense spending for the remaining seven months of the fiscal year, along with a modest $1.5 billion boost for border security. But in most other respects, the first bipartisan agreement of the Trump administration is remarkably similar to what lawmakers might have agreed to under the divided government led by former President Barack Obama.
Republican and Democratic lawmakers refused to allocate money for Trump's prized border wall or a "deportation force" of new border agents, nor did they withhold funds from so-called "sanctuary cities." They ignored his proposed $18 billion cut to domestic agencies and the State Department—even the Environmental Protection Agency got 99 percent of its budget funded. Lawmakers approved a bigger increase—$2 billion— to fund medical research at the National Institutes of Health and for former Vice President Joseph Biden's cancer "moonshot" than for Trump's priority of enhanced border security. And despite unified GOP control of the White House and Congress, federal taxpayer money can still flow to Planned Parenthood.
With good reason, Democrats were quicker to champion the agreement than Republicans or the Trump administration. "Early on in this debate, Democrats clearly laid out our principles,"said Senate Minority Leader Charles Schumer. "At the end of the day, this is an agreement that reflects those principles."
Trump will have another chance to make his mark on federal spending in just a few months, when Congress must debate full-year funding for 2018. But in the first months of the new administration, Republicans on Capitol Hill were in no mood to chance a government shutdown by fighting for the president's priorities, and Democrats took advantage. In exchange for giving the Pentagon about half of the $30 billion spike that Trump requested, Democrats won increased funding for several programs that the White House wanted to cut, including Pell Grants, clean energy initiatives, transportation infrastructure, and nearly $300 million in Medicaid money for Puerto Rico. Senator Joe Manchin of West Virginia and other coal-country lawmakers also won a big victory with the inclusion of $1.3 billion in long-term health-care funding for coal miners and their widows.
Republican reactions were muted, reflecting the considerably more modest wins they secured in the bill. Trump had little to say, although he told Bloomberg News he would sign the legislation if it remains "as we discussed." "We're very happy with it," the president said. Speaker Paul Ryan noted that Democrats had relented on their demand from throughout the Obama years that any increase in defense spending be paired by an equivalent rise in non-defense money. And he lauded funding to combat opioid addiction and support charter schools, the District of Columbia's school voucher programs, and disaster relief. But the lack of any significant cuts in the bill was undoubtedly a defeat for spending hawks both in Congress and in the Trump administration, particularly budget chief Mick Mulvaney and Tom Price, the secretary of health and human services. Price's department will actually get more money than even the Obama administration requested from Congress last year, thanks in large part to the bipartisan backing for increased medical-research funding.
The outcome had been expected after Trump relented last week on his demand for an immediate downpayment on the wall and on his threat to withhold subsidy payments to insurers under the Affordable Care Act. Democratic leaders had said the more Trump interfered in the congressional negotiations, the more likely they would lead to a shutdown. By the weekend, the White House had left them more or less alone.
Most importantly for Republicans, the deal provides stability. A bipartisan agreement ensures that the legislation can pass both the House and Senate this week over the expected objections of conservatives, avoiding an embarrassing early shutdown for the new president and—just maybe—clearing the way for a successful health-care vote in the next few days. (Congress approved a week-long funding extension on Friday to buy time for the broader deal to come together.)
But averting disaster is not the same as winning, and this first spending deal highlights, once again, the gap between what Trump wants and what his Republican allies in Congress are able—or willing—to deliver him. And when the president signs the legislation later this week, the surprise won't be how much change it represents in the way Washington spends money under Republican governance, but how little.