Senator Mitt Romney?
The former Republican presidential nominee, and leading critic of Donald Trump, is exploring a 2018 bid in Utah.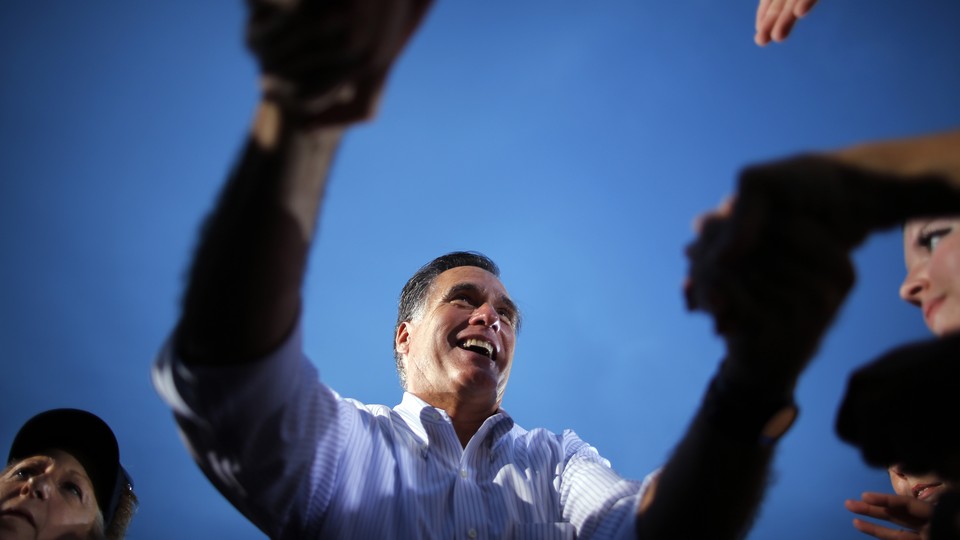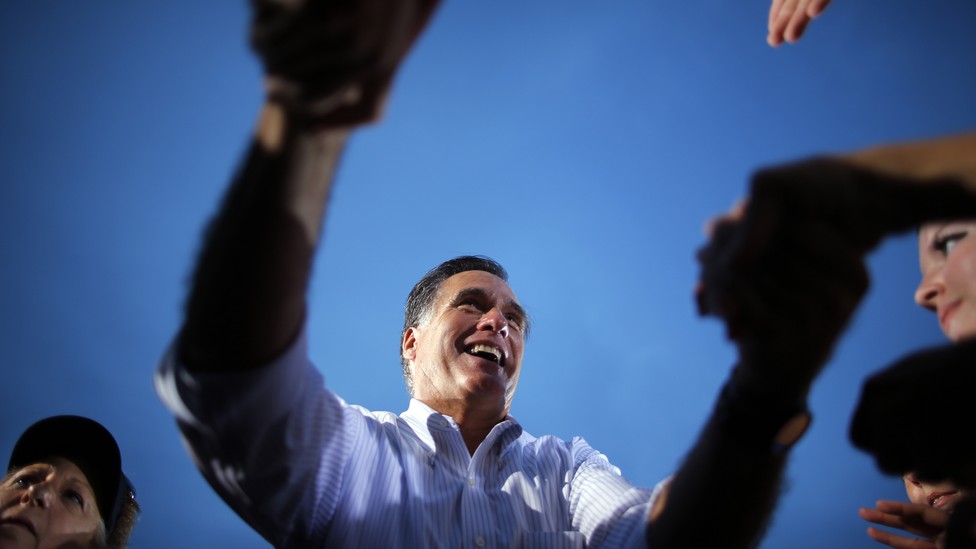 Republican leaders and high-powered donors in Utah are waging a quiet but concerted campaign to convince 83-year-old incumbent Senator Orrin Hatch not to seek reelection next year—and now, they may have found a successor. Mitt Romney, the one-time presidential nominee and leading Trump critic, is exploring a run for Hatch's Senate seat.
According to six sources familiar with the situation, Romney has spent recent weeks actively discussing a potential 2018 Senate bid with a range of high-level Republicans in both Utah and Washington, and has privately signaled a growing interest in the idea. Romney, though, has made clear he would not pursue the seat without Hatch's blessing.
Hatch, who has served in the Senate for more than four decades, seemed to signal a willingness to step aside during an interview last week with National Journal's Alex Rogers. "If I could get a really outstanding person to run for my position, I might very well consider [retiring]," Hatch said, adding, "Mitt Romney would be perfect."
After the comment prompted a flurry of headlines in the Utah press—catching Romney by surprise, according to two people close to him—Hatch's office moved to publicly tamp down the buzz. In a statement to The Atlantic, Hatch said he was "giving careful consideration as to whether I will seek reelection" and has "yet to make a final decision." He also said, "While it's no secret that I hold Mitt Romney in extraordinarily high esteem, my musing aloud on the subject has apparently snowballed into a frenzy of premature speculation." The "overhyped intrigue," he said, "doesn't reflect the reality of the situation, especially this soon after the last election."
Behind the scenes, though, Hatch's remark was widely interpreted among Utah politicos as an intentional trial balloon. "That was no accident," said one senior Republican in the state.
For his part, Romney, who owns a house outside Salt Lake City, appears to be taking the potential Senate bid seriously. In addition to discussing it with Hatch and other party leaders in Utah, sources said Romney has spoken with Senate Majority Leader Mitch McConnell. According to two people with knowledge of the conversation, McConnell encouraged Romney to run if Hatch's seat opens up, and sought to assure the former GOP presidential nominee that he would have more influence in the chamber than a typical junior senator. (A spokesman for McConnell declined to comment; a representative for Romney said he was traveling abroad an unavailable to answer questions for this story.)
Ever since Romney's 2012 defeat, journalists and pundits have made a parlor game of speculating about his political future, and loyalists in his orbit have long yearned for him to re-enter the fray. But two people close to Romney say he didn't show a real interest in the Senate race until Jon Huntsman—a former Utah governor and longtime rival—began to consider a bid. Since then, Huntsman has reportedly been tapped for U.S. ambassador to Russia, a post that would take him out of the running. In an interview earlier this year with the Deseret News, Romney said "all doors are open" after mentioning the 2018 Senate race.
If he does decide to run, the campaign would likely be a cakewalk. Romney, who was the first-ever Mormon to secure a major-party presidential nomination, is widely admired in Utah, and voters would likely thrill at the chance to cast another vote for him. "It would be the easiest Senate bid in the history of the United States of America," Hal Boyd, the Deseret News' opinion editor, told me.
Even other prospective candidates are enthusiastic about the idea. Derek Miller, the CEO of Utah's World Trade Center who is exploring a Senate bid of his own, told me he'd abandon his campaign if Romney entered the race. "I hold Mitt Romney in the highest regard. If he decided to run, I'd be out there doing a honk-and-wave for him."
Why would Romney, who just turned 70, consider abandoning his pleasant and perfectly Instagram-able retirement to run for office now? People close to him say there are several factors pulling him back toward public life.
The most obvious one is Donald Trump's presidency. During the 2016 campaign, Romney was among the most high-profile—and persistent—Republican critics of Trump, and one of the few national figures in the party who refused to support him until the end. Though his anti-Trump credentials were tarnished by his post-election pursuit of the secretary of state post, sources who have discussed it with Romney say his views on Trump have not changed—and if he did enter the Senate, he would not be a reliable ally to the White House. "It would be an opportunity for Mitt to represent the Utah style of Republicanism … and present a strong challenge to the president," said one senior Republican.
Another factor is Romney's Mormon faith. The Church of Jesus Christ of Latter-day Saints, which is headquartered in Utah, has long relied on Hatch to serve as a representative and ambassador in Washington—a role that Romney views as important, and necessary. Many of the Mormon Romney-backers I spoke to talked about his call to public service in spiritual terms—with some even making half-joking references to "White Horse Prophecy," a bit of apocryphal LDS folk doctrine that predicts the U.S. Constitution will one day "hang by a thread" and Mormons will have to save it. "If [Romney] does this … he gets to ride around on a white horse for a while," said one Utah Republican. "Maybe it really is hanging by a thread. We thought Obama was the threat all this time—maybe it turns out it's Trump."
Some sources close to Romney cautioned that he is a naturally deliberative person—just because he's doing his due diligence in exploring a Senate bid doesn't mean he'll actually end up pulling the trigger. But, as one friend added, "I do think he's bored. He loves playing with his grandkids and he loves Ann, but Ann has her writing and her [charity] work, which she's very passionate about. And I don't think Mitt has anything in his life right now that he's very passionate about."
Of course, there is no guarantee that Hatch—the longest-serving Republican Senator in Washington—will decide to bow out. GOP leaders in Utah have been quietly discussing for years how best to convince Hatch he should retire—but the subject has taken on a new urgency in recent months, as polls show an overwhelming majority of voters would prefer that he not run again. A few months ago, Hatch and his allies attempted to boost the senator's standing in the state with a flurry of photo-ops, increased face time in Utah, and glowing op-eds in local papers—but his poll numbers remained stubbornly low.
Few in the state's political and business establishment are willing to force Hatch's hand. "We'll support Orrin if he runs," said one top Utah Republican, "but we really hope he doesn't." But many are increasingly concerned that the senator is vulnerable to a primary challenge from the right. Several Utah Republicans told me they fear he will be defeated by a principled, but unpredictable, rabble-rouser like Mike Lee. And those closest to Hatch worry that his legacy will be badly damaged if his long career ends in a bloody primary battle. Even if he wins, sources told me, there is concern about how his health and mental acuity will hold up over another six-year term.
Hatch is thinking about his legacy, too—and those trying gently to steer him toward retirement have promised to help raise money for a building, perhaps at the University of Utah, dedicated to his service. Some speculated to me that the project could be imperiled if Hatch runs for reelection and loses. If, on the other hand, he opts to hand off the baton to Romney and exit gracefully, he would likely be remembered as a hero in his state, they said.
For now, said Hatch spokesman Matt Whitlock, the senator is "laser focused" on his day job. "If he does seek reelection, he will win. In a time of considerable uncertainty in Washington … he will fight to ensure Utah has the best possible seat at the table."