Trump's Quiet Reversal on Deporting Young Undocumented Immigrants
The president has kept former President Obama's order protecting individuals brought to the United States as children, but the administration is still taking enforcement action against them.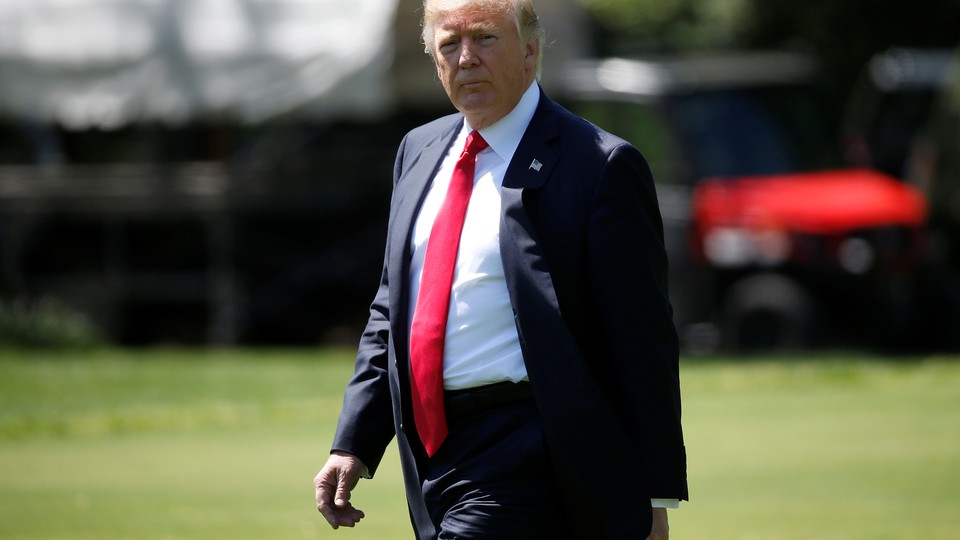 President Trump has backed away from his campaign pledges to "immediately terminate" an Obama-era program shielding undocumented immigrants from deportation. But that doesn't mean that they aren't at risk of being deported.
More than 750,000 undocumented immigrants have received temporary protection from deportation under the Deferred Action for Childhood Arrivals program created by former President Barack Obama. The program allows undocumented immigrants who were brought to the United States as children to live and work in the United States.
Since Trump took office, the future of the program has been in doubt. In February, as part of the administration's ramping up of immigration-enforcement efforts, the Department of Homeland Security released memos increasing the number of undocumented immigrants prioritized for deportation. The directives include individuals convicted of a crime, charged with a crime but not convicted, and those who have "committed acts that constitute a chargeable criminal offense."
Meanwhile, Trump has largely stayed mum on the DACA program, raising questions about whether he'll undo Obama's executive order and whether DACA recipients are at risk of deportation. The answer appears to be that while he won't formally rescind DACA, the program's beneficiaries nevertheless face the possibility of deportation.
Striking a sympathetic tone, Trump recently told the Associated Press that DACA recipients should "rest easy" under his immigration policies, echoing his February statement that he would "deal with DACA with heart."
Those remarks were a departure from his campaign statements. DHS also left the program intact in directives released this year. Still, that doesn't necessarily leave DACA recipients off the hook. Attorney General Jeff Sessions told ABC News' George Stephanopoulos Sunday "everyone that enters the country unlawfully is subject to being deported."
Indeed, under the program's original guidelines, recipients can have their DACA status revoked and as a result, be deported. Following the deportation of Juan Manuel Montes, who is reported to be the first DACA recipient removed from the country under the Trump administration, the department released a statement, saying Montes had "lost his DACA status when he left the United States without advance parole on an unknown date prior to his arrest by the U.S. Border Patrol on Feb. 19, 2017."
DACA recipients are eligible for deportation if they leave the country without receiving advanced permission. U.S. Citizen and Immigration Services requires members to apply for advance parole in order to travel outside of the country, and only allows them to do so if travel fits certain criteria, including humanitarian, educational, or employment purposes.
"If you don't get this advanced permission, known as advance parole, then by leaving the country you have effectively abandoned your DACA status," said Stephen Yale-Loehr, a professor of immigration law practice at Cornell Law School. "If you return, you are returning illegally and therefore you can be subject to deportation proceedings."
Deportation relief is not equivalent to legal status, notes Dree Collopy, an immigration lawyer in Washington, D.C. But enforcement action against them was largely avoided under the Obama administration.
"Generally, these people weren't going to be priorities to begin with. They're generally going to be younger people who have been here for a long time and have no criminal record," said John Sandweg, who previously served as the acting director of Immigration and Customs Enforcement. "They're not somebody we wanted ICE agents to waste time on." With the finite resources ICE has, the population is not one an administration wants "to waste resources on from an enforcement perspective," he added.
In 2014, then-DHS Secretary Jeh Johnson announced that the administration would focus on removing undocumented immigrants with criminal records. This would exclude DACA members since to qualify, individuals cannot be "convicted of a felony, a significant misdemeanor, three or more other misdemeanors," or "pose a threat to national security or public safety." U.S. Citizen and Immigration Services, which grants DACA status, advises Customs and Border Patrol and ICE to "exercise their discretion on a case-by-case basis to prevent qualifying individuals from being apprehended, placed into removal proceedings, or removed." DHS Secretary John Kelly has said his agency is not targeting DACA recipients, though some have been arrested in recent weeks.
In February, U.S. immigration officials arrested Daniel Ramirez Medina, a DACA recipient. ICE said Ramirez was detained "based on his admitted gang affiliation and risk to public safety." His lawyers dispute that. "Mr. Ramirez unequivocally denies being in a gang. While in custody, he was repeatedly pressured by U.S. Immigration and Customs Enforcement agents to falsely admit affiliation. The statement issued tonight by Ms. Richeson of U.S. Immigration and Customs Enforcement is inaccurate," said Mark Rosenbaum, Ramirez' attorney, in February. Ramirez was released in late March after posting bond.
While Trump may not have eliminated the program, the "sacrosanct nature of DACA recipients has been diminished," Sandweg said. There are few known cases of the administration apprehending Dreamers. (About 10, according to United We Dream, an immigration advocacy group that's been monitoring cases.) But the the arrests of DACA recipients shows that they can no longer count on being spared from deportation.