Trump's Disillusioned Supporters
The president's military action in Syria is a bitter disappointment for some of his biggest fans.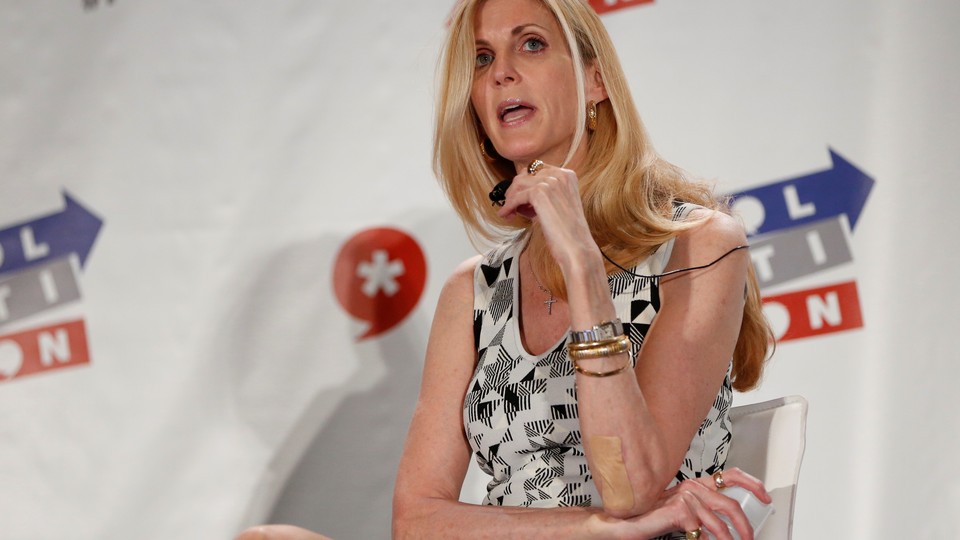 Updated at 4:25 p.m.
President Trump's decision to launch airstrikes against the Syrian regime in response to a chemical weapons attack has made him abnormally popular with the elites who inhabit the swamp he campaigned against. MSNBC's Brian Williams hailed video of the strikes as "beautiful," and CNN's Fareed Zakaria identified this as the moment when Trump became president.
But it has been a bitterly disappointing turn of events for some of his most ardent supporters in the white nationalist alt-right movement and in adjacent political circles, who have supported Trump from the beginning of his campaign and who were enthralled by his promises to not get involved in Middle East conflicts.
The strikes, and the about-face they represent in terms of Trump's posture towards the Middle East, reveal a White House showing less-than-full devotion to the movement that formed the ideological backbone for Trump's election. White House chief strategist Steve Bannon, for example, the former Breitbart chairman who represents ideological Trumpism within the White House, is locked in a battle for influence with Trump's son-in-law Jared Kushner, a more pragmatic operator who appears to be nudging Trump in a more mainstream direction—a battle which Kushner, as a family member, is better-positioned to win.
"What Trump did was nothing less than a betrayal, a betrayal of his supporters, of his message 'America First!,' of his promise to be different—to learn from the mistakes of the past and chart a new course," said Richard Spencer, the alt-right leader who takes credit for coining the term. "I'll wait and see, of course, but I'm not sure I can continue to support him. Most all of the alt-right feels the same way."
Spencer tweeted on Thursday, "Tulsi Gabbard 2020 #Trumped," a reference to the Democratic congresswoman who recently made a controversial trip to Syria and met with Bashar al-Assad.
Mike Cernovich, the pro-Trump blogger and Twitter personality who identifies as a member of the "new right," has been tweeting and livestreaming his opposition to military action almost constantly since the news of the strikes last night.
Cernovich, who claimed this week that the chemical attack was carried out by "deep state agents," told me he still supports Trump.
"If Hillary had been elected I wouldn't even bother speaking out, as war would be certain," Cernovich said in an email. "I'm still a Trump supporter, as last night's air strikes appeared to have been limited. I do not and will not support another war in the Middle East."
"There comes a day in every child's life when his Daddy bitterly disappoints him," Milo Yiannopoulos, the former Breitbart tech editor and provocateur who resigned from the site earlier this year amid controversy over remarks he'd made about pedophilia, wrote on his Facebook on Thursday night.
The tone on Breitbart News, the outlet formerly led by Bannon, has remained studiously neutral so far, and even slightly critical.
"Republican Hawks Praise Donald Trump for Bombing Syria," read one headline on Friday. Editor-at-large Joel Pollak wrote a piece weighing the pros and cons, cautiously praising Trump while not offering full-throated support for the move. Breitbart's London editor, Raheem Kassam, tweeted on Thursday night that he was "apoplectic" about the strikes.
"Those who wanted us meddling in the Middle East voted for other candidates," the conservative commentator Ann Coulter, one of Trump's biggest champions in the right-wing media, wrote on Twitter. "Trump campaigned on not getting involved in Mideast. Said it always helps our enemies & creates more refugees. Then he saw a picture on TV."
Asked for comment for this piece, Coulter declined in an email.
"I'm too depressed," she said.