The Gay, Conservative Christian Who Might Be Trump's NATO Ambassador
Richard Grenell's struggles with his faith and identity inform his public work.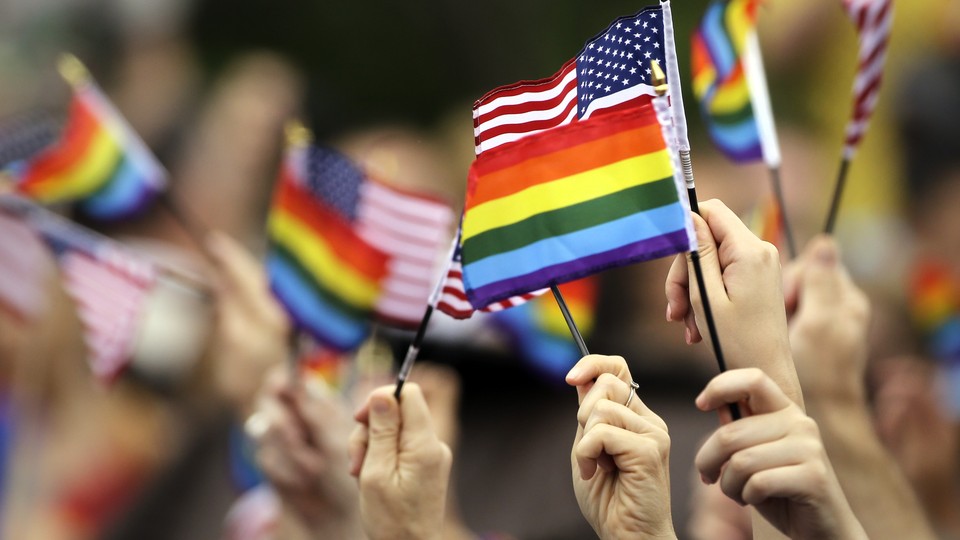 "I am writing to tell you that I am gay and I am a Christian."
That was the opening line of the letter Richard Grenell, a former United Nations official, sent his evangelical parents when he decided to come out in 1999. He had kept his sexual orientation a secret from them for years, but after he fell in love with his now-longtime partner, he knew it was time to get his personal life in order.
President Trump reportedly plans to nominate Grenell to be his ambassador to NATO, a position that would make Grenell the highest-ranking gay man in the new administration, and arguably the most visible gay Christian in America. Yet his appointment could potentially influence more than the country's ties to the military alliance—by pushing conservative Christians to reconsider their approach to LGBT rights and equality.
Grenell, a conservative and a Harvard graduate, boasts an extensive political resume that's punctuated by his role as the longest serving U.S. spokesman at the United Nations. Four years after leaving the UN, he served as Mitt Romney's national-security and foreign-affairs spokesman during the 2012 campaign for president. These days, Grenell works as a communications consultant and is a contributor on Fox News.
Grenell's upbringing didn't necessarily suggest a life in politics; his childhood reads like the opening chapter of an evangelist's autobiography. Converted at a young age, he spent his summers at religious youth camps and traveling to foreign countries on mission trips to evangelize non-Christians. While his devout parents moved back and forth from California to Michigan, the church remained the constant in his life. Attending multiple services each week was mandatory, but no one needed to twist young Grenell's arm. "Growing up in church, I think I recognized the need for God and that Jesus died for my sins," Grenell told me. "So I wanted to forge a path toward living a Christian life and learning along that road."
Traveling that road meant ignoring his sexual identity. Though he's known since childhood that he's gay, Grenell felt his identity was incompatible with his faith. Beginning as early as junior high school, he spent his prayer time asking God why he was created this way.
Ironically, Grenell began confronting his sexual orientation while attending Evangel College, a private university in Springfield, Missouri, affiliated with the conservative Assemblies of God denomination. He found the school to be intellectually rigorous, though it was legalistic and "promoted a very simplistic view of Christianity," he said.
But a class on the teachings of British writer C.S. Lewis transformed him. In Grenell's assessment, Lewis taught that "if you want to live in God's image, then you have to live a truthful existence." That meant confronting his struggles.
"My time at Evangel taught me that all truth is God's truth no matter where it's found, which resonated with me ironically because my truth was that I was born gay," Grenell said. "I started to realize that if I wanted to be authentic about who I was and have a real relationship with the creator, I had to find a way to be honest."
When conservative Christians who are LGBT begin to acknowledge their sexual identities, it often means abandoning their faith, as their fellow believers are inclined to view their identities and relationships as sinful. But Grenell held tightly to his faith as he left Evangel and headed to Harvard's Kennedy School of Government in 1997. During his time in graduate school, Grenell was mentored by the late Peter Gomes, an African American, then-Republican minister who served as a professor of Christian morals at Harvard Divinity School.
Gomes, who came out as gay himself in 1991, shepherded Grenell back to the handful of Bible passages that address homosexuality. Together, they studied the original language, the cultural context of the verses, and how they were translated into English. As the exercise progressed, Grenell became convinced that being gay was not incompatible with being Christian.
"Peter taught me to peel back the modern, 1950s interpretation of the Bible and go back to the original text and intent of what God was saying to us," he said. "It became crystal-clear that man's teachings on the Bible have been misused and egocentric and manipulative." The result, Grenell said, was that he finally embraced his identity as a gay man and also "fell back in love with the idea of God, Jesus Christ, and the greatest sacrifice to atone for sins ever."
Two decades later, Grenell can still be found in church most Sundays, joined by his partner of 15 years, Matt Lashey, who is himself an evangelical Christian and a graduate of Jerry Falwell's Liberty University. The couple reads the Bible and prays together each day, and their home is often filled with the melodies of Hillsong Worship, a chart-topping Christian "praise band" from Australia.
One would be hard-pressed to find many foreign-policy experts who speak about theology with Grenell's openness and fluency. That's in part what makes his potential appointment to the Trump administration significant—with his faith and foreign-policy credentials acting as a bridge to conservative Christians who overwhelmingly support the president.
To start, some of Trump's highest-profile evangelical supporters don't outright oppose Grenell's nomination. Jerry Falwell Jr., a member of Trump's evangelical advisory board, opposes same-sex marriage. He is the son of the Liberty University and Moral Majority founder who spent much of his career fiercely battling the so-called "gay agenda." Yet when asked about Grenell possibly taking on the ambassadorship, Falwell Jr. said that his chief concern is that Grenell's positions related to NATO are aligned with the president's. He "would not oppose [Grenell] simply because he is gay."
Robert Jeffress is a Baptist megachurch preacher in Dallas, Texas, and another member of the advisory board, who gave a private service to the Trump family on Inauguration Day. He has never been shy about expressing his views about the LGBT community. In 2011, he claimed that "homosexuality is being crammed down our throats," and accused LGBT people of using brainwashing to "inject homosexuality" into mainstream culture. He has also said that LGBT Americans live a "filthy" and "miserable" lifestyle.
But when asked whether he was bothered by Grenell's possible nomination, Jeffress balked, noting that the qualifications for an ambassador are different than for a minister. He added: "Some of the criteria I would use might differ from the president's—depending on the position being considered. However, the country chose President Trump, not me, to lead the nation." Others on Trump's board, including Texas megachurch pastor Jack Graham, refused to comment on the matter.
The reticence of these leaders is curious given how outspoken so many have been about same-sex marriage and relationships in the past, and given the possible effect Grenell's appointment could have on conversations about identity among religious people in America. Just 27 percent of white evangelical Christians support gay marriage—less than in any other religious group—and only 36 percent say homosexuality should be accepted by society, according to Pew Research Center surveys.
But like their leaders, perhaps evangelical voters wouldn't have much to say about Grenell. They've turned blind eyes to Trump characteristics that cut against their beliefs, like his past support for abortion rights, extra-marital affairs, and his confession that he has never asked God for forgiveness. If they've made the calculation that Trump's decisions can be trusted—or that it's not worth it to rock the boat—it's possible Grenell won't be met with much opposition at all.
Given that conservative Christians have been some of the most vocal opponents of LGBT equality historically, their silence alone could mark a step toward normalizing gay people in religious communities. For Grenell's part, he hopes to be an influence on Christians who oppose same-sex relationships. While the NATO ambassador doesn't typically have a very public voice, especially in religious circles, Grenell might change that: "I want to fight for political change, but I've never been comfortable with having a public persona in politics," he said. "But I am willing to risk my comfort to step out and step up and be a leader when it comes to a more thoughtful approach to Christianity."
He wouldn't speak directly about the potential NATO position, but noted he hasn't experienced much pushback for being gay during his career in conservative politics. He supports both gay marriage and religious-liberty protections for retailers who don't want to serve LGBT customers. And he's opposed to "ex-gay therapy" on principle, though he opposes legal restrictions on the counseling practice.
Grenell thinks his views are shared by many more conservatives than the broader public realizes, and blames the media for underreporting these trends. Indeed, he suggested that Trump—whose record on LGBT rights is mixed—provides an example of how much conservatives have morphed on inclusion. In November 2016, Grenell penned a column for The Washington Times lauding then-candidate Trump for waving a rainbow flag at a political rally. He argued that he "embraced the LGBT community like no other GOP nominee in history."
If Grenell gets the job and his assertions about Trump prove correct, it means that conservative Christians who oppose LGBT equality helped elect a pro-LGBT president. And if their loyalty to Trump keeps those Christians quiet, Grenell won't be similarly constrained. He will be perfectly positioned to make a case for LGBT inclusion to his fellow believers from inside the administration of the president they helped elect.