Trump's Action in Syria Is 'Just the Latest Blip on a Deeper Story'
The American public is always ready to pay attention to military strikes. But what does the president's decision mean for the humanitarian crisis?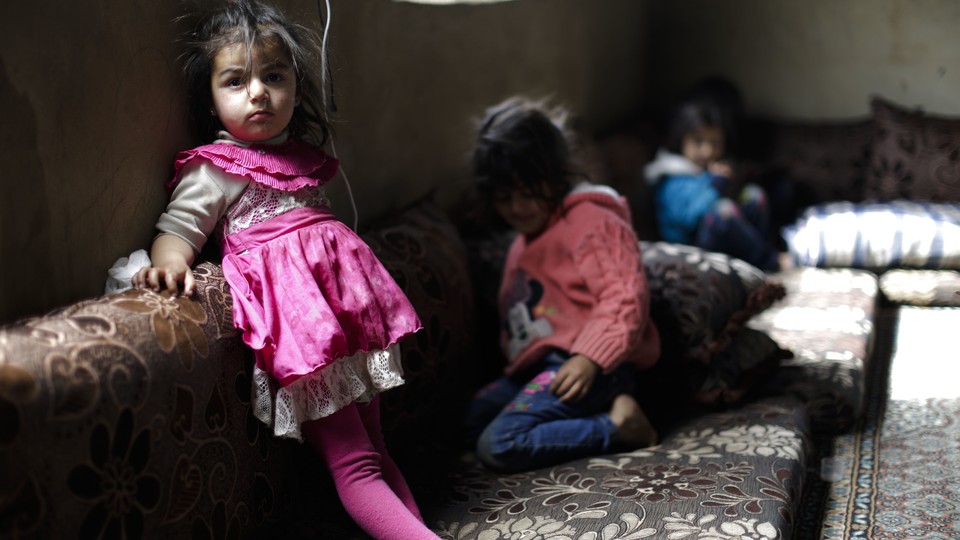 The Trump administration sees no hypocrisy in bombing Syria while closing America's borders to Syrian refugees.
"From a humanitarian standpoint, [we are] ensuring that we create an environment that provides a safe place for them to ultimately remain," said White House press secretary Sean Spicer in press conference on Monday. The administration is "ensuring that there are places that are free from violence and places free to gather safely … Everyone would agree the last thing they want to do is leave."
For the American aid organizations working with Syrian refugees in the U.S. and overseas, though, this tension is very real. Leaders of some of these groups, especially those who are Syrian American, feel grateful that the United States government struck a military base in Syria last week after a chemical-weapons attack killed more than 80 Syrian civilians. But they're worried that Trump's refugee policy will simultaneously aggravate the humanitarian crisis in Syria—and  fear what will happen when the world's attention once again turns away from the country.
Zaher Sahloul, a Syrian American doctor who came to the United States in 1989, has spent a lot of time in the last few months protesting Trump. "I demonstrated against the Muslim ban, against the breaking up of immigrant families, about the wall," he told me. He opposed the proposed repeal of the Affordable Care Act, and disliked Trump's recent executive order on the environment.
But the administration's Syria strikes stand apart. "In this particular decision," he said, "I felt President Trump was right."
For him, the conflict is personal: Sahloul was Assad's classmate in the 1980s before Sahloul came to the United States, and his hometown of Homs has been a major site of conflict in the Syrian war. Until 2015, Sahloul led the Syrian American Medical Society, a coalition of doctors who provide medical aid in Syria and surrounding countries that are going through refugee crises. Sahloul has personally visited Syria to provide emergency medical support in the last several years, and the organization says it provided 3 million medical services in 2016.
"It's very difficult to see children gassed to death while they're asleep," Sahloul said. "This continued for six years without any accountability. I felt this strike was sending a clear message to [Syrian President Bashar al-Assad]." On Twitter, Sahloul called out President Obama for his inaction: "How come that @realDonaldTrump was moved into military action by the images of children in Syria, while @POTUS44 was so stone-hearted?!" he wrote.
Lina Sergie Attar, a Syrian American who runs an education-focused non-profit called the Karam Foundation, said she felt similarly betrayed by Obama. In 2013, there was evidence that the Assad regime used chemical weapons against its people. Despite Obama's declaration that this crossed a "red line" that would bring consequences, he declined to take military action against Assad.
When reports of a chemical-weapons attack surfaced last week, Sergie Attar expected Trump to demur as well. "I was surprised and happy to know that we now have a president who is a president of action, who will be standing up to the regime," she said. "On the one hand, nobody wants to welcome more bombs on their country. But on the other hand … this was a strike specifically targeting the Assad regime's military base."
As supportive as they are of Trump's military action, both Sergie Attar and Sahloul worry about the consequences of his administration's ban on admitting Syrian refugees to the U.S. "If you sympathize with the little babies who are being gassed, you should sympathize with the babies who are in tents who are the victims of Assad and ISIS," Sahloul said.
"It's good that President Trump seems to now recognize that refugees represent babies and not terrorists."
Here lies the double-bind of U.S. aid organizations working on the crisis in Syria. "What we … see is this conundrum," said Erol Kekic, the executive director of the immigration and refugee program at Church World Service, a coalition of largely mainline Protestant churches in the United States that works on refugee resettlement.
Some people want the government to "intervene in Syria and protect people who have been directly attacked by the regime, who are also fleeing from ISIS," Kekic said. But "we're also closing our borders and our doors and saying we do not want to resettle any more refugees."
"The fact of the matter is that when there's military intervention, there has to be an accompanying humanitarian intervention, and that's where we're concerned," said Mark Hetfield, the president and CEO of HIAS, a Jewish refugee-resettlement organization in the U.S. "Refugees have been vilified by the current administration."
After last week's chemical-gas attacks, Trump's rhetoric on Syrians seemed to soften: "Even beautiful babies were cruelly murdered in this very barbaric attack," the president said. "No child of God should ever suffer such horror." Hetfield wasn't impressed. "It's good that President Trump seems to now recognize that refugees represent babies and not terrorists," he said.
The politics of Trump's military strikes are even more complicated because he's such a polarizing figure. Sergie Attar said she felt betrayed by activists who are protesting against Trump's decision to order missile strikes. Since 2014, the Obama administration has carried out strikes in Syria in its offensive against ISIS, but she didn't see many people protesting those attacks. "There's a lot of hypocrisy on this," she said.
Not all aid organizations support Trump's military action in Syria. For example, Bill O'Keefe, the vice president for government relations and advocacy at Catholic Relief Services, believes "on-going violence aggravated by military actions by additional players like the United States will cause more people to flee and more instability."
From the perspective of his organization, which offers humanitarian aid in more than 100 countries around the world, diplomacy is superior to bombs. "We, and the Catholic bishops, are always going to be the ones looking askance at military action," he said. "Not because we oppose it on principle, but because the unintended negative consequences for real people are always real."
Others, like the evangelical aid organization World Relief, have refused to weigh in altogether: Jenny Yang, the vice president of advocacy and policy, declined to comment on the group's position in an email, saying there's a lot that is still unknown.
"This wave will end and we'll be back where we were: left alone to watch these massacres daily."
The Trump administration seems to support an end to Assad's rule: On Monday, Spicer said he "can't imagine a stable and peaceful Syria where Bashar al-Assad is in power." Once the region is stable, Spicer said, the administration "can apply political, economic and diplomatic pressure for a regime change."
But even that wouldn't come close to fixing the humanitarian crisis in Syria. "The conditions have only gotten worse over the last six years," said Kekic. "The devastation is so vast that even if the conflict stopped tomorrow, people wouldn't be able to go home because there's nothing to go home to."
Meanwhile, said Sergie Attar, it's getting harder for her small organization to do its work in Syria. The fighting has made it unsafe for volunteers and staff members to work in much of the country, so Karam is largely operating from communities on the Turkish border. From her perspective, it's much less important to stand against Trump than to make sure her organization can reach people.
But for the rest of America, Syria has become another highly politicized issue that will inevitably be colored by people's perspectives on Trump. Aid workers are frustrated that the American public, and particularly the media, only pay selective attention to the Syrian crisis. "There's always media attention for military action," said O'Keefe. "Remember, we're talking about 11 million people who have been displaced from their homes and 400,000 who have been killed. This is just the latest little blip on that larger, deeper story."
Sergie Attar doesn't have much confidence that the world's focus will stay on Syria once the news cycle moves on. "We don't know what day we're going to wake up and that day's massacre is going to catch … and suddenly we're going to be in the news again," she said. "This wave will end and we'll be back where we were: left alone to watch these massacres daily, without anybody paying attention. Every time, we hope that this is the last time."