Trump's Presidential Status Anxiety
As the president nears his hundredth day in office, he seems increasingly concerned about how he'll measure up.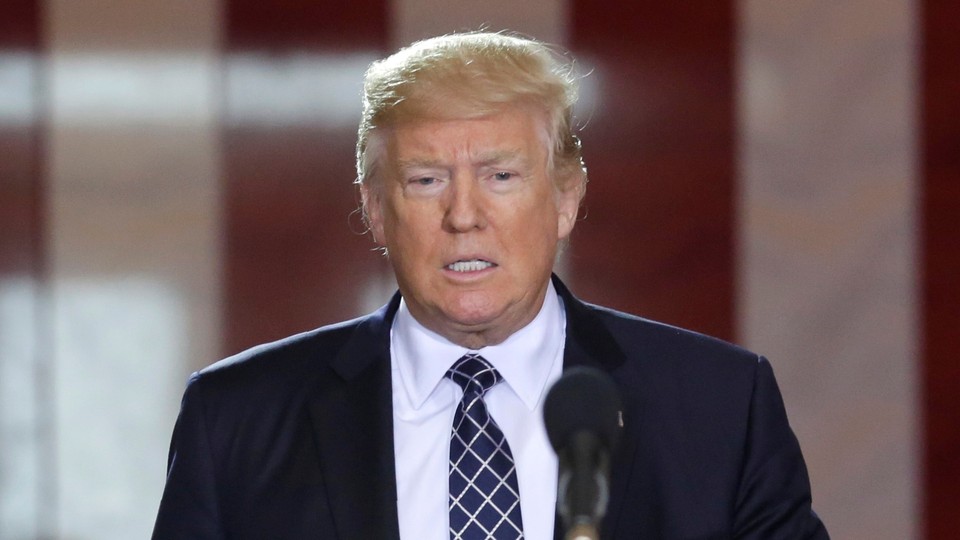 As he approaches his hundredth day in office, Donald Trump appears to be suffering—once again—from an acute case of presidential status anxiety.
In public, of course, he has labored to play it cool, strenuously insisting (and insisting, and insisting) that he does not care about the "first hundred days" metric that historians and pundits have used to evaluate the success of new administrations since FDR. Trump has called this milestone "ridiculous" and "artificial"—a meaningless media fixation. And yet, the less-than-laudatory press reviews seem to have left him seething. For evidence, look no further than the president's pathos-drenched Twitter feed, where he recently took to vent, "No matter how much I accomplish during the ridiculous standard of the first 100 days, & it has been a lot (including S.C.), media will kill!"
This explains why we are now witnessing the White House in mad-scramble mode—frantically reaching for last-minute "accomplishments" to placate the president, and pad his record. The closer Trump gets to the hundred-day marker, it seems, the more erratically he flings major legislative initiatives at the wall in hopes that something will stick.
Last week, Trump abruptly pledged to unveil a "massive" tax-cut plan in the coming days—an announcement that reportedly surprised even his own staff. To meet their boss's deadline, they rushed out a single-page document—bullet-pointed, double-spaced, 229 words long—that resembled a homework assignment hastily completed in the stall during a bathroom break. Skeptics scoffed, Democrats balked, and even White House officials have struggled to articulate their "plan."
Meanwhile, with a government shutdown fast approaching, Trump threatened to blow up budget negotiations with an outlandish—and politically unviable—demand that the funding bill include money for a border wall. (He eventually had to back down.) And with just 48 hours left in his first hundred days, Trump embarked on a quixotic last-ditch bid to jam an Obamacare replacement bill through the House before the weekend—whip counts be damned. (Speaker Paul Ryan refused to bring it to a vote Thursday night.)
This flurry of ill-considered activity might seem needlessly volatile and self-defeating—but it's part of a larger pattern of behavior. This is, after all, not the first time a major milestone in Trump's career has sent him spiraling into resentment and recklessness.
As I've written before, Trump's angriest outbursts often accompany his greatest moments of recognition or triumph. He won the Republican nomination, and spent the next week feuding with Gold Star parents and complaining that Hillary Clinton didn't adequately congratulate him. He won the election, and spent the transition fighting with celebrities and championing a voter-fraud conspiracy theory. He was sworn in as the 45th  president of the United States, and spent the weekend fuming over the size of his inauguration crowd.
Trump is a Queens-born billionaire who has spent his life chasing validation from elites who hold him in disdain. With each new benchmark he reaches, he holds out hope that it will finally quiet his chorus of haters. And when he realizes they're still laughing at him, he acts out. Consider, now, what Trump is likely seeing these days when he turns on his TV: presidential historians discussing the unparalleled failures of his first hundred days; polls showing an historically low approval rating; pundits depicting a presidency gripped by impotence. Given his recent history, an eruption was inevitable.
Earlier this week, the White House made a foray into the presidential legacy-measuring contest with a press release titled, "President Trump's 100 Days of Historic Accomplishments." Trump, we learned, had accomplished more than any president since FDR, passed more legislation than anyone since Truman, and done more to "stop the government from interfering in the lives of Americans" than any other president in history. As my colleague Elaine Godfrey noted, some of the figures supporting these claims were (perhaps unsurprisingly) wrong, and the press release was widely mocked on the internet for its predictable bombast. But maybe for Trump, the comparisons are about more than chest-thumping and ego-pumping.
With a hundred days behind him, Trump seems increasingly like a man disillusioned with his job, and disoriented by his place in history. "I loved my previous life. I had so many thing going," Trump told Reuters this week. "This is more work than in my previous life. I thought it would be easier."