Trump's Shifting Surveillance Claims
His newest argument, that he was talking about Susan Rice and "unmasking," doesn't make any more sense than his previous versions.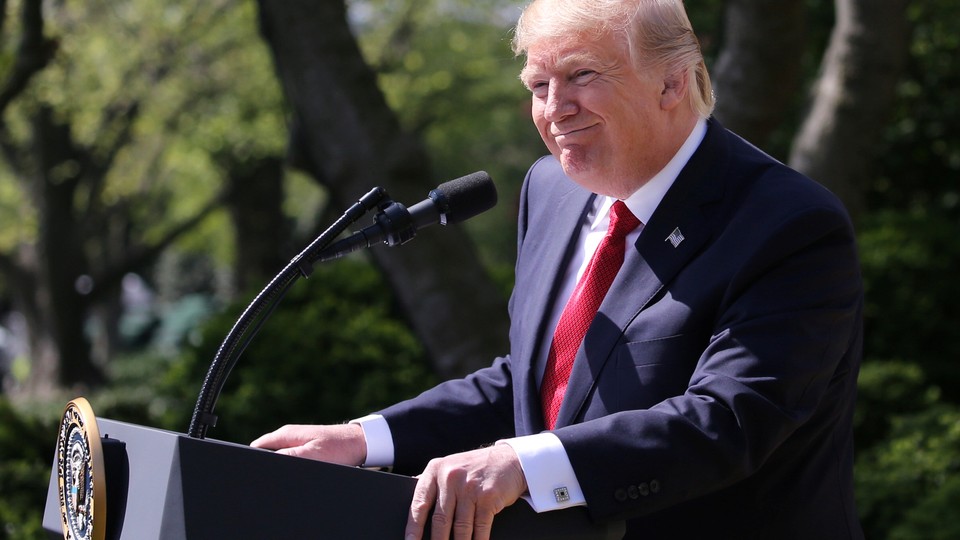 Updated on April 12 at 12:58 p.m.
It's now been more than a month since Donald Trump tweeted, without offering any evidence, that Barack Obama had Trump's "wires tapped" (the scare quotes were his) at Trump Tower prior to the election.
Since then, the president has refused to back down from a claim that is obviously unfounded, as the director of the FBI testified under oath. In the process he has set off a feud with America's closest ally, made an excruciating joke at the expense of another, and refused to take responsibility for his claims.
He has also tried to change his story.
First, Trump argued that he really just meant that he had been surveilled, rather than literally wiretapped.
Wednesday, in an interview with Fox Business's Maria Bartiromo, Trump has once again tried to change his story, arguing that he was referring to cases of "unmasking," where Trump transition team officials were named in classified intelligence reports, at the request of Obama officials:
Trump: When you look at Susan Rice and what's going on, and so many people are coming up to me and apologizing now. They're saying you know, you were right when you said that. Perhaps I didn't know how right I was, because nobody knew the extent of it.

Bartiromo: When you sent that infamous tweet, was that what you were referring to, the Susan Rice?

Trump: Oh, sure. We're talking about surveillance. It was wiretapped in quotes. New York Times said the word wiretapped in the headline of the first edition. Then they took it out of there fast when they realized. But I put wiretapped in quotes, meaning, because, look, wiretapping is an old-fashioned…
Trump continues to fixate on the specific word choice of "wiretap" versus surveillance. There is a technical difference, but the broader problem is his baseless accusation that a president spied on him for partisan purposes. While the FBI has publicly confirmed it is investigating the Trump campaign's ties to Russia, there is no evidence to suggest Obama himself ordered surveillance of Trump or his associates for political purposes.
However, despite trying to change the claim in his interview with Bartiromo, it's clear that Trump was alleging improper surveillance, not unmasking of legal surveillance, based on the way he has discussed it since the tweet. He made clear during a press conference on March 17, for example, that he was basing his accusation of surveillance on comments made by Andrew Napolitano, a Fox News legal analyst. Other reports have connected Trump's tweets to a Breitbart article based on a Mark Levin radio segment. None of these focused on unmasking.
The unmasking defense flows from the mysterious intelligence reports that House Intelligence Committee Chairman Devin Nunes announced in March. Nunes, apparently working from documents given to him by two White House staffers, claimed that Trump transition-team members had been caught up in surveillance of foreign nationals. This did not justify Trump's claim, because the alleged surveillance was legal, Nunes said, and had occurred after the election rather than before it.
The allegation of wrongdoing was more remote. When Americans are named or participate in surveilled conversations, their names are redacted. Top officials can request that their names be unredacted, or "unmasked," if they believe it's necessary to understand the report. Nunes said he was worried that Trump team members had been improperly unmasked. Bloomberg View's Eli Lake later reported that Trump officials believed Susan Rice, Obama's national security adviser, had requested that names be unmasked. Based on that revelation, Trump told the New York Times, again without evidence, that Rice had committed a crime.
Meanwhile, Nunes was forced to step down from the House investigation into Russia interference in the election after ethics complaints about his revelation of classified material and scrutiny of his relationship with the White House.
In trying to point to Rice, Trump is once again altering his claim in an effort to make it true. Yet not only is he shifting his claim after the fact, there's no proof that what Rice did was improper. Rice was would have had the authority to ask for names to be unmasked (a request that the agencies would have had to approve) and, as Bartiromo pointed out, Rice says she would not have done so for political reasons.
"Does anybody really believe that?" Trump said. "Nobody believes that, even the people that try to protect her in the news media. It's such a big story and I'm sure it will continue forward."
In fact, Trump appears to be wrong about that as well. Since Nunes's recusal, Democrats and Republicans on the House Intelligence Committee have been able to view the documents he saw, and which he had not shared. CNN reports that they're unimpressed with the results, which show only routine requests from Rice and anyone else in the Obama White House:
After a review of the same intelligence reports brought to light by House Intelligence Chairman Devin Nunes, both Republican and Democratic lawmakers and aides have so far found no evidence that Obama administration officials did anything unusual or illegal, multiple sources in both parties tell CNN.

Their private assessment contradicts President Donald Trump's allegations that former Obama national security adviser Susan Rice broke the law by requesting the "unmasking" of US individuals' identities. Trump had claimed the matter was a "massive story."
Even when changing his story, Trump can't land on a plausible one. The challenge to the president remains the same as it was on March 4: If he has any evidence for his explosive claims, he ought to produce it; and if he doesn't, he ought to retract them.
The circus surrounding Trump's "wiretap" tweet and Nunes's rise and fall have provided a diversion, but in the background, evidence about questionable ties between former Trump aides and the Russian government continues to accrue.
On Tuesday, The Washington Post reported that the FBI sought and obtained a warrant to surveil Carter Page, a one-time Trump foreign-policy adviser with ties to Russia. To get the warrant, the FBI had to satisfy a federal judge that it had probable cause that Page was acting as an agent for or aiding a foreign power. (Page denied the claims, comparing himself to Martin Luther King Jr.)
Page is not the only Trump aide whose ties to Russia are under intense scrutiny. Paul Manafort, who was Trump's campaign chairman during the summer of 2016, has a range of connections to the Kremlin. Manafort reportedly received millions of dollars from a Vladimir Putin-allied billionaire as part of a contract to boost Moscow's image abroad; Manafort insisted, despite memos to the contrary, that he was worked only on behalf of the oligarch, Oleg Deripaska.
Manafort also worked as consigliere to Viktor Yanukovych, the Kremlin client who was deposed as president of Ukraine in a 2014 revolution. Last August, The New York Times reported on handwritten ledgers that indicated Manafort had received millions in off-the-books cash payments from Yanukovych's party. Manafort's lawyer flatly denied the claim at the time, telling the Times, "There is no proof and we deny there ever could be such proof."
The Associated Press reports Wednesday, however, on documents that substantiate the ledgers, showing corresponding payments received by Manafort's firm:
Now, financial records newly obtained by The Associated Press confirm that at least $1.2 million in payments listed in the ledger next to Manafort's name were actually received by his consulting firm in the United States. They include payments in 2007 and 2009, providing the first evidence that Manafort's firm received at least some money listed in the so-called Black Ledger.
Manafort's spokesman disputed the report, saying that the consultant had worked openly for Yanukovych's party. "Mr. Manafort has always denied that he ever received any cash payments for his work and has consistently maintained that he received all of his payments, for services rendered, through wire transfers conducted through the international banking system," he said in a statement.
Manafort and Page are both reportedly the subject of investigations by the FBI; the Treasury is also looking at Manafort. And both the House and Senate intelligence committees have their own investigations looking at Russian interference.
For now, that appears to be a much bigger story than Rice's alleged role in the (reportedly appropriate) unmasking of Trump officials in intelligence reports, even if that had been what the president had been referring to in his original March tweet about being wiretapped.
Which it wasn't.