People Are Calling In to a New 'Criminal Alien' Hotline With Reports of Extraterrestrials
On Wednesday, the administration launched a new office to "assist victims of crimes committed by criminal aliens." Some rang in with reports of UFOs.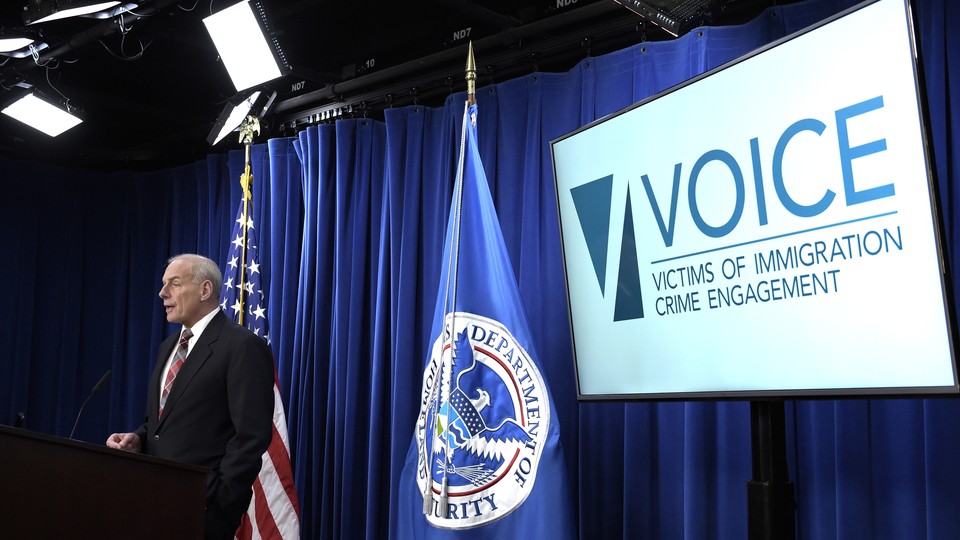 The term "alien" is used in legal contexts to denote those present in the United States who aren't citizens. But some callers are using a new hotline launched on Wednesday for victims of crimes committed by aliens to report that they've been victimized by extraterrestrials.
On Wednesday, the Trump administration launched the Victims of Immigration Crime Engagement Office. The office, which was originally announced in a January executive order on immigration, intends to "assist victims of crimes committed by criminal aliens," according to the Department of Homeland Security.
"All crime is terrible, but these victims are unique—and too often ignored," said DHS Secretary John Kelly in announcing the office. "They are casualties of crimes that should never have taken place—because the people who victimized them often times should not have been in the county in the first place."
The office, housed within Immigration and Customs Enforcement, also established a hotline for "victims to receive public information," an ICE official said. But since its introduction, as BuzzFeed's Brianna Sacks reported, the hotline received calls about space alien contact, UFO sitings, and, for the Harry Potter fanatics, muggle-borns.
#AlienDay Please call and report your UFO sightings and green aliens from outer space to Trumps new alien activity hotline: 1-855-48-VOICE

— Kyle Lacio (@KyleLacio) April 27, 2017
1-855-48-VOICE to report all your encounters w/ illegal martians, rude Sasquatch, unleashed Texas Blue Hounds, Springheel Jack. Goblin army.

— Kathleen Dennis (@chelseabmw) April 27, 2017
ICE is not amused. "Their actions seek to obstruct and do harm to crime victims; that's objectively despicable regardless of one's views on immigration policy," said an ICE official.
Donald Trump has pledged to crack down on illegal immigration in general, and on criminal undocumented immigrants in particular. But immigrants are "less likely to commit serious crimes or be behind bars than the native-born," according to an analysis by the American Immigration Council. The council also noted that between 1990 and 2013, the foreign-born population grew, as did the number of undocumented immigrants. FBI data suggests that in those years, however, there was also a decline in the violent crime and property crime rates.
Under the Obama administration, the Department of Homeland Security prioritized undocumented immigrants who had criminal records for deportation. The new administration, however, has broadened those priorities to include individuals convicted of crimes, charged with a crime but not convicted of it, and those who have "committed acts that constitute a chargeable criminal offense."
The latest announcement from the administration appears to be an effort to gather additional data about undocumented immigrants residing in the United States, bypassing uncooperative local jurisdictions by seeking information directly from ordinary Americans. But efforts such as these rely on people to use them as intended. And that may be a whole separate challenge.