The Hasty Resurrection of the American Health Care Act
The Republican plan to replace Obamacare is back under discussion, but its prospects for success are no clearer than they were before.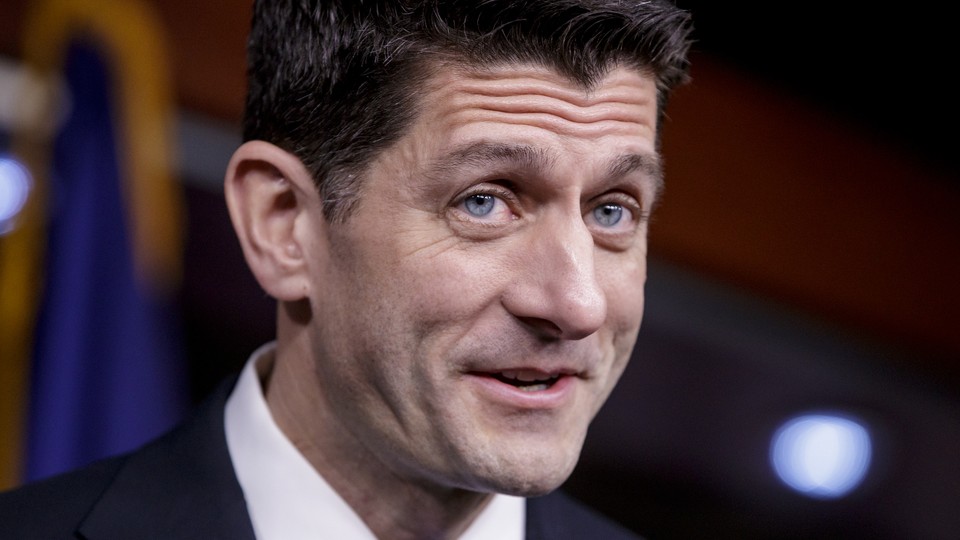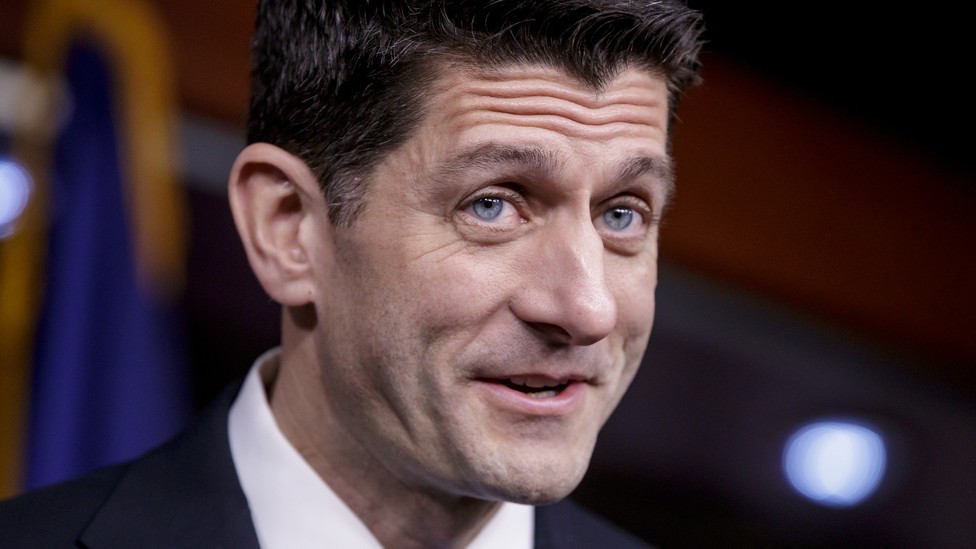 It's revival time for the American Health Care Act.
The Republican repeal-and-replace plan for Obamacare died an unceremonious death last month when President Trump and House Speaker Paul Ryan abandoned the bill minutes before a floor vote that they knew was doomed to fail.
But now, just in time for Easter, the bill has seemingly returned to life and is back under discussion on Capitol Hill. Vice President Mike Pence is shuttling once again between the White House and the clubhouse of the House Freedom Caucus, dangling a proposal to push the legislation even further to the right in order to secure the votes of the GOP's hardest-to-please conservatives. The changes under consideration would threaten Trump's oft-repeated promise to protect people with preexisting conditions by allowing states, under certain conditions, to gut the regulations undergirding that pledge.
Is this actually going anywhere?
It's hard to say. There is no text of a proposal, and members of the Freedom Caucus insist there is no deal until they see specifics. The administration has also met with Republican moderates, but there's no indication that striking even more of Obamacare's most popular provisions could get their votes.
But Republicans have a collective incentive to rectify—or at least be seen as trying to rectify—a humiliating failure for their party. And Congress has a long history of dilly-dallying, stumbling, and even falling flat on its face before striking a quick deal and acting on a moment's notice. That's especially true when lawmakers face a deadline, and the House is scheduled to recess for a two-week Easter break on Thursday. Notably, the murmurs of optimism are emanating from some of the conservatives who were most stridently opposed to the AHCA a few weeks ago.
"I think it's serious," Jason Pye, director of public policy for FreedomWorks, told me by phone on Tuesday morning. "I'm pretty optimistic about the path forward." FreedomWorks, a conservative activist group, had criticized multiple iterations of the bill in March and vowed to penalize Republicans who voted for it.
Now that the White House seems willing to target the core insurance regulations at the heart of the Affordable Care Act, however, the right is listening. "The entire concept appears to be one of federalism," said Dan Holler, a spokesman for the conservative group Heritage Action, "and if the Republican Party can't get behind federalism, it's sort of unclear what they could get behind." Even Senator Rand Paul of Kentucky, who led the rebellion against the GOP leadership's bill, is sounding optimistic notes after a round of golf with the president.
Still, there remain plenty of skeptics that the GOP can swiftly fix a proposal that registered just a 17 percent approval rating with voters and whose failure prompted Trump to lash out at conservatives, moderates, and Democrats alike.
Count Ryan as chief among them. At a press conference on Tuesday morning, the speaker downplayed the latest developments and talk of an imminent agreement. "Right now, we're just at that conceptual stage," he said. "It's important that we don't just win the votes of one caucus, or one group, but that we get the votes and get the consensus of 216 of our members." The speaker seemed to be dashing hopes that negotiators could come up with an agreement fast enough for the House to vote on it in the next few days before the two-week recess. Conservatives briefed on the proposal said the White House could release text of an amendment as soon as Tuesday night. But if the House does not act this week, it's likely that any repeat attempt to pass a health-care bill will have to wait until May, after Congress tries to avoid a government shutdown before federal funding runs out on April 28.
Ryan was alluding to the biggest ongoing challenge Republican leaders have faced on health care: How can they appease the conservatives who want a total repeal of Obamacare without losing the votes of moderates and electorally vulnerable members who don't want to scrap the law's popular parts or vote for a bill that would result in significant coverage loss for their constituents?
It's not clear that the White House's latest proposal would square that circle. Moderates had already recoiled at the possibility that the GOP bill would remove Obamacare's provision requiring insurance plans to cover "essential health benefits" like hospital stays, emergency-room visits, addiction treatment, and maternity care. The idea under discussion would allow even more changes to the law's core protections, but it would leave most of those decisions up to the states. Conservatives are hoping that moderates representing more Democratic states like New York, New Jersey, and Pennsylvania would feel more comfortable voting for the plan because it would be unlikely their governors and legislatures would choose to eliminate those regulations.
One New Jersey congressman, however, quickly panned that suggestion on Tuesday. "I have seen nothing in terms of reported possible changes to American Health Care Act warranting reconsideration. I remain a NO," tweeted Representative Frank LoBiondo.
A potential concern for conservatives is that states would still have to win approval from the federal government in order to lift regulations on insurers. Right now, that decision would fall to Tom Price, the conservative secretary of health and human services. But if a Democrat won the presidency in 2020, a new administration could have the leeway to force states to adopt the tighter standards envisioned under Obamacare. And it's also uncertain that the proposal, if it got out of the House, would pass muster under the Senate's strict rules for approving legislation under the budget reconciliation process that circumvents a Democratic filibuster.
If nothing else, the renewed negotiations are a sign that conservatives have moved off their insistence on a full repeal of the Affordable Care Act, and that's a positive sign for House Republican leaders. But Ryan's caution is understandable. After being burned so badly by his bill's defeat last month, he does not want to raise expectations so high again without a better assurance of success. And the speaker knows that without the support of party moderates, the murky second version of the American Health Care Act could die an even quicker death than the first.