How Trump Fell Into His Own 100-Day Trap
If the president didn't want to be judged on the first three months of his presidency, why did he promise to get so much done in that period?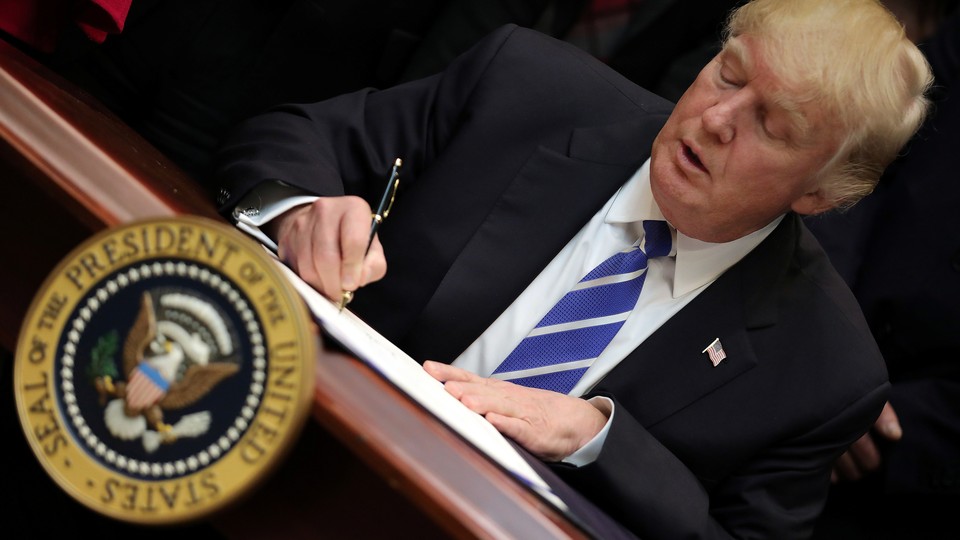 Everyone knows the feeling: There's a big deadline coming up at work, and you're not sure you're going to get everything you need done before it. As the end of the semester approaches at colleges around the nation, plenty of students are feeling it, and President Trump can sympathize:
No matter how much I accomplish during the ridiculous standard of the first 100 days, & it has been a lot (including S.C.), media will kill!

— Donald J. Trump (@realDonaldTrump) April 21, 2017
The tweet is the latest whiff of panic wafting from the White House ahead of April 29, which marks the hundredth day of Trump's presidency. Another one came on Thursday, with the administration mounting a renewed effort to repeal and replace Obamacare, despite no indication that the politics in the House of Representatives have moved far enough to make the latest push any less Quixotic than the last catastrophic attempt.
But Trump has been eyeing the 100-day mark with dread for some time, as Shane Goldmacher reported in Politico on April 10.
"One hundred days is the marker, and we've got essentially two and a half weeks to turn everything around," a White House official told Goldmacher. "This is going to be a monumental task."
Spoiler alert: They're not going to make it. This tweet aside, Trump has little to show for his first three months in office. The one exception that he cites, Neil Gorsuch, is indeed a notable one. By placing a young and strongly conservative justice on the Supreme Court bench, Trump can solidify a long legacy of conservative jurisprudence (though there's little to suggest he has much personal interest in this, outside of the political win). The rest of Trump's ambitious political agenda is largely stalled: defeated in Congress, obstructed in Congress, blocked by the courts, or caught up in the bureaucratic machine—which, thanks to the president's slow pace of appointments, is working well below peak capacity.
The Friday morning tweet shows Trump's obsession with press coverage of his administration. He is right that the 100-day mark is arbitrary—or at least little more than a historical artifact bequeathed to future presidents, willing or not, from Franklin Roosevelt. Perhaps, as Jeff Greenfield recently wrote, it ought to be ignored. Given that arbitrariness, press coverage matters more than real accomplishments. That's a truth that Trump has grasped well, from his business career through his presidential campaign, when messaging often triumphed over substance. But that hasn't worked well for him since coming to the White House.
Trump can complain about the tone of the coverage, and he can complain that the press it out to get him, but he can't blame anyone else for the emphasis on the 100-day standard: It's an unforced error that candidate Trump made. On October 22, 2016, Trump appeared in Gettysburg, Pennsylvania, where he unrolled a "Contract with the American Voter," hearkening back to the 1994 GOP "Contract With America." The document, helpfully still posted on his website, lays out precisely the steps that Trump promised to take by the same 100-day deadline he now ridicules.
It's a mixed bag. Trump has ticked off some of the items on the list, like instituting rules about lobbying activities by former members of his administration, or imposing a hiring freeze on the federal government. He has announced U.S. withdrawal from the Trans-Pacific Partnership, okayed construction on the Keystone XL pipeline, and begun deportation of undocumented immigrants.
But far more of the big-ticket items remain unfulfilled. Trump attempted to institute a ban on Muslim immigration but was slapped down by federal courts; a second, far narrower, order has also hit legal roadblocks. Trump has not begun the formal process of renegotiating NAFTA. He has publicly announced his change of heart on a promise to label China a currency manipulator, and left the nation out of a list of countries to be so labeled.
The record on big-ticket legislative items is even worse. The failure of the health-care bill is the most glaring. Having an excuse to set that aside might actually be great news for Trump, but rather than take that opportunity, he is mounting his last-ditch attempt to get it done before the 100-day mark, highlighting his own fixation on the metric. Tax reform within 100 days was always a long shot, and it's even longer with Obamacare repeal jammed. School choice, military expansion, childcare, anti-corruption, and anti-offshoring efforts? There's barely a peep about any of these on Capitol Hill. (Anyone who has followed Trump's business career might be unsurprised to learn that he's not following through on a contract.)
Trump's first three months have been underwhelming by the standard of any president in the modern era. No recent predecessor has seen his first major legislative push collapse so dramatically, and although Trump has signed a raft of executive orders, the major goals remain unfulfilled. But never mind that: With eight days left, Trump is well short of the standard that he set for himself, which his Twitter missive only serves to underscore.