The Swift Fall of Devin Nunes
The chairman of the House Intelligence Committee abruptly recuses himself from the Russia probe while he is under investigation for improperly disclosing classified information.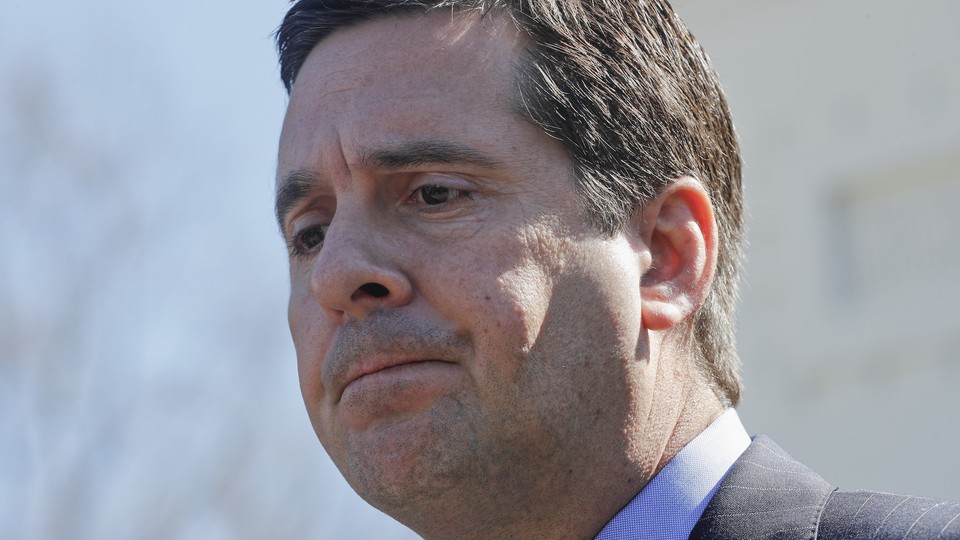 Representative Devin Nunes will no longer lead the House Intelligence Committee's investigation into Russian interference in last year's election amid allegations that he broke congressional rules by disclosing classified information.
The California Republican announced abruptly on Thursday he would step aside from the inquiry  while the House Ethics Committees investigates his actions. "The charges are entirely false and politically motivated, and are being leveled just as the American people are beginning to learn the truth about the improper unmasking of the identities of U.S. citizens and other abuses of power," Nunes said in a statement. In a separate statement issued moments later, Speaker Paul Ryan said he backed the decision and the Representative Mike Conaway of Texas would now lead the Intelligence Committee's investigation. Nunes will remain chairman of the full committee.
Ryan said:
Devin Nunes has earned my trust over many years for his integrity and dedication to the critical work that the intelligence community does to keep America safe. He continues to have that trust, and I know he is eager to demonstrate to the Ethics Committee that he has followed all proper guidelines and laws. In the meantime, it is clear that this process would be a distraction for the House Intelligence Committee's investigation into Russian interference in our election.
At a press conference, Ryan reiterated that he still had confidence in Nunes's leadership of the Intelligence Committee, but the chairman's sudden move to quit the Russia probe raises questions about whether he misled the speaker about his handling of evidence that he viewed at the White House.
The Ethics Committee, which is jointly led by a Republican and a Democrat, confirmed that it had launched an inquiry based on "certain allegations of unauthorized disclosure of classified information." Although Nunes blamed "left-wing activist groups" for filing a complaint, the statement indicated the investigation stemmed not from a formal complaint filed by outside groups, but rather, from the committee's own responsibilities.
Nunes has drawn condemnation from Democrats and increasing criticism from Republicans for appearing to be carrying the water of President Trump and his associates. Days after FBI Director James Comey confirmed the existence of an ongoing and potentially criminal investigation into the Trump campaign's links to the Russian government, Nunes held a press conference to announce he had uncovered evidence that conversations involving Trump associates had been "incidentally" collected, an intelligence term that describes when the communications of individuals interacting with targets of official surveillance are picked up.
Later, Nunes expressed concerns that Trump transition officials whose communications had been incidentally collected had been inappropriately "unmasked." In intelligence reports, the identities of US persons that are incidentally collected are anonymized or "masked;" they can be unmasked at the request of high ranking officials if intelligence agencies determine doing so would contribute to understanding the report.
To many conservatives and the president himself, Nunes' disclosure seemed to grant validity to Trump's unsubstantiated tweeted claim that former President Barack Obama had wiretapped him. In a bizarre move, Nunes then went to the White House to brief the president on what he had learned, but it was later reported that the evidence he had seen had come from officials at the White House itself.
In a letter to the Office of Congressional Ethics, representatives of Citizens for Responsibility and Ethics in Washington, along with other good-government advocates, noted that Nunes had acknowledged that the information he viewed at the White House was classified. If so, that would be a violation of House rules, and potentially federal law.
Representative Adam Schiff of California, the top Democrat on the Intelligence Committee who had bickered with Nunes in recent weeks, praised his decision to step aside. "I know this was not an easy decision for the chairman, with whom I have worked well for many years," he said in a statement. "The important work of investigating the Russian involvement in our election never subsided, but we have a fresh opportunity to move forward in the unified and nonpartisan way that an investigation of this seriousness demands."