The Republican Identity Crisis
A conservative by any other name would still be confused about where they fall on the ideological spectrum in the Trump era.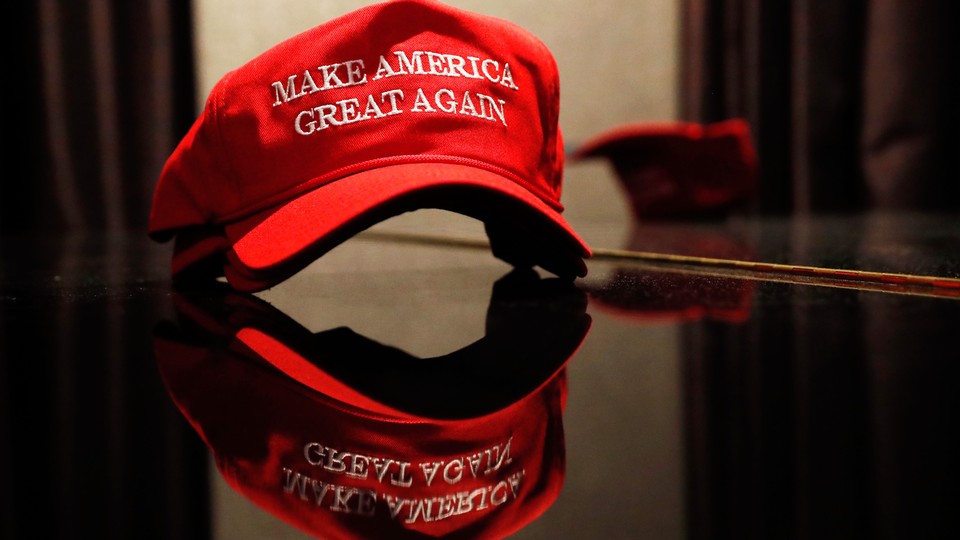 These are confusing times to be a Republican.
For the past several decades, members of the GOP have mapped the ideological range found within their party onto a fairly straightforward spectrum—one that runs from "moderate" to "conservative." The formulation was simplistic, of course, but it provided a useful shorthand in assessing politicians, and in explaining one's own political orientation.
A small-government culture warrior in Arizona would be situated on the far-right end of the spectrum; a pro-choice Chamber of Commerce type in Massachusetts might place himself on the other end. And across the country, there were millions of people—from officeholders to ordinary Republican voters—who identified somewhere between those two poles.
But with the rise of Donald Trump—and his spectrum-bending brand of populist nationalism—many longtime Republicans are now struggling to figure out where they fit in this fast-shifting philosophical landscape. In recent weeks, two prominent Republicans have told me they are sincerely struggling to explain where they fall on the ideological spectrum these days. It's not that they've changed their beliefs; it's that the old taxonomy has become incoherent.
For example, does being an outspoken Trump critic make you a "moderate" RINO? Does it matter whether you're criticizing him for an overly austere healthcare bill, or for a reckless infrastructure spending plan? And who owns the "far right" now—is it "constitutional conservatives" like Ted Cruz, or "alt-right" white supremacists like Richard Spencer?
When I raised these questions on Twitter earlier this week, I was swamped with hundreds of responses and dozens of emails from longtime Republicans who described feeling like they are lost inside their own homes.
Some, like Jordan Team from Washington, D.C., related how their attempts at explaining their personal politics have devolved into a kind of absurdist comedy:
I've always identified as a more moderate R—even"establishment Republican", if you will. I usually always use "moderate" or "Establishment" when saying I'm a Republican to separate myself from more hard-line Tea Party Freedom Caucus conservatives.

These days, however, I feel like it requires even further explanation to separate myself from the nationalism/populism that Trump & team espouse, since they're all now technically Republicans. Usually it's something super catchy & brief along the lines of: "I'm a moderate Republican—or at least, have been one, not really sure that that means anymore—but I don't support Trump or populism—I'm traditionally conservative."  And even that doesn't always get the point across. I think the easiest when trying to have a conversation with someone is a two step process. Step 1: "I'm a Republican but don't like Trump," and then if the convo keeps going/they know politics/they're interested, there's step 2: "I'm more moderate/establishment than Tea Party/Freedom Caucus."
Other people, meanwhile, shared more tragic testimonials. "I feel honestly like a part of my identity was stolen," wrote Alycia Kuehne, a conservative Christian from Dallas, Texas.
But virtually everyone who wrote to me shared a common complaint: The traditional "Left ↔ Right" spectrum used to describe and categorize Republicans has become obsolete in the age of Trump. The question now is what to replace it with.
To provoke interesting answers, I asked people who wrote to me to imagine the Republican voter who is furthest from themselves—be it ideologically, philosophically, or attitudinally—and then to answer the question: What is the most meaningful difference between you and that person?
The proposed spectrums that emerged from their responses—some of which I've included below—are not meant to be peer-reviewed by political scientists. But they offer new, and potentially more useful, ways to map the emerging fault lines that now divide the American right.
LIBERTARIAN ↔ AUTHORITARIAN: One of the most common responses I received from Republicans argued that the party could be divided between authoritarians (who tend to gravitate toward Trump) and libertarians (who are generally repelled by his strong-man instincts). In an email that was typical of several I received, Aaron L. M. Goodwin, from California, wrote:
I grew up in a pretty conservative household. We were home-schooled Mormons. We listened to conservative talk radio. I was the only 10-year-old I knew of who loved to watch C-Span. These days I feel completely alienated from the GOP. But, I don't feel like I'm the one who sold out. So where does that leave me?

I believe the conservative/liberal spectrum has been overtaken by one for democratic/authoritarian ... Most of the Republicans I still feel some kinship with are from a multitude of ideologies, but they share an ideology based on classical liberal democracy. We all share a deep-seeded suspicion of rule by power, and I believe, are closer to the original intent of our founding documents.
GRIEVANCE-MOTIVATED ↔ PHILOSOPHICALLY MOTIVATED:  Liz Mair, a libertarian-leaning GOP strategist, wrote that she's been convinced after "300 gazillion conversations with all sorts of conservatives"—including a range of lawmakers, writers, pundits, candidates, and grassroots-level activists—that the biggest division within the party is one that separates Fox News-a-holics driven by tribal grievance from people who have some kind of philosophically rooted belief system:
I honestly think the split in conservatism comes more down to philosophy versus identity politics than anything. Are you opposed to things on philosophical or tribal grounds? Are you a believer or a member of our clan? (Said in the Scottish sense) ...

I bet if you polled Trump primary voters and asked them what was the bigger problem—insufficiently limited government or transgender Muslim feminists being celebrated at the Oscars, a big majority would say the latter.
ANTI-ESTABLISHMENT ↔ ESTABLISHMENT: The outsider/insider trope is well-worn in contemporary conservative politics—so much so that you could argue the terms have lost their meaning. But based on the emails I received, many Republicans (on both ends of the spectrum) still view the party through that lens. On one end are people who respect existing political institutions, and believe in conforming to their norms and using the system to advance their agenda. On other end of this spectrum are people who believe the establishment is hopelessly corrupt and ineffectual, and that it should be circumvented whenever possible.
The flaw in this formulation, it seems to me, is that virtually every Republican who has entered Congress over the past eight years started out on the anti-establishment end of the spectrum, and then slid—involuntarily, perhaps, but inevitably—toward the establishment end. That's because, as Stephen Spiker from Virginia emailed, once you run for office and win, you necessarily become a part of the system, an insider:
I see many colleagues in the party taken in by the "establishment vs anti-establishment" spectrum. Essentially populism, as the anti-establishment folks are "burn it down" because they don't feel represented and want a fighter. That lead to Dave Brat winning in 2014, and Trump winning in 2016.

Now that its Trump vs Brat, you're going to see the inherent decay in this school of thought: the anti-establishment crowd turning on their former heroes like Dave Brat (as they turned on Cantor previously). He's in Congress, he's an insider, he's standing in the way, etc.

It will eventually turn on Trump as well, as he falls short on goal after goal. When it happens (as in, before or after Trump is out of office) is always dependent on having the right person run at the right time on the right message, but it will happen.

Most notable about the anti-establishment position is that there's no consistent end game or policy goal. It exists for the sake of itself. That's what frustrates folks who actually have firm ideological stances.
ABSOLUTISTS  ↔ DEALMAKERS:  Many of the most high-profile intra-party battles in recent years have been fought not over ideas, but tactics and a willingness to compromise. While Republicans in Washington were essentially unanimous in their opposition to President Obama's agenda, they differed—at least at first—over whether they should cut deals at the legislative bargaining table, or, say, shut the government down until they got exactly what they wanted. The absolutists largely won out during the Obama presidency—but what about now? On one end of this spectrum are people like the Freedom Caucus purists from whom it is all but impossible to extract concessions; on the other are the dealmakers who will compromise virtually anything to get some kind of legislation passed.
Several Republicans who wrote to me were, I think, circling this idea, which my colleague Conor Friedersdorf recently articulated:
Do populist Republicans want a federal government where politicians stand on principle and refuse to compromise? Or do they want a pragmatist to make fabulous deals?

… Is a GOP House member more likely to be punished in a primary for thwarting a Donald Trump deal … or compromising to make a deal happen? Were I the political consultant for an ambitious primary candidate in a safe Republican district, I can imagine a successful challenge regardless of what course the incumbent chose, voters having been primed to respond to either critique.
OPEN/TOLERANT ↔ NATIVIST/RACIST: This is the probably the most provocative construct that was proposed, but it was also a popular one. For many Trump-averse Republicans, one of the biggest perceived differences between themselves and hardcore Trump fans is attitudes toward racial minorities and foreign immigrants. The alt-right dominates one end of the spectrum—and they place themselves on the polar opposite end.
Granted, this spectrum was not proposed to me by any Trump supporters, and no doubt many of them would strongly disagree with this categorization. But there's no question it's one of the defining debates inside the party right now. Evan McMullin, a conservative who ran for president last year under the #NeverTrump banner, was quoted in October saying that racism was the single biggest problem with the party.
* * *
This is, of course, by no means a comprehensive list of the divisions within the GOP. For example, one of the most talked-about conflicts to emerge in the past year has been between "nationalism" and "globalism." But despite efforts by Steve Bannon and other Trump advisers to frame the ideological debate that way, very few GOP voters—at least none who wrote to me—identify as "globalists." Instead, these new spectrums represent a few of the ways in which Republicans—eager to escape the disorder and confusion of the Trump era—are categorizing themselves and each other.
---
Related Videos