The Georgia Republican Who Succeeded by Keeping Her Distance From Trump
Karen Handel showed little enthusiasm for the president compared to the GOP rivals she defeated in advancing to a runoff in a special election for the House.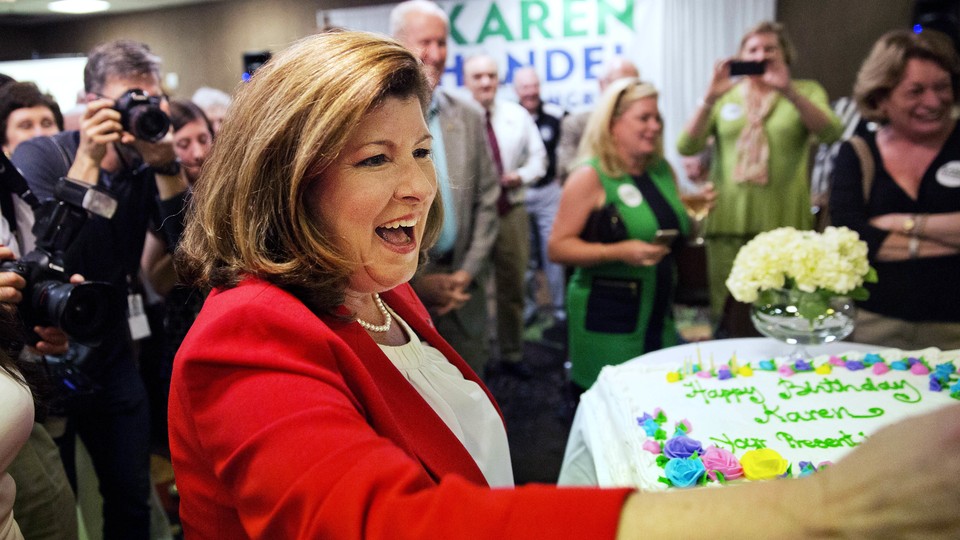 Karen Handel, who on Tuesday advanced from a field of 11 GOP hopefuls to a runoff in a Georgia special election for the House, is not exactly the prototype of a Trump-era Republican.
She's a veteran politician who has waged three campaigns—one victorious—for statewide office in the last 11 years, and unlike her main party rivals, rarely invoked the president's name on the campaign trail. Handel, 55, is neither an establishment favorite nor a renegade outsider; she is, however, a familiar face in Georgia GOP politics, having run in primaries for governor in 2010 and Senate in 2014. And that advantage in name recognition may have, as much as any particular message, helped win her nearly 20 percent of the vote and a second-place finish in the 6th district's jungle primary.
But Handel might also have succeeded by reflecting the relative lack of enthusiasm that Republican voters in Atlanta's northern suburbs have for President Trump. While the district reelected now-former Representative Tom Price by a wide margin in November, it split its votes between Trump and Hillary Clinton. (He carried the district by about 1.5 percentage points.) That was a big reason why the special-election race was so enticing for Democrats, who threw their support behind 30-year-old Jon Ossoff and narrowly missed an outright victory on Tuesday.
Handel ran as a standard conservative Republican, much as Price did in his campaigns. She touted her record balancing the budget as chairwoman of the Fulton County board of commissioners and then implementing a voter ID law as secretary of state. She railed against the undefined "status quo," but the issues she highlighted—opposition to abortion, lower taxes, repealing and replacing Obamacare—were fairly boilerplate. Though Handel didn't criticize Trump, he played little role in her messaging.
By contrast, her rivals hugged the president tightly and fought over who would back him most staunchly in Congress. Trump's voice is the first you hear in the feature video on the website of Bob Gray, a businessman and first-time candidate who told voters he was "running for Congress to support President Trump's agenda." Dan Moody, a former Georgia state senator, similarly uttered Trump's name before his own in one of his ads, embracing the president's call for term limits. Another spot featured live donkeys and elephants to represent the two parties, including an elephant wearing enormous pearls that was a thinly-veiled reference to the "career politician" Handel. And another GOP contender, State Senator Judson Hill, repeatedly attacked Gray as a "phony" Trump supporter, citing a critical comment the businessman made in a Facebook post during last year's campaign.
In the end, Gray, Moody, and Hill all finished within about 4,000 votes of each other and well behind Handel. "The more closely aligned a candidate was with President Trump, the worse that candidate did," wrote Erick Erickson, the Georgia-based conservative activist who has supported Handel and criticized Trump. Erickson noted that among the minor GOP candidates, the one who backed third-party conservative Evan McMullin in last year's race won significantly more votes than two who helped elect Trump.
The split among Republicans was apparent not only in their messages but in their endorsements. Senator David Perdue backed Moody while his predecessor, former Senator Saxby Chambliss, endorsed Handel. Hill had the support of Senator Marco Rubio of Florida and of ex-Speaker Newt Gingrich, who represented the district for 20 years in the House.
Democrats can take hope in Ossoff's performance overall and in the turnout, which saw a much steeper drop-off for Republicans than for Democrats, much as it did in the party's strong showing last week in a Kansas House race. (Special elections are generally low-turnout affairs compared to standard campaigns in the fall.) Despite the enthusiasm gap between the parties, the 11 Republicans totaled more votes than Ossoff and six other Democrats. And the party immediately rallied around her heading into the June 20 runoff. Handel received a call on Wednesday morning from Trump, who congratulated her in a tweet as well. She told CNN she hoped the president would come to Georgia to campaign for her.
The June runoff will feature a new dynamic for both parties in the 6th district, and one that could make the special election a more relevant bellwether for the 2018 midterms. Ossoff and the Democrats face a much stiffer challenge running against a single Republican with a unified party behind her. And while Handel deftly kept her distance from the polarizing Trump in the first round, she may not have that option now.