All the President's Flip-Flops
The simplest explanation for Donald Trump's new positions on everything from Syria to interest rates? Ignorance.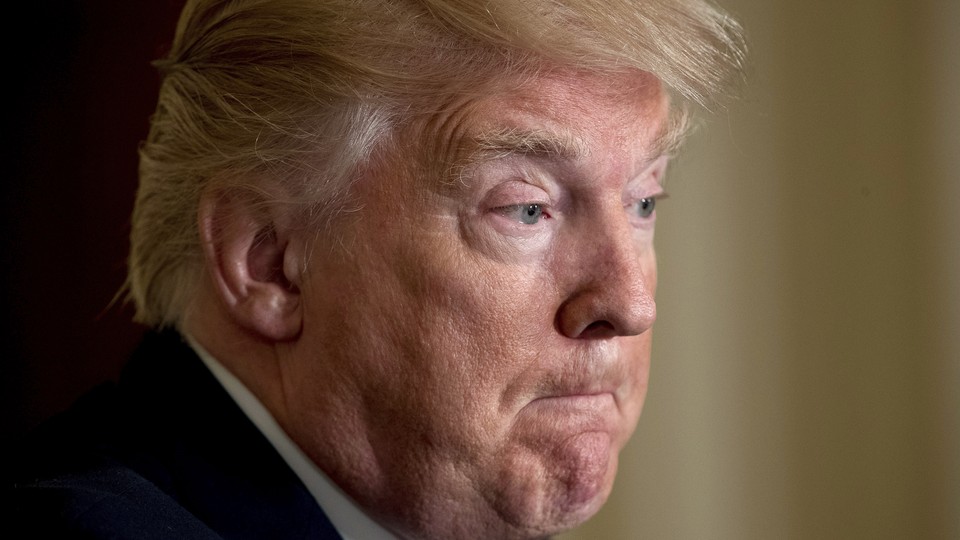 In February 2017, Jon Stewart noted that Donald Trump had a remarkable affinity for a certain phrase: "Believe me."* Trump used it over and over, which made Stewart wary: "Nobody says 'believe me' unless they are lying."
Whether Trump was intentionally misleading or not, he has offered reason to question the credibility of his campaign promises this week. In recent days, the president has changed positions on a range of issues, from fiscal policy to foreign wars and taxes to trade. Here's a quick rundown.
Chinese Currency Manipulation
During the campaign, Trump railed against China's economic policy, saying Beijing was keeping its currency artificially low as a way of getting a leg up on the U.S. In an August 2015 Wall Street Journal op-ed, for example, he promised, "On day one of a Trump administration, the U.S. Treasury Department will designate China a currency manipulator. This designation will trigger a series of actions that will start the process of imposing countervailing duties on cheap Chinese imports, defending American manufacturing and preserving American jobs." Day one of his presidency came and went without any such labeling, and in an interview with The Wall Street Journal published on Wednesday, Trump announced he'd changed his mind: "They're not currency manipulators."
Trump offered two reasons for his change of heart: First, he said, China had quit manipulating its currency in recent months; and second, he was worried that starting a trade tiff now would endanger cooperation with Beijing on pressuring North Korea. The latter is admirably frank, but the former is nonsensical. Although some observers believe China deserved to be branded a currency manipulator in the past, its government had begun spending huge sums to prop up the yuan since 2014—long before Trump's economic saber-rattling.
Janet Yellen and Low Interest Rates
Federal Reserve Chair Janet Yellen was another punching bag for Trump during the campaign. "Janet Yellen should have raised [interest] rates," he said in November 2015. "She's not doing it because the Obama administration and the president doesn't want her to." In May 2016, he promised to replace her because she was not a Republican, but said he thought it was wise to keep interest rates low. By September 2016, he'd changed his mind again, saying she should be "ashamed" for keeping rates low.
In his new Journal interview, Trump opened the possibility of reappointing Yellen at the end of her term in 2018, saying she was "not toast."
"I like her, I respect her," the president said, adding, "I do like a low-interest rate policy, I must be honest with you."
Syria
Trump's most visible reversal has come on his policy toward Syria. As a private citizen and as a candidate, Trump repeatedly argued against American military intervention against the Assad regime, saying it was not in U.S. interests. Yet last week, Trump decided to launch missile strikes against the Assad government, following a chemical-weapons attack in Idlib.
The White House's explanations for the flip-flop have been confusing. Administration officials have said, for example, that chemical-weapons attacks and the use of barrel bombs against innocent civilians are unacceptable, but both of those were going on in 2013 when Trump was stridently opposed to U.S. intervention. Nor has Trump made clear what his Syria policy will be going forward. Some aides have suggested a push for regime change, while others have insisted there's been no change in stance. As my colleague Rosie Gray reported, the decision to send missiles was bitterly disappointing to many of his alt-right supporters who saw Trump as a bulwark against Middle Eastern adventurism.
Russia
Along with Trump's reversal on Syria has come a reversal on Russia. Throughout the campaign, Trump praised Russian President Vladimir Putin, downplayed the Russian leader's misdeeds, and argued that America had much to gain from working with the Kremlin.
Since the Idlib attack, the White House's rhetoric toward Putin has turned decidedly chilly. "I think it's a very sad day for Russia because they're aligned, and in this case, all information points to Syria that they did this," Trump told The New York Times after the attack. On Tuesday, the administration made the case that Russia had attempted to help Assad cover up the chemical-weapons attack. Russia said that relations with the U.S. are at their lowest ebb since the Cold War, a claim that Secretary of State Rex Tillerson basically confirmed after meeting with his counterpart Wednesday.
NATO
Trump frequently criticized NATO during the campaign, arguing the alliance had outlived its usefulness and threatening to pull back if other members did not increase their defense contributions. After entering office, he kept up the criticism, pressing German Chancellor Angela Merkel on German defense spending during her visit to the U.S.
At a White House press conference with NATO Secretary-General Jens Stoltenberg on Wednesday, Trump sounded a different note, saying the alliance was a "bulwark of international peace." The president added, "I said it was obsolete. It's no longer obsolete." Trump attributed the change of heart to what he said was a renewed focus on terrorism. NATO officials have said the change was long planned. Trump's change of heart here resembles his team's shift on Bureau of Labor Statistics unemployment numbers it previously criticized. "They may have been phony in the past, but it's very real now," spokesman Sean Spicer said in March.
James Comey
When Trump entered office, he decided to keep FBI Director James Comey in place, to the chagrin of some Democrats, who were upset at the director's public comments on the FBI investigation into Hillary Clinton, which they blamed for costing her the election.
In March, however, Comey confirmed that the FBI was investigating Russian interference in the election, and whether Trump aides colluded with Russia. He also refuted the president's claim that he was surveilled before the election. That seems to have annoyed Trump. In an interview with Fox Business's Maria Bartiromo that aired Wednesday, Trump said he had confidence in Comey but also said it was not too late for him to fire the director. (He is likely correct about that, as a matter of law.) Trump criticized Comey for letting Clinton off the hook and said, "We'll see what happens. You know, it's going to be interesting."
Export-Import Bank
During the campaign, Trump stood with many Republicans in opposing the Export-Import Bank, a government agency that encourages purchases of U.S. goods. "I don't like it because I don't think it's necessary," he told Bloomberg. "It's a one-way street also. It's sort of a featherbedding for politicians and others, and a few companies.... And when you think about free enterprise it's really not free enterprise. I'd be against it."
Since entering the White House, Trump has had a change of heart. Democrats claimed in February that the president had privately reversed his stance on the Ex-Im bank, and he confirmed it to the Journal, saying he intended to fill two empty seats on the board. "Instinctively, you would say, 'Isn't that a ridiculous thing,'" he said. "But actually, it's a very good thing. And it actually makes money, it could make a lot of money."
* * *
It is too early to say what sort of political price Trump might pay for his flip-flopping. The Syria strikes frustrated some of his most ardent supporters, but these core backers are also the ones who agree with Trump on the most and are less likely to find another champion. Many of the others are the sorts of nuts-and-bolts issues that few voters have especially informed opinions about. Voters care a great deal about how their own pocketbook is faring, and less about the specific monetary policies that are producing that result. Trump's harsh words for NATO and China during the campaign were never deeply rooted in fact, as Beijing's efforts to prop up its currency showed; they were more about showing toughness.
A more useful question at the moment is what is driving Trump's sudden spree of reversals. It's very tempting to read them in light of what seems to be another reversal—in Trump's feelings toward Steve Bannon, his chief strategist. Despite, or perhaps because, of developing a reputation as the man behind Trump, he has suffered a series of setbacks. First, Bannon was removed from a spot on the National Security Council principals committee. Then in an interview with the New York Post published Tuesday, Trump expressed weak confidence in Bannon.
"I like Steve, but you have to remember he was not involved in my campaign until very late," Trump said. "I had already beaten all the senators and all the governors, and I didn't know Steve. I'm my own strategist and it wasn't like I was going to change strategies because I was facing crooked Hillary."
To the Journal, Trump referred to Bannon, who has reportedly feuded with Jared Kushner, Trump's son-in-law and senior adviser, as merely "a guy who works for me."
There is a correlation between Trump's recently abandoned stands and Bannon's views. Bannon has lionized Vladimir Putin, disdained NATO, and argued strenuously against military action in Syria. He has portrayed the Ex-Im Bank as a form of corporate welfare.
In other cases, however, Trump's changed views appear to be more of a reflection of the president's ignorance. The president was widely mocked for his claim that "nobody knew that healthcare could be so complicated." It is true that many people recognized that, but equally apparent that Trump did not. As is becoming clear, he was a blank slate on a range of other issues as well.
Trump told the Journal he had told President Xi Jinping that China could easily solve the North Korea problem. "After listening for 10 minutes, I realized it's not so easy," Trump said. "I felt pretty strongly that they had a tremendous power… but it's not what you would think."
It's a striking admission that just 10 minutes of lecturing from a foreign leader could reverse Trump's view of a major challenge facing his administration. And yet that is in line with his other reversals.He seems only now to be learning about the scope of Syrian atrocities and the extent of Russia's backing for President Bashar al-Assad. By his own admission, he has decided that the Ex-Im Bank is more useful than he realized. He's come around on low interest rates, and is getting up to speed on what China is actually doing with its currency.
The learning curve for the president is steep, and as he climbs it, the nation may be treated to even more dizzying reversals.
---
* This article originally stated that Jon Stewart's comments about Donald Trump were made in February 2016. They were made in February 2017, after Trump had become president. We regret the error.