Can Trump's Justice Department Undo Police Reform?
Attorney General Jeff Sessions had indicated he would not make law-enforcement reform a priority, but new moves suggest he'll try to reverse Obama-era changes, too.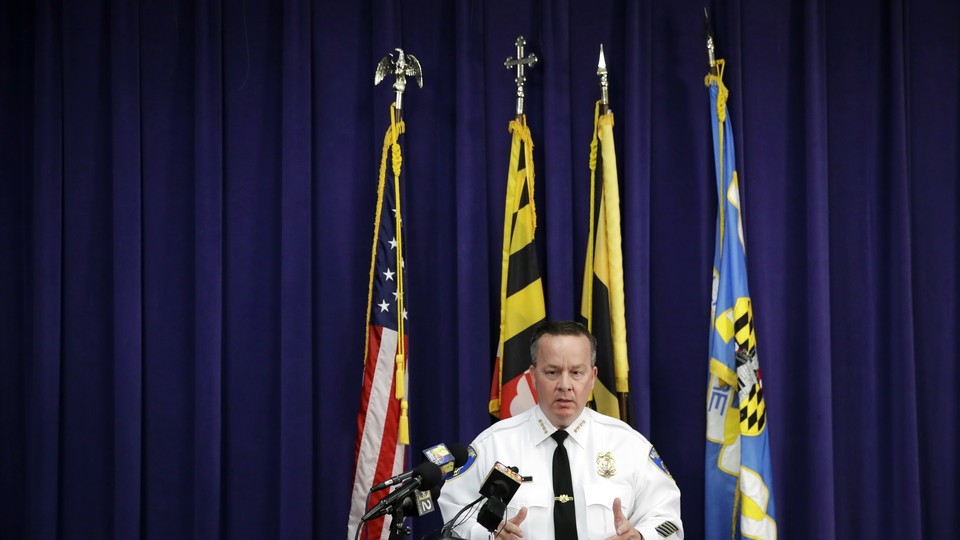 In the closing days of the Obama administration, the Justice Department hurried to create facts on the ground about police reform. On January 12, eight days before the inauguration, DOJ reached a consent decree with the city of Baltimore to fix egregious constitutional violations by its police department. The next day, it released a lengthy report into abuses by the Chicago Police Department. This followed on a series of other consent decrees—basically, binding legal agreements to reform—with other police departments. It was well short of what some police-reform advocates wanted, but it was also the most aggressive use of consent decrees any administration had exercised.
But if the new management of the Justice Department has its way, those attempts could be reversed soon. On Monday, the department released a memo from Attorney General Jeff Sessions, dated March 31, about DOJ's relationships with police departments at all levels. The memo voices concern for "officer safety, office morale, and public respect" and says that local control is paramount: "It is not the responsibility of the federal government to manage non-federal law enforcement agencies."
"The misdeeds of individual bad actors should not impugn or undermine the legitimate and honorable work that law enforcement officers and agencies perform in keeping American communities safe," Sessions wrote.
This is in keeping with Sessions's statements before. He is skeptical of police-reform efforts, and has indicated drawing back from the active role that Attorneys General Eric Holder and Loretta Lynch took. What sticks out is that the Trump Justice Department seems to be interested in undoing the Obama administration's already-completed work, too. The memo instructs DOJ officials to review all activities, including "existing or contemplated consent decrees … to ensure that they fully and effectively promote the principles outlined above." Also on Thursday, the Justice Department asked a judge for 90-day pause as it reviews the agreement with Baltimore.
Kristen Clarke, the president and executive director of the Lawyers' Committee for Civil Rights Under Law, said any pullback from consent decrees would be "devastating" to departments and communities.
"At the end of the day we're talking about unconstitutional policing policies," she said.
If Sessions does seek to withdraw from the Baltimore consent decree, it will provide a useful stage for considering the fate of police reform in the U.S. It could provide a test for whether courts will allow the Justice Department to pull back, and of whether localities plagued by police problems will be willing to let go of reform.
Most prominently, however, Baltimore provides a rebuke to Sessions's notion that police problems are the fault of the proverbial few bad apples in troubled police departments. The city was swept by demonstrations and riots after the April 2015 death of Freddie Gray, who was mortally injured while in police custody. The Justice Department began investigating, eventually producing a 163-page report in August 2016. The report establishes in stomach-churning detail that the problems with the Baltimore Police Department were not limited to bad cops. The problem was the department itself.
Supervisors told officers to make frequent arrests, even when there was no crime-fighting imperative. So many lacked probable cause that central booking and prosecutors refused 11,000 charges between 2010 and 2015. Stops were highly racially disparate:
From 2010–2014, BPD officers in the Western and Central Districts recorded more than 111,500 stops—roughly 44 percent of the total stops for which officers recorded a district location. Yet these are the two least populated police districts in Baltimore, with a combined population of only 75,000, or 12 percent of City residents. These districts include the City's central business district and several poor, urban neighborhoods with mostly African-American residents. In these districts, police recorded nearly 1.5 stops per resident over a four-year period.
One African American man was stopped 34 times during that five-year period. A range of arrests for minor and procedural offenses (resisting arrest, failing to obey an order, trespassing on posted property, and so on) were almost entirely used against black citizens. "African Americans accounted for roughly 88 percent of the subjects of non-deadly force used by BPD officers in a random sample of over 800 cases we reviewed," the report found.
On and on the report went, showing systemic, structural problems with the Baltimore Police Department, ones whose scope and temporal reach couldn't possibly be the product of merely a few bad cops. Baltimore's leadership, to its credit, was eager to reform, and welcomed a consent decree with the U.S. government. Reformers argue that when a force is as badly broken as Baltimore's is, internal reform is insufficient. Indeed, the police commissioner at the time of Gray's death had been hired as a reformer, but his progress was slow, and he was fired in the wake of the demonstrations.
That's one thing that's so peculiar about the Justice Department possibly seeking to withdraw: Under the consent decree, the U.S. government was striking a deal with the city of Baltimore, in which the city of Baltimore would make changes in order to prevent litigation. Yet now, the plaintiff, the Justice Department, is interested in walking away from the deal, while the defendant is insisting it go forward.
Mayor Catherine Pugh said she strongly opposed any delay to the consent decree.  So did Baltimore Police Commissioner Kevin Davis.
"I'm disappointed that the Department of Justice thought it was necessary to seek a 90-day extension," he said Tuesday. "We're ready to go with the consent decree. I want to say to the community in particular that the police department is absolutely dedicated to the consent-decree process. There's no backroom deals. There's no sleight of hand."
Not all departments have been as eager for federal involvement, but Justice reports have shown similarly systemic issues in Cleveland, Chicago, and Ferguson, Missouri.
And despite Sessions's claim to speak for police who are struggling with criticism, many chiefs have welcomed federal involvement as an essential aid. In addition to Davis's criticism, Chicago Mayor Rahm Emanuel and Police Commissioner Eddie Johnson also issued a statement saying they would move forward with reform, alone or with the Justice Department: "We can only speak for our intentions, we can't speak for the federal government's." In Cincinnati, which reformed its police department after a consent decree, federal involvement has been widely hailed as contributing to a vast improvement in the city's policing and relationship with the community.
Whether the Department of Justice could actually withdraw is an open question. New administrations often temporarily freeze the policies of their predecessors, and sometimes reverse them, but a consent decree is different because it's a legally binding agreement. Experts said they were unsure whether a judge would be willing to allow the federal government to undo that.
"People bargained and struck a deal, or the court imposed one, more or less," said Carl Tobias, Williams professor of law at the University of Richmond. "The government usually enters into it because it thinks it might do worse if it continued to litigate. It's like a settlement."
There are procedures for altering or withdrawing from a consent decree. A common use by the federal government, historically, has been to desegregate school systems, and one or both parties could argue that the goals of the decree had been met. But that typically occurs after years or decades of work—not just a few months into a process.
"This is utterly ridiculous," Clarke said. "This is the most preliminary stage where you finally have the agreement from the city and the police, and to have Sessions stand as an obstacle to the reform that everyone is fully prepared to move forward with is to me an example of trying to be an obstructionist."
For DOJ to withdraw, it would have to make a request and have it approved by a judge. Third parties, like pro-reform groups and nonprofits, might attempt to intervene in the case and force the federal government to remain party to a deal. Even if a judge didn't grant the request, it's likely that the Trump administration could simply decline to do anything to enforce the consent decree.
"They can let it all die by doing nothing," Jonathan Smith, former Justice Department chief of special litigation, told The Washington Post last year. (An eager judge could conceivably continue to zealously oversee compliance, even in the absence of a prosecutorial overseer.)
But if Sessions does order a withdrawal, and is successful, Baltimore will be the front line in a new experiment in police reform. If the federal government has no interest in enforcing constitutional protections, will cities be able to effectively reform their own police departments? Charm City would be at a slight advantage in that quest, since it already has the Justice Department's report and consent decree to use as a template. Other cities will be left to do all of that work alone—if they choose to do so.