The Atlantic Politics & Policy Daily: 99/1,461
On Saturday, President Trump will celebrate his 100th day in office.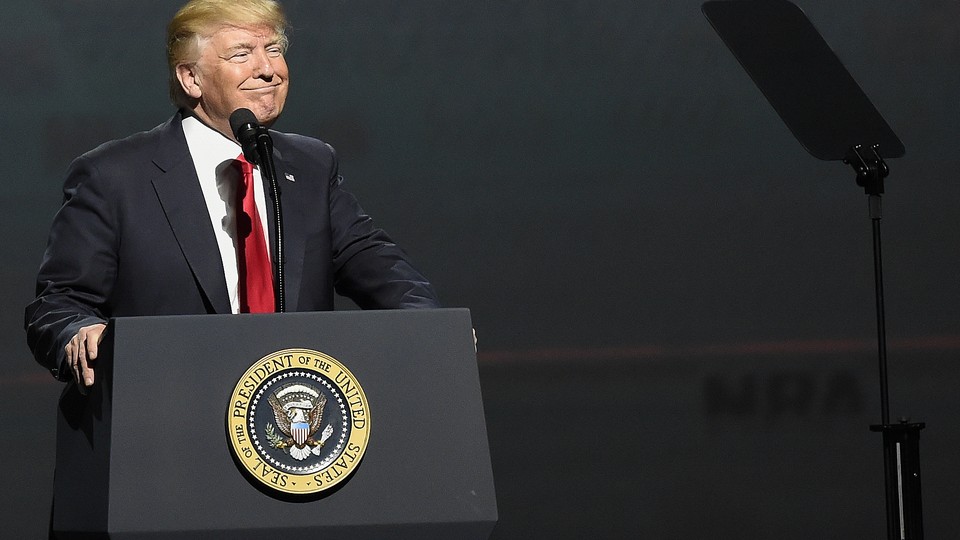 Today in 5 Lines
Congress passed a short-term spending bill, averting a government shutdown on the day before President Trump's 100th day in office. During a speech to the National Rifle Association in Atlanta, President Trump promised an end to an "eight-year assault" on Second Amendment rights. Secretary of State Rex Tillerson encouraged the international community to enforce sanctions on North Korea and said that "all options for responding to future provocations must remain on the table." The U.S. economy grew by just 0.7 percent in the first quarter, the lowest rate in three years. The 2017 White House Correspondents' Dinner will take place on Saturday, but instead of attending, Trump will hold a rally in Pennsylvania.
---
Today on The Atlantic
Follow stories throughout the day with our Politics & Policy portal.
---
Snapshot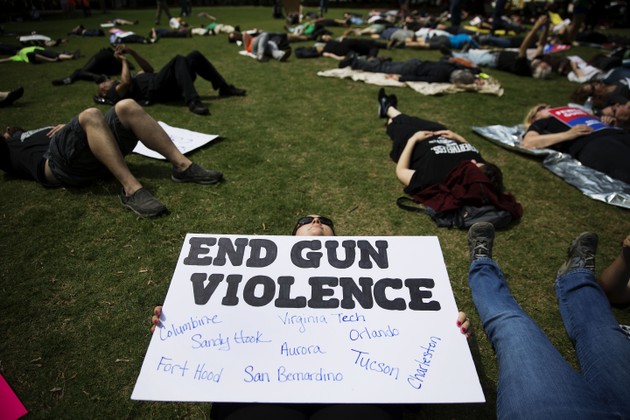 ---
What We're Reading
Trump's Nostalgia: In an interview with Reuters, Donald Trump reveals what he misses most about his life before the presidency. "I loved my previous life. I had so many things going," Trump said. "This is more work than in my previous life. I thought it would be easier." (Stephen J. Adler, Jeff Mason, Steve Holland)
What the Press Gets Wrong: Here are 13 things the media still doesn't understand about President Trump, according to media critics, politics experts, and historians. Hint: Most people don't care if Trump lies or breaches protocol. (Politico)
Why Even Try?: House Republicans could easily pass a bill to repeal and replace Obamacare, writes Byron York, so why haven't they done it? A lot of them don't actually want to. (Washington Examiner)
Where Are We Now?: During his presidential campaign, Donald Trump pledged to "make America safe again." McClatchy assesses the president's progress and whether he's fulfilled his campaign promise. (Vera Bergengruen)
Flattering Ivanka: Powerful leaders around the world—from German Chancellor Angela Merkel to World Bank President Jim Yong Kim—treat the politically inexperienced Ivanka Trump as a valuable White House adviser. Why? (Amy Davidson, The New Yorker)
---
Visualized
100 Days of Headlines: Check out this list of every front-page headline from The New York Times since Donald Trump took office—and compare them to headlines from former Presidents George W. Bush and Barack Obama. (Larry Buchanan, K.K. Rebecca Lai, and Anjali Singhvi)
---
Question of the Week
President Trump won't be attending this year's White House Correspondents' Dinner, which takes place on Saturday, but he did attend in 2011, when then-President Obama made a few jokes at Trump's expense. This week, we asked you to share your favorite moments from past dinners. Visit our Notes section for a complete list. For now, here's a sample:
Nancy Alpern found it particularly funny when, at his first dinner in 2009, President Obama joked that Michelle has the right to "bare arms" after the first lady was criticized for frequently wearing sleeveless clothing.
For Fran Koenig, and several other readers, the most "stunning and shocking" moment from past dinners was when Stephen Colbert roasted former President George W. Bush in 2006. Watch Colbert's address here.
Stay tuned for next week's Question of the Week.
-Written by Elaine Godfrey (@elainejgodfrey) and Candice Norwood (@cjnorwoodwrites)