The Atlantic Politics & Policy Daily: The Calm Before the Showdown
President Trump said he plans to unveil a tax-reform package early next week.
Today in 5 Lines
President Trump signed an executive order that will start the process of rolling back several Obama-era regulations intended to curtail corporate tax evasion. In an interview with the Associated Press, Trump said he plans to unveil a tax-reform package early next week that will give businesses and individuals a "massive tax cut." Trump also said far-right French presidential candidate Marine Le Pen is "the strongest on what's been going on in France," but stopped short of offering a full endorsement. The House Intelligence Committee, which is investigating Russian meddling in the 2016 presidential election, invited several former Obama administration officials, including former acting Attorney General Sally Yates, to testify before the panel. The Department of Justice is reportedly preparing to bring charges against Wikileaks founder Julian Assange.
---
Today on The Atlantic
Caught in His Own Trap: Donald Trump said he'd fulfill a slew of campaign promises by his 100th day in office. But as that date approaches, the president has changed his tone, describing the 100-day marker as a "ridiculous standard." (David A. Graham)

System Overload: By last September, there were more than 500,000 cases pending in immigration courts in the United States. That number will almost certainly grow as the Trump administration arrests undocumented immigrants who were not previously targeted. (Priscilla Alvarez)

Learning Politics: On Saturday, scientists around the world will march to highlight the importance of scientific research and its application to policy making. But this objective does not go far enough, writes Andrew Jewett. For the movement to succeed, he argues, protesters need to understand the power structures of politics.
Follow stories throughout the day with our Politics & Policy portal.
---
Snapshot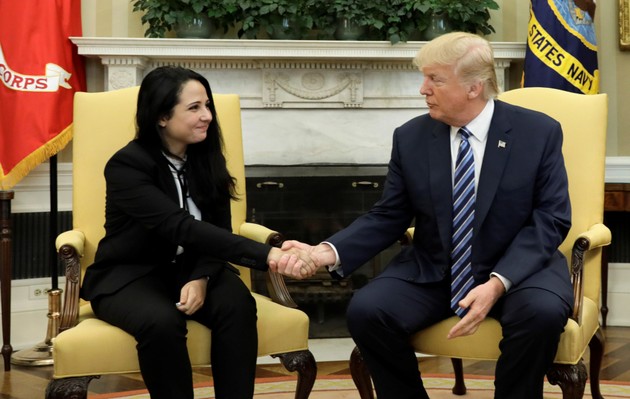 ---
What We're Reading
'How Trump Blew Up the Conservative Media': A Trump presidency was supposed to bring about a revival of conservative media, but instead, writes Eliana Johnson, Trump has "triggered a civil war in its top ranks." (Politico)
Trump's 'Trickiest Task': The president's best hope to deter North Korea's "junior god king" from using nuclear weapons is to talk with China—and persuade them that curbing the dictator is in their own best interest. (The Economist)
The Power of Diplomacy?: The Trump administration negotiated the release of an Egyptian American charity worker who was imprisoned in Egypt for three years. While the administration says the deal was a result of "discreet diplomacy," former Obama administration officials wonder if Egyptian President Abdel Fatah al-Sissi may have received something in return. (Philip Rucker and Karen DeYoung, The Washington Post)
The Reality of Climate Change: Society frequently focuses on ways to address the future dangers of climate change. But those effects are already "beginning to saturate the present"—from wildfires to heightened flooding. (Jon Mooallem, The New York Times Magazine)
Following the Money: A USA Today investigation found that Donald Trump's companies own more than 400 properties across the United States. Profits from these holdings could personally enrich the president, which creates the potential for conflict. (Nick Penzenstadler, Steve Reilly, and John Kelly)
---
Visualized
Under Attack: These graphics show the evolution of chemical weapons—from World War I to Syria's six-year conflict—and their effects on the human body. (Reuters)
---
Question of the Week
This week, we asked you to share your assessments of President Trump's first 100 days in office. Visit our Notes section for a complete list of responses. Here's a preview:
For Tom Lucas, Trump's presidency has gone much like his campaign:
There is no consistent focus, advisers are dropping in and out of favor, and Trump claims everything good that happens (good January job numbers) is a result of his greatness, while things that fail (AHCA) are somebody else's fault. Overall he is showing terrible leadership attributes.
Michael Porcaro, on the other hand, would give Trump an A for effort:
I feel he is doing his very best to carry out his agenda. Congress has to make adjustments to meet his demands. He won due to what he ran on. It's what the majority of working people want. He has more to do.
Finally, reader Howard Cohen put it this way: "All hat and no cattle."
Stay tuned for next week's Question of the Week.
-Written by Elaine Godfrey (@elainejgodfrey) and Candice Norwood (@cjnorwoodwrites)