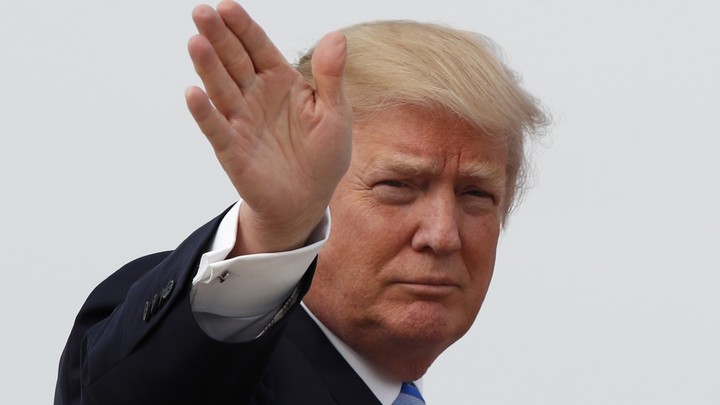 Today in 5 Lines
President Trump signed legislation allowing states to withhold federal family-planning funds from facilities that provide abortion services. On Twitter, Trump said he expects that China "will properly deal with North Korea," and promised that "things will work out fine between the U.S.A. and Russia." In a statement, the U.S. Central Command said that a U.S.-led airstrike in Syria unintentionally killed 18 allied fighters. The Pentagon announced that the U.S. military dropped its largest non-nuclear bomb, nicknamed "the mother of all bombs," on an ISIS target in Afghanistan. During his first speech as C.I.A. director, Mike Pompeo called Wikileaks a "hostile intelligence service," and denounced its founder, Julian Assange.
---
Today on The Atlantic
Is Trumpcare Alive?: Last month, Donald Trump warned House Republicans that he would drop his push to repeal Obamacare if they failed to pass the GOP health-care bill. Now, "the president is back to talking about health care as if the bill he endorsed had never died." (Russell Berman)

The Resistance: Democrats are hoping to secure a victory in Georgia's conservative sixth congressional district on April 18. Donald Trump narrowly defeated Hillary Clinton in the district. Could an energized anti-Trump coalition give them the advantage they need? (Clare Foran)

'Trump's Plan to End Europe': David Frum discusses how the fall of the European Union would disrupt the region's post-World War II order.
Follow stories throughout the day with our Politics & Policy portal.
---
Snapshot
---
What We're Reading
Bannon's Battle: After being sidelined by administration centrists and publicly scolded by the president, the White House chief strategist "is struggling to keep his job with his portfolio reduced and his profile damaged." (Philip Rucker, Ashley Parker, and Robert Costa)
'How Russia Hacked Obama's Legacy': The Obama administration knew about Russia's attempts to meddle in the U.S. presidential election for weeks before they said anything publicly. BuzzFeed's Hayes Brown investigates "how and why the administration chose to downplay and downgrade Russian aggression."
Uncontested: Republican Wisconsin Governor Scott Walker should be a "big, ripe" political target for Democrats in the state's 2018 gubernatorial race. Walker's approval ratings took a hit after his failed 2016 presidential bid, but Democrats are struggling to find a viable candidate to run against him. (Alan Greenblatt, Governing)
More on Manafort: The New York Times reports that, on the same day he stepped down from his role leading Donald Trump's presidential campaign, records show that Paul Manafort created a shell company "that soon received $13 million in loans from two businesses with ties to Mr. Trump." The transactions raise a few questions. (Mike McIntire)
Making a U-Turn: This week, Donald Trump abandoned several key foreign policy stances that were central to his campaign. CNN unpacks the president's shifting statements on NATO, China, Russia, and Syria. (Stephen Collinson)
---
Visualized
'Out of More Pockets': Uninsured rates have dramatically decreased since Obamacare went into effect in 2010, but patient out-of-pocket expenses have climbed. View these graphics to see how expenses have changed over time. (Jilian Mincer and Travis Hartman, Reuters)
---
Question of the Week
President Trump has reportedly played golf 16 times since taking office, outpacing former President Obama whose first documented golf outing happened near his 100-day mark.
In addition to golf, Obama also enjoyed pickup basketball games with friends and White House staffers. George W. Bush was an avid runner and had a treadmill added on Air Force One. If you were president, what would be your preferred leisure activity and why?
Send your answers to hello@theatlantic.com and our favorites will be featured in Friday's Politics & Policy Daily.
-Written by Elaine Godfrey (@elainejgodfrey) and Candice Norwood (@cjnorwoodwrites)
We want to hear what you think about this article. Submit a letter to the editor or write to letters@theatlantic.com.
Elaine Godfrey
is a staff writer at
The Atlantic
, where she covers politics.