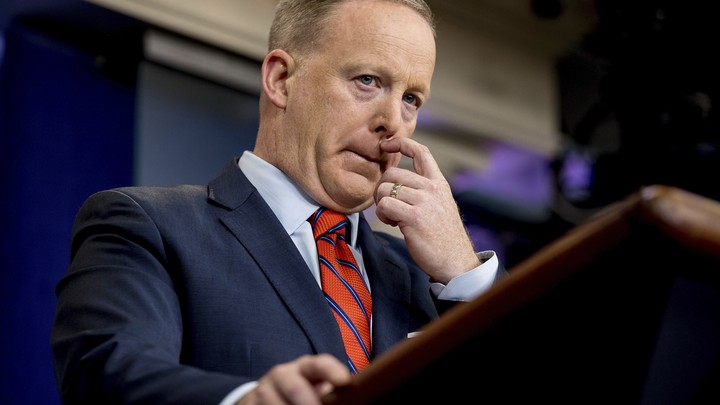 Today in 5 Lines
Sean Spicer's comments on Syrian President Bashar al-Assad and Adolf Hitler drew ire on social media, leading the White House press secretary to release a clarification to the press. During remarks at a G-7 meeting in Italy, Secretary of State Rex Tillerson said Assad's reign is "coming to an end," and discouraged Russia from continuing to support him. In Kansas, voters head to the polls to vote in a special election for a House seat, which belonged to Mike Pompeo before he became the director of the CIA. During a speech at the U.S.-Mexico border in Arizona, Attorney General Jeff Sessions outlined the Trump administration's crackdown on immigration enforcement, saying "the abdication of the duty to enforce our immigration laws, and the catch and release practices of old are over." United CEO Oscar Munoz issued an apology after a passenger was dragged off an overbooked flight on Sunday.
---
Today on The Atlantic
The Deeper Story: The U.S. strike against a Syrian air base refocused the American public's attention on the conflict. American aid organizations working with Syrian refugees, however, worry that the attention won't last. "This wave will end," said a Syrian American who runs a non-profit, "and we'll be back where we were: left alone to watch these massacres daily." (Emma Green)

Sending Reinforcements: The Trump era's first congressional election "should have been a cakewalk for Republicans," writes Russell Berman. And yet, the GOP has grown anxious about their prospects of winning in a Kansas district Trump carried by 30 points in November. (Russell Berman)

What Does it Mean?: President Trump has kept quiet about his motivations for ordering a strike in Syria and hasn't provided any details about U.S. policy toward Syrian President Bashar al-Assad going forward. David A. Graham reviews ideas about the United States's position from several key officials.
Follow stories throughout the day with our Politics & Policy portal.
---
Snapshot
---
What We're Reading
Ivanka's Influence: In an interview with The Telegraph, Eric Trump said that his sister, Ivanka Trump, influenced their father to respond to last week's chemical attack in Syria: "I'm sure she said, 'Listen, this is horrible stuff.' My father will act in times like that." (Simon Johnson)
Replying to @POTUS: Donald Trump, a self-proclaimed Twitter lover, has sent more than 400 tweets since taking office. Only a fraction of his millions of followers respond to these messages. From the loyalists to the haters, Polly Mosendz breaks down the types of people who tweet at Trump. (Bloomberg)
Trump's Latest Test: The White House Easter Egg Roll is a 138-year-old tradition that draws thousands of people to the South Lawn. This year, it's President Trump's turn to pull off a successful event, and the pressure is on. (Julie Hirschfeld Davis, The New York Times)
Bueller? Bueller?: In the wake of House Republicans' recent failure to repeal and replace the Affordable Care Act, many GOP lawmakers seem to be avoiding meeting with constituents directly, underscoring "the party's precarious political position on health care and peaking civic activism by progressives." (Heidi M. Przybyla, USA Today)
Watchtowers, Drones, and Moats: Contracting firms have submitted proposals in response to President Trump's call for an "impenetrable, physical, tall, powerful, beautiful wall" along the U.S.-Mexico border. Oliver Wainwright takes a look at some of the more unusual designs. (The Guardian)
---
Visualized
Coming to America: Check out this graph to see how the number of legal immigrants coming to the United States has changed, along with U.S. immigration policy, throughout the past two centuries. (Youjin Shin and Taylor Umlauf, The Wall Street Journal)
---
Question of the Week
President Trump has reportedly played golf 16 times since taking office, outpacing former President Obama whose first documented golf outing happened near his 100-day mark.
In addition to golf, Obama also enjoyed pickup basketball games with friends and White House staffers. George W. Bush was an avid runner and had a treadmill added on Air Force One. If you were president, what would be your preferred leisure activity and why?
Send your answers to hello@theatlantic.com and our favorites will be featured in Friday's Politics & Policy Daily.
-Written by Elaine Godfrey (@elainejgodfrey) and Candice Norwood (@cjnorwoodwrites)
We want to hear what you think about this article. Submit a letter to the editor or write to letters@theatlantic.com.
Elaine Godfrey
is a staff writer at
The Atlantic
, where she covers politics.