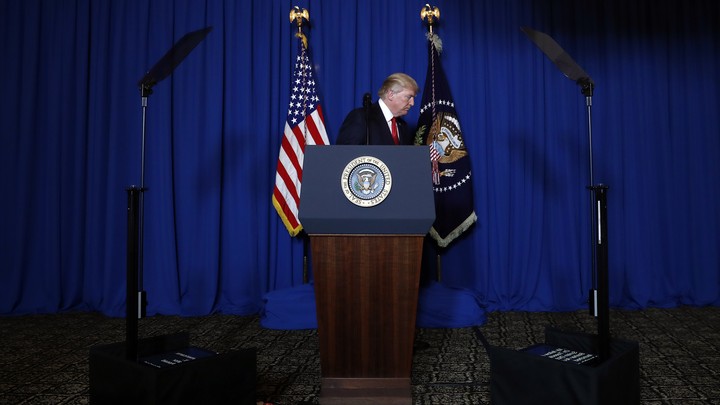 Today in 5 Lines
President Trump's decision to order strikes against a Syrian air base late Thursday is facing backlash: Syrian President Bashar al-Assad denounced the strike as "reckless" and "irresponsible," and in a meeting of the UN Security Council, Vladimir Safronkov, Russia's deputy envoy to the UN, warned that the consequences of the strike could be "extremely serious." Republican and Democratic lawmakers also responded to the attack. The Senate confirmed Neil Gorsuch to the U.S. Supreme Court. Officials said a manhunt is under way for the suspect who drove a truck into a department store in Stockholm, Sweden, killing at least four people and injuring 15 others in what Swedish Prime Minister Stefan Lofven called a "terrorist attack." The U.S. added 98,000 jobs in March, significantly less than economists' predictions.
---
Today on The Atlantic
R.I.P., Obama Doctrine: During his administration, former President Obama went against conventional wisdom by resisting U.S. military involvement in the Middle East. Donald Trump's decision to order an attack against Syria, however, proves that "a core principle of the Obama Doctrine is dead." (Jeffrey Goldberg)

A Bitter Disappointment: Striking Syria has made Trump popular with the Washington elites he campaigned against. Many of his most ardent supporters are less enthusiastic, revealing the White House's "less-than-full devotion to the movement that formed the ideological backbone for Trump's election." (Rosie Gray)

A Victim of Success: In 2013, Russia proposed that Syrian President Bashar al-Assad turn over his chemical weapons to an international coalition. The move presented Russia as an arbiter of geopolitics, but it also further emboldened Assad, argues Julia Ioffe. Now, Moscow's efforts "look either less than thorough, or gruesomely insincere."
Follow stories throughout the day with our Politics & Policy portal.
---
Snapshot
---
What We're Reading
How Will Russia Respond?: Experts warn that missile strikes in Syria are more risky than they seem, because Russian forces are intermingled with Syrian forces on the ground. Is the U.S. prepared for what might happen if an airstrike kills Russian troops? (Greg Jaffe, The Washington Post)
FDR's Breitbart: Many pundits have criticized Trump's frequent use of Twitter, as well as his preference for sympathetic news outlets like Breitbart and Fox News. But another president shook up the press in a similar way: Franklin Delano Roosevelt. (David Beito, Reason)
A Bad Move?: Eliminating the filibuster on Supreme Court nominees gave Senate Republicans more power in the short term, argues Nate Silver, but "it's not at all clear that eroding the filibuster will be in the GOP's best interest." Here's why. (FiveThirtyEight)
Man With a Mission: Since September 11, 2001, New York lawyer Jim Kreindler has been determined to prove Saudi Arabia provided financial and logistical support to the hijackers. He believes he's finally found that evidence, but he says the U.S. government won't take action. (Caleb Hannan, Politico)
'Why Cops Shoot': An investigation by the Tampa Bay Times unpacks the roles fear and bias play in the split-second decisions made by police officers every day, many of which result in lethal force. (Ben Montgomery)
---
Visualized
Trump's Jobs Tracker: A new tool from CNN allows you to track Donald Trump's promise to create 25 million new jobs in 10 years, or 208,333 jobs per month. So far, "he's off track." (Heather Long, Tiffany Baker, and Tal Yellin)
---
Question of the Week
On Monday, White House Press Secretary Sean Spicer announced that the president will give away his first-quarter salary of $78,333 to the National Park Service. This week, we asked you to suggest options for potential future salary donations. For a complete list, visit our Notes section.
Dozens of you responded that the president should donate his salary to Planned Parenthood, because of recent threats to the organization's funding, and many more suggested Trump donate to the Meals-on-Wheels program because of his plans to eliminate its funding.
One thoughtful response came from Elonide Semmes, who suggested Trump should send his money to support job retraining programs in rural areas and the Rust Belt, since his recent budget blueprint outlined cuts to existing programs. Semmes added that "battlefield park maintenance shows how out-of-touch [Trump] is with the pain and suffering in America."
Stay tuned for next week's Question of the Week contest.
-Written by Elaine Godfrey (@elainejgodfrey) and Candice Norwood (@cjnorwoodwrites)
We want to hear what you think about this article. Submit a letter to the editor or write to letters@theatlantic.com.
Elaine Godfrey
is a staff writer at
The Atlantic
, where she covers politics.