The Atlantic Politics & Policy Daily: McMaster of the House
President Trump removed White House chief strategist Steve Bannon from the National Security Council.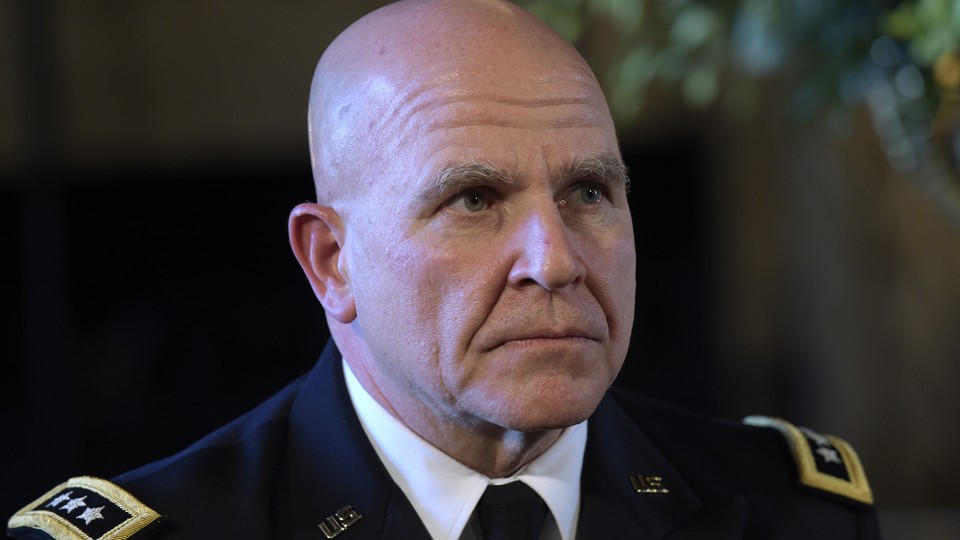 Today in 5 Lines
During a joint news conference with King Abdullah of Jordan, President Trump said the recent chemical attack in Syria "crossed many lines" and that his attitude toward Syria and President Bashar al-Assad "has changed very much," but didn't specify how the U.S. would respond. In an interview with The New York Times, Trump suggested, without citing evidence, that former National Security Advisor Susan Rice may have committed a crime by requesting the identities of Trump associates who were swept up in U.S. surveillance. Trump also defended Fox News host Bill O'Reilly from accusations of sexual harassment, saying "I don't think Bill did anything wrong." Trump removed White House chief strategist Steve Bannon from the National Security Council, signaling the growing influence of the president's new national-security adviser, H.R. McMaster. U.S. officials said North Korea test-fired a ballistic missile that landed in the Sea of Japan, a day before Trump's meeting with Chinese President Xi Jinping.
---
Today on The Atlantic
Seen This Before: Supreme Court nominee Neil Gorsuch allegedly copied the text and language of several sources without proper attribution in two of his written works. The allegation likely won't affect the Senate confirmation process, but Matt Ford notes: "Rebutting plagiarism allegations is a familiar experience for the Trump camp."

A Blind Eye: A law passed in the aftermath of the 1991 beating of Rodney King gives the federal government authority to investigate and oversee reforms in local police departments. But Attorney General Jeff Sessions has recently indicated that Americans are now "on their own" when it comes to police abuses. (Adam Serwer)

In Denial: The "reproducibility movement" began within the science community to promote reliable, transparent research amid concerns that some published findings were not credible. Scientists are worried, however, that GOP lawmakers will cite the movement as a reason to discredit and defund research. (Ed Yong)
Follow stories throughout the day with our Politics & Policy portal.
---
Snapshot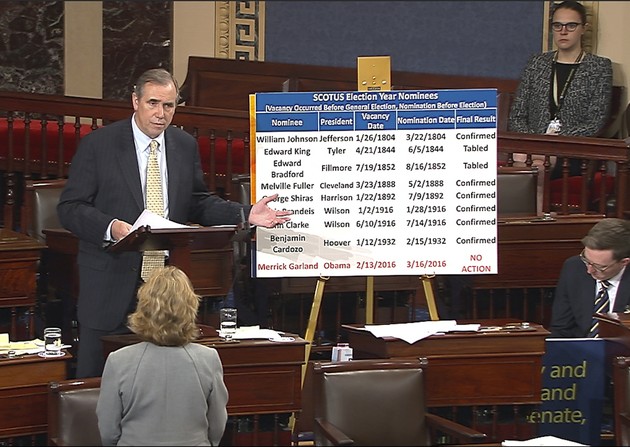 ---
What We're Reading
Ivanka's Self-Defense: In an interview with CBS, the first daughter addressed accusations that she is "complicit" with President Trump, and defended her choice not to speak out publicly on certain issues.
Keep Tax Reform Simple: Republicans should support a tax plan that cuts the corporate income tax rate and includes billions in infrastructure spending, argues Fred Barnes. As for the rest of tax reform? "The rich can wait." (The Weekly Standard)
What Comes Next?: The United States has lost over two-thirds of its coal jobs since the 1980s. As a result, much of coal country voted for Donald Trump—fueled by his promises to put miners back to work. Many of them are now having doubts about the return of the coal industry, and are looking instead to "jobs of the future." (Heather Long, CNN)
The Result of 'Right-Wing Grift': The conservative movement has spent years "building up an entire sector of the economy dedicated to scaring and lying to older white men," writes Fusion's Alex Pareene, but in doing so, they elected "a confused old man who believes what the TV tells him."
A Fight for Credibility: Since Steve Bannon's departure from Breitbart, the right-wing publication has worked to establish itself as a mainstream publication. But "there's no hierarchy, there's no office, there's no honest brokers," said one former employee. "It's just controlled chaos." (Tina Nguyen, Vanity Fair)
---
Visualized
Downward Turn: Donald Trump's job approval is the lowest of any commander in chief since Gallup began tracking a president's first few months in office in 1953. View these charts to see how close his rating comes to those of his predecessors. (Karen Yourish and Paul Murray, The New York Times)
---
Question of the Week
After the election, Donald Trump pledged to donate his annual presidential salary to charity. On Monday, White House Press Secretary Sean Spicer announced that Trump chose to give away his first-quarter salary of $78,333 to the National Park Service to be spent on the upkeep of America's historic battlefields. Spicer said the president was presented with a number of options before coming to his decision. If you could suggest one option for potential future donations, what would it be—and why?
Send your answers to hello@theatlantic.com and our favorites will be featured in Friday's Politics & Policy Daily.
-Written by Elaine Godfrey (@elainejgodfrey) and Candice Norwood (@cjnorwoodwrites)