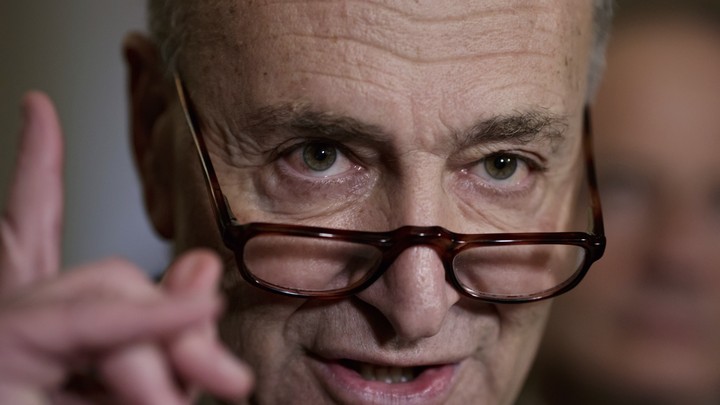 Today in 5 Lines
The Senate Judiciary Committee voted to send Judge Neil Gorsuch's Supreme Court nomination to the full Senate for a final confirmation vote, but it won't be easy: Senate Democrats have reached the 41 votes required to filibuster his confirmation, and if they do so, Republicans have hinted that they'll resort to the so-called "nuclear option"—changing the rules to confirm Gorsuch with just a simple majority vote. President Trump praised Egyptian President Abdel Fattah el-Sisi's leadership during a meeting at the White House. A spokesman for the chairman of the Joint Chiefs of Staff said that Jared Kushner, Trump's son-in-law and close adviser, is visiting Iraq "to receive an update on the status of the counter-ISIS campaign in Iraq and Syria." At least 10 people were killed and 47 were wounded in explosions on a metro in St. Petersburg in what Russian Prime Minister Dmitry Medvedev labeled a "terrorist attack."
---
Today on The Atlantic
Unfit to Serve?: Unlike his recent predecessors, Donald Trump doesn't seem to care about physical fitness. But, Stephanie Hayes writes: "The sporting lives of past presidents have often been taken as symbols of their character and even their political beliefs."

Finding an Answer: Last month, a painting by a white artist depicting the 1955 open-casket funeral of Emmett Till rekindled the debate about cultural appropriation. Conor Friedersdorf spoke with a Cato Institute scholar about what constitutes cultural appropriation and whether engaging with it is wrong.

America's First TV President: Recent commanders in chief have used television as a temporary escape from the pressures of the job, "but none consumed as much television as Trump, or reacted as quickly or directly to what they were seeing." (Elaine Godfrey)
Follow stories throughout the day with our Politics & Policy portal.
---
Snapshot
---
What We're Reading
'Unmasking': Bloomberg reports that the former national-security adviser to President Obama, Susan Rice, requested the identities of U.S. citizens included in intelligence reports "that connect to the Donald Trump transition and campaign." (Eli Lake)
A Tale of Two Nunes: The House Intelligence Committee chairman is at the center of a maelstrom of controversy over President Trump's wiretapping claims. But in his home district, "his longtime constituents greet Nunes' difficulties with a shrug, their faith in him undiminished." (Cathleen Decker, Los Angeles Times)
Welcome to 'Bernie TV': Since his presidential campaign, Senator Bernie Sanders has become a "content marketer's dream," garnering a viral-level following among 18-34 year olds. Now, that star power will be brought to Facebook Live for Sanders's own talk show. (Alex Seitz-Wald, NBC)
America's Alternate Reality: "If you think the postfactual world is a recent development, then you should see how Hugo Chávez was and is still mourned in Venezuela," writes Andrés Miguel Rondón. Here's how his upbringing in Venezuela compares to what he is now witnessing in Trump's America. (Politico)
Tribalism Spreads to D.C.: Once gridlocked by inter-party disputes, the nation's capital has now become "schisms within the parties, and in some cases schisms within the schisms." Gerald F. Seib breaks down the five tribes and where they stand. (The Wall Street Journal)
---
Visualized
A Winning Mindset: After a disastrous general election, Democrats are hoping to shake things up in the 2018 midterms. There are 30 Republican-held seats they would like to win and nine Democrat-occupied ones they need to protect. View this list to see the "most up-for-grabs" seats. (New York)
---
Question of the Week
After the election, Donald Trump pledged to donate his annual presidential salary to charity. On Monday, White House Press Secretary Sean Spicer announced that Trump chose to give away his first-quarter salary of $78,333 to the National Park Service to be spent on the upkeep of America's historic battlefields. Spicer said the president was presented with a number of options before coming to his decision. If you could suggest one option for potential future donations, what would it be—and why?
Send your answers to hello@theatlantic.com and our favorites will be featured in Friday's Politics & Policy Daily.
-Written by Elaine Godfrey (@elainejgodfrey) and Candice Norwood (@cjnorwoodwrites)
We want to hear what you think about this article. Submit a letter to the editor or write to letters@theatlantic.com.
Elaine Godfrey
is a staff writer at
The Atlantic
, where she covers politics.