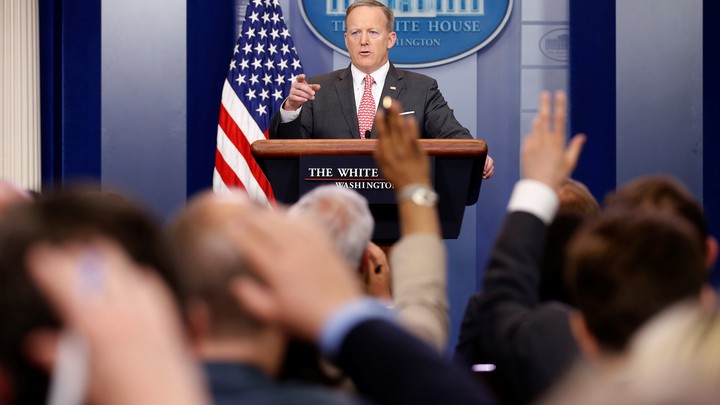 Today in 5 Lines
White House Press Secretary Sean Spicer announced that President Trump's 2016 tax returns are being audited and will not be released. Vice President Mike Pence issued a warning to North Korea, saying that the "era of strategic patience is over." The first family hosted its first Easter Egg Roll at the White House. On his first day on the job, Supreme Court Justice Neil Gorsuch heard oral arguments. Local and federal law enforcement are searching for a suspect who posted a video to Facebook of himself shooting and killing a 74-year-old man in Cleveland on Sunday.
---
Today on The Atlantic
Open-Door Policy: For much of its history, the White House opened its doors to hundreds of daily visitors. That tradition has nearly disappeared with the exception of the annual Easter Egg Roll, "one of the last vestiges of an original mode of invitation-free White House entertaining." (Susannah Jacob)

Tipping the Scales: White House chief strategist Steve Bannon has reportedly fallen out of favor with Donald Trump, but the tribal nationalism he espouses continues to grow within the GOP. (Peter Beinart)

Asking for Help: President Trump vowed to "solve North Korea" if China failed to do so, but some problems can't be easily fixed. However the president ultimately decides to address North Korea's nuclear ambitions, he will need to cooperate with China to be successful. (Ian Buruma)
Follow stories throughout the day with our Politics & Policy portal.
---
Snapshot
---
What We're Reading
A Look at the Big Picture: The Washington outrage over Donald Trump's proposed budget cuts to a number of government agencies is misguided, argues Jon Gabriel. With the current U.S. federal debt at $19.6 trillion, Trump's cuts "don't go far enough." (The Arizona Republic)
The Inside Scoop: Benjamin Freed explores how the Palm Beach Daily News used its proximity to the Mar-a-Lago Club to break major political news in the early days of Donald Trump's presidency. In the Trump era, the 120-year-old beach-town paper is a must-read. (Washingtonian)
A Look at the Clues: Shortly after taking office, President Trump asked American manufacturers for policy recommendations. The resulting suggestions provide insight into why the Environmental Protection Agency became a major target for the president. (Juliet Eilperin, The Washington Post)   
When Do Voters Start Winning?: The residents of Pennsylvania's eighth district, a swing region within a swing state, narrowly backed Trump in the 2016 presidential race. While they maintain optimism for the new administration, they question how long it will take the president to deliver on his promises. (Matt Flegenheimer, The New York Times)
'Ivanka Fever': During a time of strained relations between the United States and China, Ivanka Trump has emerged as a subject of admiration among Chinese leaders and citizens. Why? Because the president's daughter reflects many traditional values of Chinese society. (Rebecca E. Karl, Yishu Mao, Linda Jaivin, Foreign Policy)
---
Visualized
The Fight to Rebuild the Deep South: This short documentary takes a look at Jon Ossoff's Democratic campaign for Georgia's sixth congressional district, which has been a Republican stronghold for nearly 40 years. (Daniel Lombroso)
---
Question of the Week
Since the 1930s, a president's first 100 days in office have been used to measure the new administration's progress and potential success. By his 100th day, former President Franklin D. Roosevelt had signed 76 bills into law and pushed for new federal jobs programs. President Trump will reach his 100-day mark on April 29. What is your assessment of Trump's early days in office?
Send your answers to hello@theatlantic.com and our favorites will be featured in Friday's Politics & Policy Daily.
-Written by Candice Norwood (@cjnorwoodwrites)
We want to hear what you think about this article. Submit a letter to the editor or write to letters@theatlantic.com.