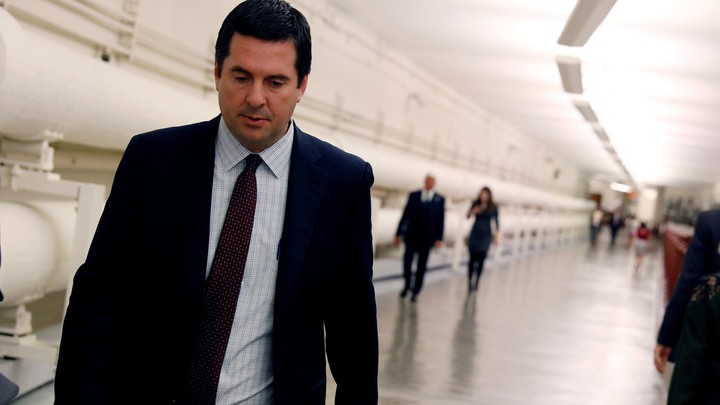 Today in 5 Lines
During a news conference in Palm Beach, Florida, Secretary of State Rex Tillerson said the U.S. is considering an "appropriate response" to Tuesday's chemical attack in Syria. When asked by reporters if Assad should remain in power, President Trump said "he's there and I guess he's running things so something should happen." Chinese President Xi Jinping arrived in Palm Beach for his first meeting with Trump. House Intelligence Committee Chairman Devin Nunes recused himself from the panel's investigation into Russia's alleged interference in the U.S. presidential election, citing ethics complaints. Republicans voted to change Senate rules to push through Trump's Supreme Court nominee, Judge Neil Gorsuch, after Democrats attempted to filibuster his confirmation.
---
Today on The Atlantic
Senator Mitt Romney?: The former Republican presidential nominee is mulling over a 2018 Senate bid in Utah. Could his strong opposition to Trump fuel a return to public life? (McKay Coppins)

Hitting a Wall: The Trump administration would need to acquire private property through eminent domain to construct a wall along the U.S.-Mexico border. But doing so would put the president at odds with his own party.(Priscilla Alvarez)

Will Trump Triangulate?: The strained relationship between Donald Trump and Republicans threatens to stall future policy, raising the question: Will Trump adopt the strategy Bill Clinton used to revive his chaotic first two years as president? (Ronald Brownstein)
Follow stories throughout the day with our Politics & Policy portal.
---
Snapshot
---
What We're Reading
The Real Issue: Former National Security Advisor Susan Rice's request to "unmask" names collected in U.S. surveillance has drawn attention to a much bigger scandal, writes Jake Laperruque: "the mass incidental collection and use of Americans' communications without a warrant." (The American Conservative)
Bannon's Doubts: Politico reports that Republican mega-donor Rebekah Mercer has urged White House chief strategist Steve Bannon not to resign, after Bannon expressed concerns about Jared Kushner. (Eliana Johnson, Kenneth P. Vogel, and Josh Dawsey)
Ending the Syria Blame Game: In response to the recent chemical attack in Idlib, Syria, Rebecca Hersman argues that the Trump administration should conduct an on-the ground investigation, target the Syrian government with sanctions, and develop victim registration. (Foreign Policy)
Making a Deal: In an effort to revive the GOP health-care bill, Republicans added an amendment that would create a subsidy to cover "sick, expensive patients." The Obamacare-like addition is an attempt to make the bill more palatable, but not everyone is sold on the changes. (Billy House, Zachary Tracer, and Anna Edney, Bloomberg)
Weighing In: During a time of deep divisions among American voters, Trump's opinions on issues can further polarize the public, according to a Reuters/Ipsos poll. For example, "Democrats largely support the idea of government-run healthcare. But their support plummets when they learn that Trump once backed the idea." (Chris Kahn and James Oliphant)
---
Visualized
Trump Is in the Building: Check out these charts to see how many days the president has visited a Trump Organization property during his first three months in office—and what he did there. (Karen Yourish and Troy Griggs, The New York Times)
---
Question of the Week
After the election, Donald Trump pledged to donate his annual presidential salary to charity. On Monday, White House Press Secretary Sean Spicer announced that Trump chose to give away his first-quarter salary of $78,333 to the National Park Service to be spent on the upkeep of America's historic battlefields. Spicer said the president was presented with a number of options before coming to his decision. If you could suggest one option for potential future donations, what would it be—and why?
Send your answers to hello@theatlantic.com and our favorites will be featured in Friday's Politics & Policy Daily.
-Written by Elaine Godfrey (@elainejgodfrey) and Candice Norwood (@cjnorwoodwrites)
We want to hear what you think about this article. Submit a letter to the editor or write to letters@theatlantic.com.
Elaine Godfrey
is a staff writer at
The Atlantic
, where she covers politics.