The Atlantic Politics & Policy Daily: Single Pager
President Trump revealed a one-page plan to overhaul the tax code.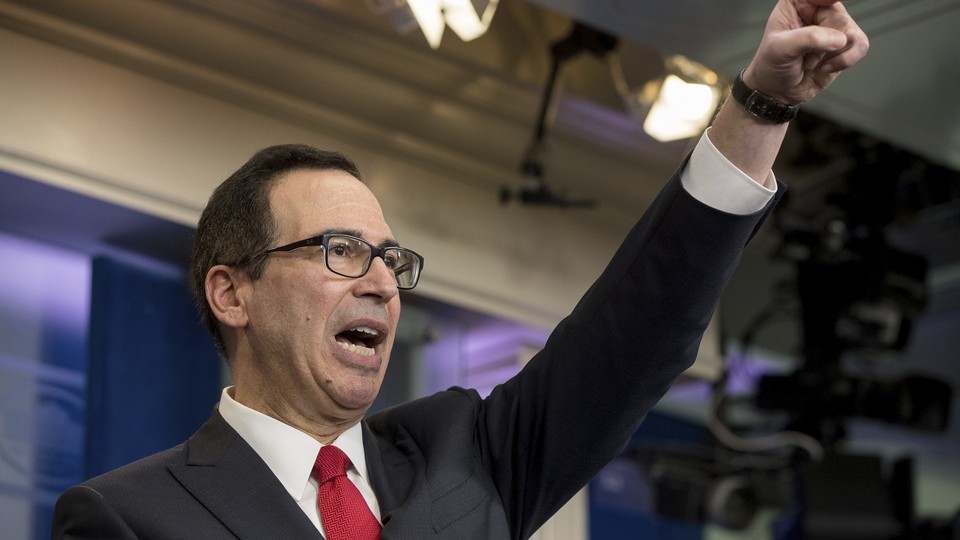 Today in 5 Lines
The White House is preparing an executive order formally withdrawing the United States from the North American Free Trade Agreement, according to media reports. President Trump revealed a one-page plan to overhaul the tax code that would reduce rates for businesses and individuals. All 100 U.S. senators visited the White House for a classified briefing on North Korea's nuclear capabilities and U.S. response options. Trump misidentified the court that blocked his executive order withholding funding for so-called "sanctuary cities." The House Freedom Caucus said it supports a Republican health-care plan that would allow states to apply to opt out of several Obamacare regulations.
---
Today on The Atlantic
Divide and Conquer: Since Donald Trump's election, congressional Democrats have worked to drive a wedge between the president and GOP lawmakers. Here's how Trump's demands for border-wall funding may help the Democrats further divide Republicans. (Michelle Cottle)

Just the Beginning: The United States is not the only country concerned about possible Russian hacking. Democracies around the world—including Denmark, France, and the Netherlands—are taking precautions against state-sponsored interference. (Uri Friedman)

Sink or Swim: For years, moderate Republicans have been looking for a way to assert their power. They may finally get a chance as the party leans on them to back a newly proposed amendment to its Obamacare replacement bill. (Russell Berman)
Follow stories throughout the day with our Politics & Policy portal.
---
Snapshot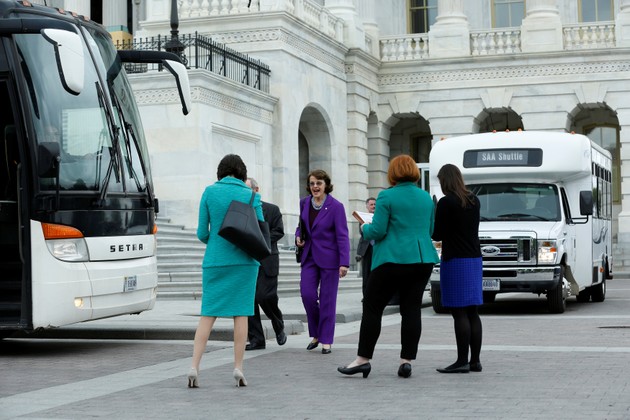 ---
What We're Reading
We're Exempt: Republicans are mulling a new amendment to their health-care bill that would allow states to opt out of some Obamacare rules. While conservative lawmakers support the amendment, they don't "seem to like it enough to have it apply to themselves and their staff." (Sarah Kliff, Vox)
'Young Populists': Populist messages from political candidates in France and the U.S. "seem to captivate the younger generation," writes Kristen Soltis Anderson. Clearly, the case for free trade and globalism hasn't been successfully made to young people. (Washington Examiner)
The Swamp Is Winning: Despite his promises to "drain the swamp," President Trump owes some of his first big accomplishments, like the confirmation of Neil Gorsuch to the U.S. Supreme Court, to insider politics. (Ben Smith, BuzzFeed)
'Reverend Resistance': Reverend William Barber II, a North Carolina preacher, has a mission to take on Donald Trump. He gained national prominence last year after giving a powerful speech at the Democratic National Convention. Could he be the leader the Trump opposition movement needs? (Tommy Tomlinson, Esquire)
Trudeau Weighs In on Trump: Bloomberg spoke with Canadian Prime Minister Justin Trudeau about the rise of Donald Trump and the future of trade with the United States. "I've learned that [Trump] listens," Trudeau said. "He is a little bit unlike many politicians. That might be enough." (John Micklethwait)
---
Visualized
'Did Trump Do That?': Test your knowledge of President Trump's first 100 days in office with this quiz. (Priya Krishnakumar, The Los Angeles Times)
---
Question of the Week
The White House Correspondents' Dinner has been a D.C. tradition since 1921, with journalists and administration officials coming together once a year to eat, drink, and roast the current president. President Trump won't be attending this year's dinner, which takes place on Saturday, but he did attend the dinner in 2011, when then-President Obama made a few jokes at Trump's expense.
What jokes or moments stand out to you from past dinners?
Send your answers to hello@theatlantic.com and our favorites will be featured in Friday's Politics & Policy Daily.
-Written by Elaine Godfrey (@elainejgodfrey) and Candice Norwood (@cjnorwoodwrites)