The Atlantic Politics & Policy Daily: Rice in the Pressure Cooker
Former National Security Advisor Susan Rice denied charges that she used intelligence information for political purposes.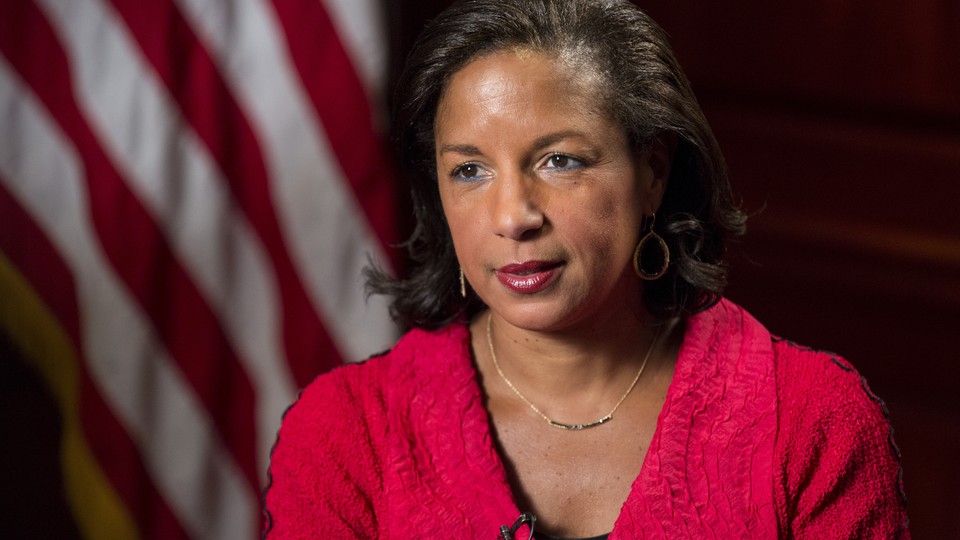 Today in 5 Lines
In an interview with MSNBC's Andrea Mitchell, former National Security Advisor Susan Rice denied charges that she used intelligence information for political purposes. During a press conference, House Speaker Paul Ryan said the push to revive efforts to repeal and replace the Affordable Care Act is in the "conceptual stage right now," but didn't offer a timeline for a new health-care bill. In a statement, President Trump called a chemical weapons attack in northern Syria that killed at least 58 people, including several children, "reprehensible," and blamed the previous administration for its approach to the conflict. The National Collegiate Athletic Association ended its ban on holding championship events in North Carolina after the state repealed its so-called "bathroom bill." Russia's Investigative Committee identified Akbarzhon Dzhalilov, a 22-year-old native of Kyrgyzstan, as the attacker behind the explosion on a metro train in St. Petersburg Monday.
---
Today on The Atlantic
'The Silence of Rex Tillerson': The secretary of state has yet to detail the administration's foreign policy and has been distant toward the press. "For a democracy's foreign policy to succeed it must be understood and argued out," writes Eliot A. Cohen. "That task the secretary of state has hitherto avoided."

Changing the Rules: Senate Majority Leader Mitch McConnell is expected to invoke the so-called "nuclear option," which would allow Republicans to approve Neil Gorsuch's Supreme Court nomination by a simple majority vote. Here's why the looming decision "won't dramatically alter the way the Senate operates on its own." (Clare Foran)

A Tricky Dance: David A. Graham analyzes the ambiguity of MSNBC's interview with former National Security Advisor Susan Rice in which she denied conducting political spying on Trump or members of his team, but also suggested that she may have requested names to be "unmasked."
Follow stories throughout the day with our Politics & Policy portal.
---
Snapshot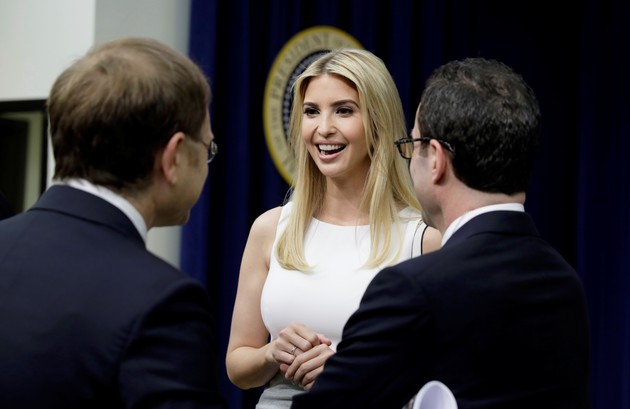 ---
What We're Reading
Will Police Departments See Reform?: Attorney General Jeff Sessions reportedly ordered the Justice Department to review agreements to reform police departments nationwide "to ensure that these pacts do not work against the Trump administration's goals of promoting officer safety and morale while fighting violent crime." (Sari Horwitz, Mark Berman, and Wesley Lowery, The Washington Post)
Great Television: In a new profile, Jonathan Mahler explores Donald Trump's symbiotic relationship with CNN President Jeff Zucker. "Trump's foray into reality TV gave Zucker a prime-time hit when he badly needed one," Mahler writes. "Now, Trump's foray into politics has given Zucker a big story when he badly needed one." (The New York Times Magazine)
9 Steps to Going Nuclear: If Senate Democrats filibuster Judge Neil Gorsuch's nomination to the Supreme Court, Republicans could opt for the so-called "nuclear option." Here's how that works. (Erin Kelly, USA Today)
The 'Unlikely Holy Warrior': Senator Kirsten Gillibrand "came to the Senate with a reputation as a moderate upstate hack." Yet in the first few months of Trump's presidency, she has positioned herself as one of the most anti-Trump Democrats in the Senate. (Rebecca Traister, New York)
Where the War Starts: U.S. military officials are concerned about the rising frequency of dangerous incidents between Russian and U.S. military aircraft and ships. Amid escalating tensions between the countries, could one wrong miscommunication lead to a war? (David Wood, The Huffington Post)
---
Visualized
Unpresidented: In this short video, The Atlantic's Bourree Lam explains the stock market boom after Donald Trump's election and whether presidents can take credit for what happens on Wall Street. (Erica Moriarty)
---
Question of the Week
After the election, Donald Trump pledged to donate his annual presidential salary to charity. On Monday, White House Press Secretary Sean Spicer announced that Trump chose to give away his first-quarter salary of $78,333 to the National Park Service to be spent on the upkeep of America's historic battlefields. Spicer said the president was presented with a number of options before coming to his decision. If you could suggest one option for potential future donations, what would it be—and why?
Send your answers to hello@theatlantic.com and our favorites will be featured in Friday's Politics & Policy Daily.
-Written by Elaine Godfrey (@elainejgodfrey) and Candice Norwood (@cjnorwoodwrites)