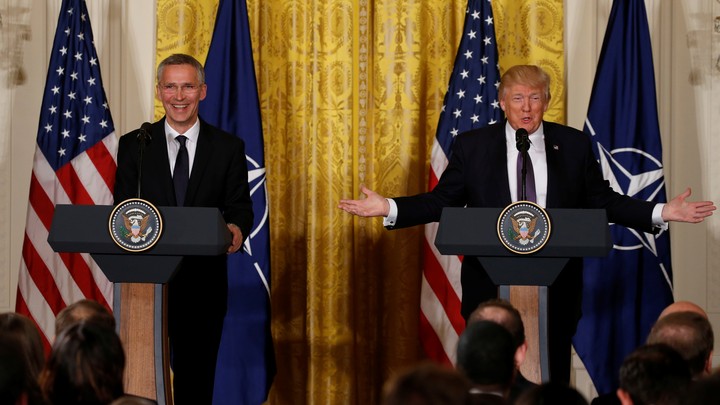 Today in 5 Lines
In a joint press conference with NATO Secretary General Jens Stoltenberg, President Trump reversed his position on NATO, saying "it's no longer obsolete." In an interview with The Wall Street Journal, Trump said he fears the U.S. dollar is "getting too strong," and said he won't label China a currency manipulator, as he had promised to do during his campaign. After meeting privately with Russian President Vladimir Putin in Moscow, Secretary of State Rex Tillerson told reporters that U.S.-Russia relations are "at a low point." A spokesman for Paul Manafort, Trump's former campaign manager, said Manafort will consider registering with the U.S. government as a foreign agent, in light of his political work in Ukraine. Daily Mail, the British tabloid, agreed to apologize and pay damages to First Lady Melania Trump, after Trump sued the newspaper for alleging that she had once worked as an escort.
---
Today on The Atlantic
Trump's Shifting Claims: Last month, President Trump accused former President Obama of wiretapping him. Since then, Trump has repeatedly changed his story. His latest argument, writes David A. Graham, "doesn't make any more sense than his previous versions."

Playing Both Sides: The United States periodically debates whether it should become more or less involved in crises abroad. Stephen Sestanovich explores how Trump toed the line of this discussion by offering to do both.

The Takeover: A new paper by two political scientists suggests that President Trump's style of nationalism may be replacing old-school conservatism as the Republican Party's dominant ideology. (McKay Coppins)
Follow stories throughout the day with our Politics & Policy portal.
---
Snapshot
---
What We're Reading
Too Close for Comfort: Republican Ron Estes eked out a win in the Kansas special election on Tuesday. That the race was so close in such a red district is a good sign for Democrats. (Alexis Levinson, BuzzFeed)
Not Real Conservatives: Congressional Republicans should censure the president for attacking Syria without congressional approval, writes Kevin Williamson, or "they can stop calling themselves 'constitutional conservatives,' because those who knuckle under now are no such thing." (National Review)
Getting it Wrong: Rick Perlstein, a political historian, reviews perceptions of American conservatism, and how he and his colleagues failed to anticipate Donald Trump's presidency. "We advanced a narrative of the American right that was far too constricted to anticipate the rise of a man like Trump." (The New York Time Magazine)
Farewell, Bill O'Reilly?: The Fox News host is taking a vacation amid a flurry of recent sexual assault allegations against him. He says he'll be back on April 24, but New York reports that James Murdoch, 21st Century Fox CEO, "would like O'Reilly to be permanently taken off the air." (Gabriel Sherman)
Stand Down: Trump's far-right coalition believes his order to strike a Syrian air base deviates from his promise to put America first. The group has since stifled its outrage over the action, writes Tina Nguyen, but "one lesson of the last week is that the far right's support for Trump is contingent." (Vanity Fair)
---
Visualized
Unpresidented: In this short video, The Atlantic's Emma Green discusses how different religious groups perceive discrimination.
---
Question of the Week
President Trump has reportedly played golf 16 times since taking office, outpacing former President Obama whose first documented golf outing happened near his 100-day mark.
In addition to golf, Obama also enjoyed pickup basketball games with friends and White House staffers. George W. Bush was an avid runner and had a treadmill added on Air Force One. If you were president, what would be your preferred leisure activity and why?
Send your answers to hello@theatlantic.com and our favorites will be featured in Friday's Politics & Policy Daily.
-Written by Elaine Godfrey (@elainejgodfrey) and Candice Norwood (@cjnorwoodwrites)
We want to hear what you think about this article. Submit a letter to the editor or write to letters@theatlantic.com.
Elaine Godfrey
is a staff writer at
The Atlantic
, where she covers politics.