The Atlantic Politics & Policy Daily: Guess Who's Barack In Town
Former President Obama made his first public remarks since leaving the White House.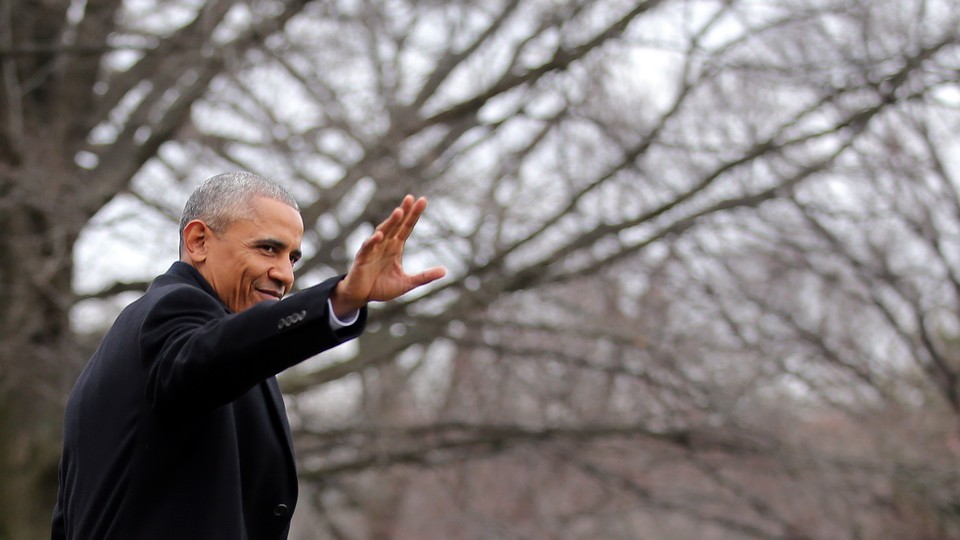 Today in 5 Lines
During his first public remarks since leaving the White House, former President Barack Obama avoided weighing in on the new administration and encouraged students to become politically involved. Treasury Secretary Steven Mnuchin and National Economic Council Director Gary Cohn are expected to meet with congressional leaders to discuss tax reform on Tuesday. Senate Minority Leader Chuck Schumer told reporters that President Trump could help avert a government shutdown if he stopped insisting on the construction of a wall along the U.S.-Mexico border. Trump congratulated astronaut Peggy Whitson for breaking the U.S. record for the most time spent in space, calling it a "special day in the glorious history of American spaceflight." Workers in New Orleans removed a monument to an 1874 white-supremacist uprising, and will soon remove statues commemorating Confederate leaders.
---
Today on The Atlantic
A Flawed Grading Scale: Two U.S. historians explain why the 100-day mark does not serve as a fitting metric to evaluate a president's performance. (Julian E. Zelizer and Morton Keller)

Representing Anne Frank?: The Anne Frank Center for Mutual Respect has emerged as one of the Trump administration's most aggressive critics. Emma Green takes a look at the organization's recent transformation and founding—which is not what they've claimed.

Trump's Reckoning: On Sunday, the Associated Press released the full transcript of its interview with President Trump. The conversation, writes David A. Graham, reveals the president coming to terms "with how little he understands the government."
Follow stories throughout the day with our Politics & Policy portal.
---
Snapshot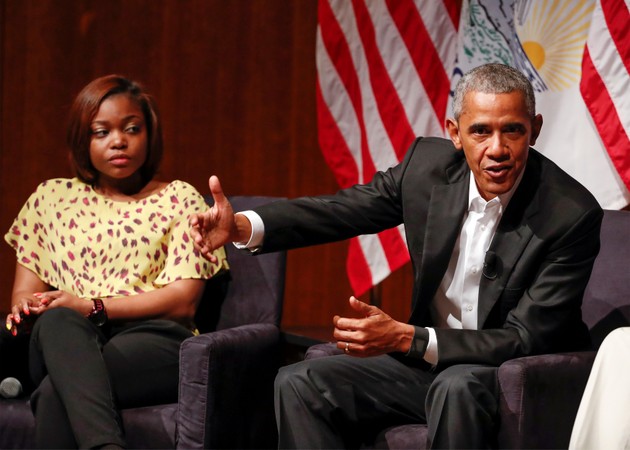 ---
What We're Reading
The Status on Russia: In January, the Senate Intelligence Committee launched its probe into Russia's interference in the 2016 presidential election. Since then, the panel has made little progress in the investigation, and partisan divisions threaten to further derail it. (Michael Isikoff, Yahoo)
Macron Can't Fix France: French presidential candidate Emmanuel Macron is "the candidate of the status quo," writes John O'Sullivan, and if he wins the presidency, he's likely to worsen France's national crisis, rather than help it. (National Review)
Self-Fulfilling Prophecy: FBI Director James Comey tried to avoid the appearance of partisan bias within the bureau. His handling of investigations into Hillary Clinton and Donald Trump not only politicized the agency—it also shaped the 2016 election. (Matt Apuzzo, Michael S. Schmidt, Adam Goldman, Eric Lichtblau, The New York Times)
Trump Is Watching: "Television is often the guiding force of his day, both weapon and scalpel, megaphone and news feed," write Ashley Parker and Robert Costa. It's also become the medium through which White House officials and foreign leaders can reach him. (The Washington Post)
Empty Threats: During a three-hour town hall session, Idaho Representative Raúl Labrador wasn't criticized for opposing the GOP health-care bill—a sign that many Freedom Caucus members "face little pressure from constituents to toe the party leadership line as more legislative fights loom." (Katie Glueck, McClatchy DC)
---
Visualized
'Believe Me': CNN analyzed President Trump's public statements during his first three months in office. View these illustrations to learn which phrases he uses the most and what they say about his style as a communicator.
---
Question of the Week
The White House Correspondents' Dinner has been a D.C. tradition since 1921, with journalists and administration officials coming together once a year to eat, drink, and roast the current president. President Trump won't be attending this year's dinner, which takes place on Saturday, but he did attend the dinner in 2011, when then-President Obama made a few jokes at Trump's expense.
What jokes or moments stand out to you from past dinners?
Send your answers to hello@theatlantic.com and our favorites will be featured in Friday's Politics & Policy Daily.
-Written by Elaine Godfrey (@elainejgodfrey) and Candice Norwood (@cjnorwoodwrites)