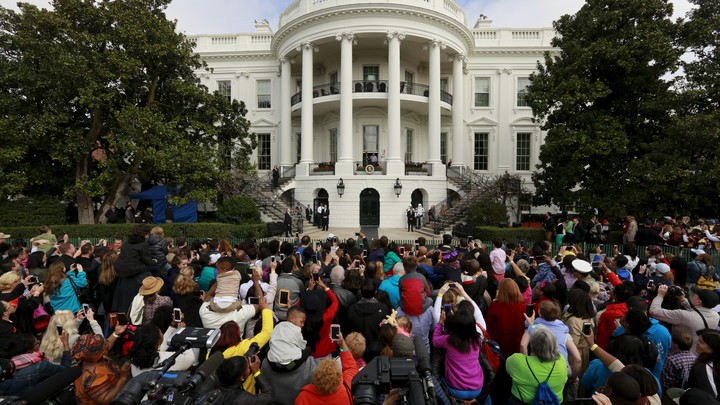 Today in 5 Lines
The Trump administration announced it will no longer disclose White House visitor logs, citing "grave national security risks and privacy concerns." The U.S. Department of Justice withdrew its lawsuit against North Carolina over the state's "bathroom bill," which barred transgender people from using bathrooms corresponding with their gender identities. The North Korean military threatened to attack major U.S. military bases in South Korea. Chinese Foreign Minister Wang Yi warned that "conflict could break out at any moment" amid concerns over North Korea. The Afghan Defense Ministry said the bomb that the U.S. military dropped on ISIS Thursday killed 36 militants.
---
Today on The Atlantic
The One and Only: After Donald Trump reversed his stance on several key policies, some argued that he is just like former presidents. But, David A. Graham writes: "Trump is not just not Obama or Clinton or Bush; he's not even sure who Trump is, which makes it impossible for anyone else to know, either."

'A Soldier's Dilemma': Captain Nathan Smith explains why he filed a lawsuit against former President Obama for issuing an order to engage in the battle against ISIS without congressional approval. His case offers insight into the debate over President Trump's order to strike in Syria.

Not so Popular: Olga Khazan spoke with conservative health-care analysts on why it has been so difficult for Republicans to come up with a suitable replacement for Obamacare.
Follow stories throughout the day with our Politics & Policy portal.
---
Snapshot
---
What We're Reading
The Divide on Syria: A majority of Democratic voters don't agree with Donald Trump's order to strike a Syrian air base, according to a new Gallup poll. But only a handful of congressional Democrats have spoken out against the action. Why? (Jeff Stein, Vox)
Behind Closed Doors: Since entering office, Donald Trump has nominated a Supreme Court justice, an attorney general, and an interior secretary who were backed by gun-rights groups. He has also quietly loosened a number of Obama-era gun regulations. (Anita Kumar, McClatchy)
Shaking Things Up: Democratic Lieutenant Governor Ralph Northam's bid for Virginia's governor seat initially appeared to be an easy victory. That is until Democratic Representative Tom Perriello entered the race. (Kevin Robillard, Politico)
A Global Mixed Reaction: A number of world leaders—including Jordan's King Abdullah II and Japanese Prime Minister Shinzo Abe—welcomed President Trump with open arms and expressed high hopes for his presidency. Other U.S. allies, however, are more skeptical. (John T. Bennett, Roll Call)
'Health Care for All': In a standing-room-only town hall meeting Thursday, Arizona's Republican Senator Jeff Flake faced a barrage of questions from angry constituents. Topics of concern ranged from the senator's Obamacare opposition to Trump's proposed border wall. (Dan Nowicki, The Arizona Republic)
---
Visualized
Explosive: New satellite images indicate that North Korea may be preparing for its sixth nuclear test in a decade. View these signs of what could be the country's most powerful test yet. (William J. Broad, Kenan Davis, and Jugal K. Patel, The New York Times)
---
Question of the Week
This week, we asked our Politics & Policy Daily readers what their preferred leisure activity would be if they were president. Visit our Notes section to view the responses, but here's a preview:
Christopher Round, an avid judo practitioner, said:
I've done it most of my life and would probably ask to have mats put down at the White House. [Russian President Vladimir] Putin and I would have the same hobby. Perhaps a meeting on the mat to take down his tough guy image (see what I did there?)
And reader Dirk Bloemendaal would play three specific strategy games to keep his brain active during his time off:
Risk: To learn how geo-strategy woks (and where Kamchatka is);

Jenga: To learn that later moves are predicated upon earlier moves, and that failure can cause the entire structure to collapse; and

Chess: To learn how to think more than one move ahead.
Thanks for responding, and stay tuned for next week's Question of the Week contest.
-Written by Candice Norwood (@cjnorwoodwrites)
We want to hear what you think about this article. Submit a letter to the editor or write to letters@theatlantic.com.