The Atlantic Politics & Policy Daily: Before and NAFTA
President Trump told reporters he "will renegotiate" the North American Free Trade Agreement.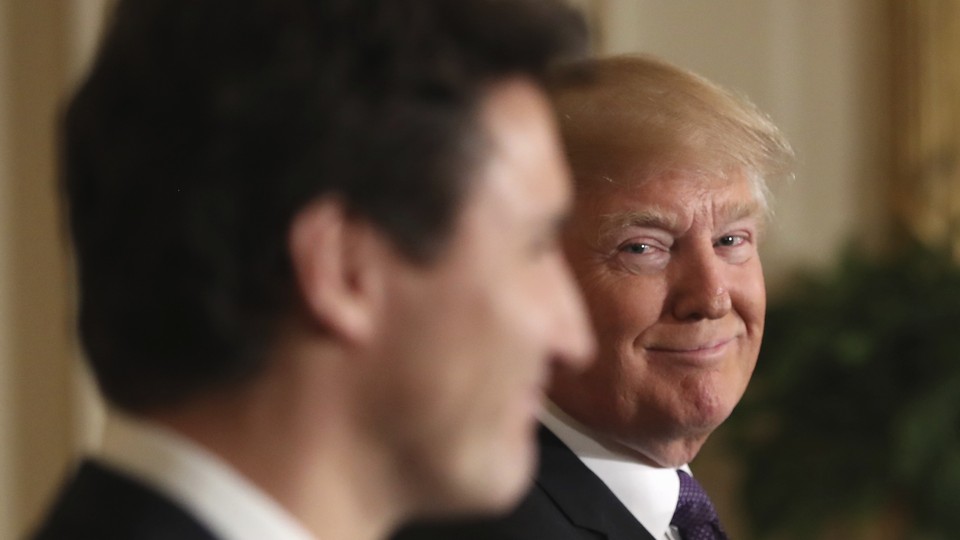 Today in 5 Lines
President Trump told reporters he "will renegotiate" the North American Free Trade Agreement, after reportedly considering withdrawing from the pact. House Democrats threatened to oppose a short-term extension of government funding if Republicans press forward with a vote on legislation to repeal and replace the Affordable Care Act. United Airlines reached a settlement with David Dao, the man dragged off a United Airlines flight earlier this month. Trump is expected to sign an executive order establishing an accountability office at the Department of Veterans Affairs. The Pentagon is investigating former National Security Advisor Michael Flynn for receiving foreign payments, according to documents obtained by the House Oversight Committee.
---
Today on The Atlantic
Walk the Line: As Democrats work to rebuild the party, leaders are sending mixed messages about whether they will welcome pro-life Democrats. Some lawmakers worry that taking a hardline stance will alienate their moderate voters during a crucial political time. (Clare Foran)

Out of Sight, Out of Mind: Leaders in Washington have moved on from Donald Trump's decision to strike a Syrian air base earlier this month. The lack of follow-up by Congress, however, is troubling: "Instead of challenging the legal basis of the strike, the institutions we regard as 'checks' on the president have simply fawned and simpered." (Garrett Epps)

Keeping Quiet: Since Donald Trump took office, the future of an Obama-era program shielding undocumented immigrants from deportation has been in doubt. So far, Trump has kept the Deferred Action for Childhood Arrivals program in tact, but "that doesn't necessarily leave DACA recipients off the hook." (Priscilla Alvarez)
Follow stories throughout the day with our Politics & Policy portal.
---
Snapshot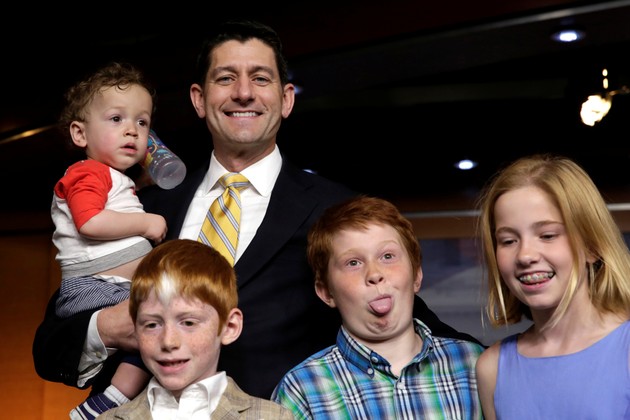 ---
What We're Reading
'The Education of Trump': The president and his aides have spent the past few months navigating a steep learning curve: "I kind of pooh-poohed the experience stuff when I first got here," one White House official told Politico. "But this shit is hard." (Josh Dawsey, Shane Goldmacher, and Alex Isenstadt)
The Mob Wins Again: Ann Coulter canceled her planned speech at the University of California, Berkeley, after the university failed to uphold its "basic, fundamental task": protecting Americans' constitutional rights. (David French, National Review)
Taking a Bullet: American media is inundated with news of shootings, but few people understand how a bullet affects the human body. The trauma surgery team at Temple University Hospital confronts this reality every day. (Jason Fagone, Huffington Post)
Good Cop Bad Cop: The president's unrealistic proposals and promises on tax reform and health care highlight an emerging trend in the new administration: Trump has repeatedly set up House Speaker Paul Ryan to be his "fall guy." (James Hohmann, The Washington Post)
'One Nation, Two Trumps': Guardian US spoke with two neighboring communities in Ohio—one is majority black and largely voted for Hillary Clinton; the other is mostly comprised of white Trump supporters. Read the groups' disparate perceptions of the new administration. (Ed Pilkington)
---
Visualized
The Early Days: From travel bans to U.S. strikes in Syria, this timeline highlights the key moments of Donald Trump's first 100 days in office. (The Wall Street Journal)
---
Question of the Week
The White House Correspondents' Dinner has been a D.C. tradition since 1921, with journalists and administration officials coming together once a year to eat, drink, and roast the current president. President Trump won't be attending this year's dinner, which takes place on Saturday, but he did attend the dinner in 2011, when then-President Obama made a few jokes at Trump's expense.
What jokes or moments stand out to you from past dinners?
Send your answers to hello@theatlantic.com and our favorites will be featured in Friday's Politics & Policy Daily.
-Written by Elaine Godfrey (@elainejgodfrey) and Candice Norwood (@cjnorwoodwrites)