The Atlantic Politics & Policy Daily: And Then There Were Nine
Neil Gorsuch was sworn-in as a justice of the U.S. Supreme Court.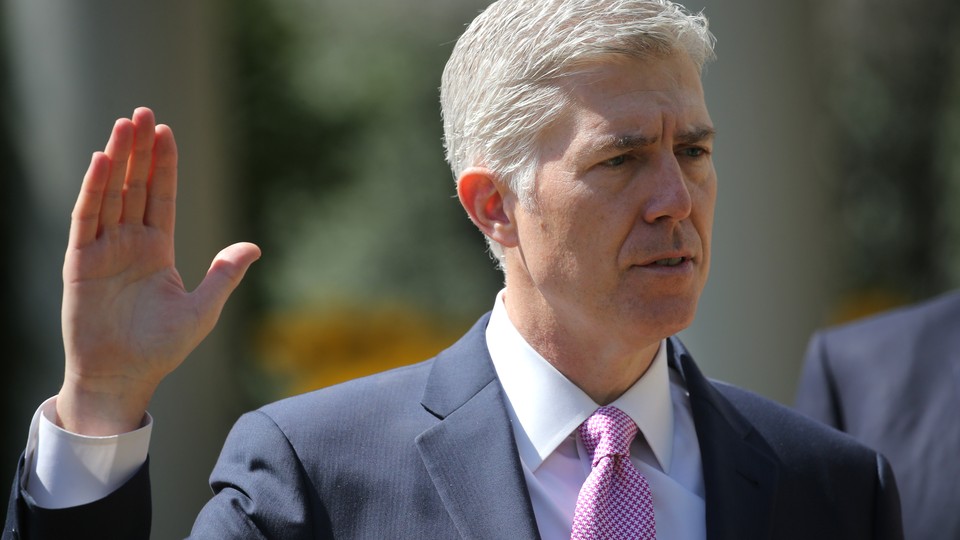 Today in 5 Lines
Neil Gorsuch was sworn-in as a justice of the U.S. Supreme Court. Two adults were killed, and two students hospitalized, in an apparent murder-suicide at North Park Elementary School in San Bernardino, California. United CEO Oscar Munoz responded to videos of a passenger being forcibly removed from an overbooked flight, calling the incident "an upsetting event." Alabama Governor Robert Bentley will reportedly resign amid allegations that he covered up an affair with a former staffer. A state judge gave Dylann Roof, the man convicted of killing nine black parishioners at Emanuel AME Church in Charleston in 2015, nine life sentences after Roof pleaded guilty to state murder charges.
---
Today on The Atlantic
The Toll of Partisanship: Two U.S. historians discuss whether President Trump will be able to make legislative deals across party lines, or if Washington's polarization will stand in his way. (Morton Keller and Julian E. Zelizer)

What's on the Docket?: Neil Gorsuch was sworn-in Monday to the Supreme Court, about halfway through the Court's annual term. Matt Ford provides a quick preview of the cases Gorsuch will participate in over the coming weeks.

The Reality TV President: For media producers and consumers, U.S. military actions attract a mix of curiosity and excitement. But President Trump's decision to order strikes against a Syrian air base presents a modern variation of that relationship. (Adrienne LaFrance)
Follow stories throughout the day with our Politics & Policy portal.
---
Snapshot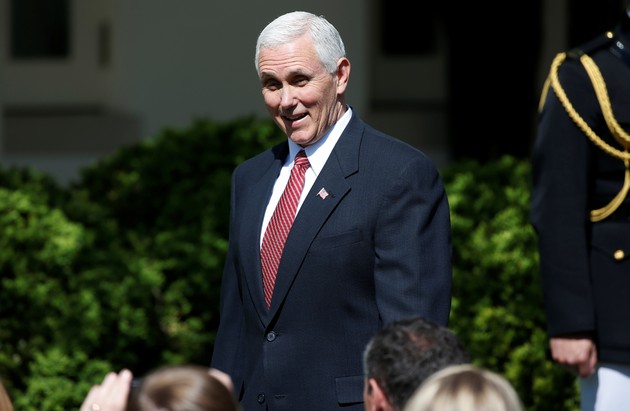 ---
What We're Reading
Shaking Things Up?: Politico's Shane Goldmacher reports on how the West Wing is preparing for Donald Trump's 100th day in office. "One hundred days is the marker, and we've got essentially 2 1/2 weeks to turn everything around," said one White House official.
A Threat to Threatened Species: President Trump's proposed wall along the U.S.-Mexico border could cause irreversible damage to ecosystems, and seriously threaten local wolf and jaguar species. Here's how. (Eliza Barclay and Sarah Frostenson, Vox)
Highlighting Obama's Mistake: Donald Trump's action in Syria shows the president's capacity to change his mind, writes Jonathan S. Tobin, but it is also "the strongest possible repudiation of Obama's legacy." (National Review)
A Pipeline to SCOTUS: Leonard Leo, a conservative lawyer and executive vice president of the Federalist Society, is responsible for the selection of one third of the Supreme Court's justices. Justice Neil Gorsuch is Leo's latest victory. (Jeffrey Toobin, The New Yorker)
Getting the Story Right: Last week, media outlets reported that Susan Rice requested the identities of Trump associates who were swept up in U.S. surveillance. Matt Pearce and Michael Finnegan review the different ways mainstream and conservative outlets covered the story. (The Los Angeles Times)
---
Visualized
Mapping the Targets in Syria: View these graphics and satellite images to see the effects of last week's U.S. airstrikes on Syria's Al Shayrat airfield. (The New York Times)
---
Question of the Week
President Trump has reportedly played golf 16 times since taking office, outpacing former President Obama whose first documented golf outing happened near his 100-day mark.
In addition to golf, Obama also enjoyed pickup basketball games with friends and White House staffers. George W. Bush was an avid runner and had a treadmill added on Air Force One. If you were president, what would be your preferred leisure activity and why?
Send your answers to hello@theatlantic.com and our favorites will be featured in Friday's Politics & Policy Daily.
-Written by Elaine Godfrey (@elainejgodfrey) and Candice Norwood (@cjnorwoodwrites)