Texas Keeps Failing to Convince Federal Courts Its Voting Laws Aren't Racist
This time, judges found the statehouse maps to be intentional racial gerrymanders.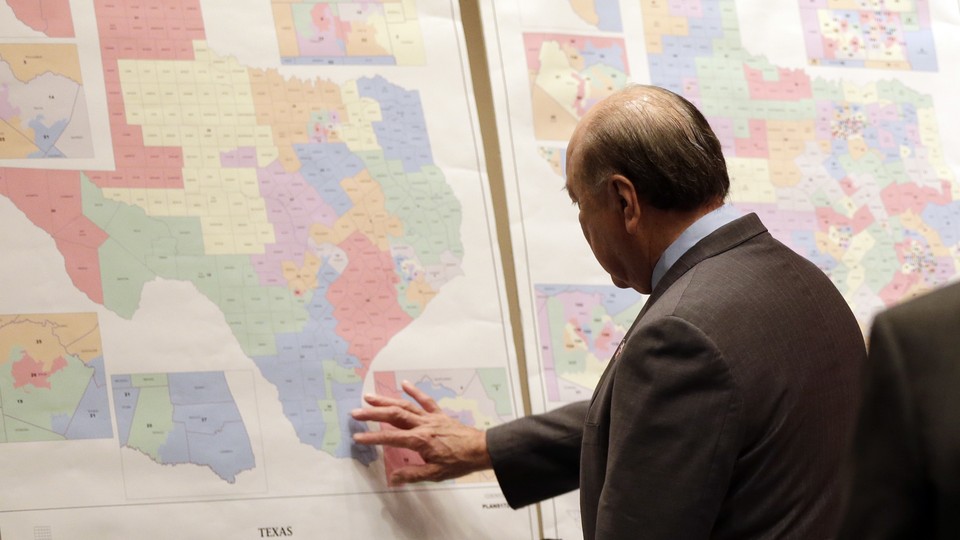 In March, a panel of federal judges ruled that Texas's current congressional district maps had been intentionally drawn to "pack" and "dilute" minority votes in three districts in a way that constituted not only partisan advantage—which is legal—but racial discrimination. Earlier this month, a federal district court found that the Texas law requiring strict voter ID not only had racially disparate effects, but that "a discriminatory purpose was at least one of the substantial or motivating factors" in its creation.
Thursday, another three-judge federal panel completed the trifecta, issuing a 171-page ruling finding that Texas's statehouse districts are also racial gerrymanders, were also intentionally drawn to dilute votes based on race, and also violate the "one person one vote" principle of equal-sized voting districts that is the core consideration of the Voting Rights Act.
For Texas Republicans, the three rulings represent a major blow to a package of party-favorable voting laws passed in 2011 under then-Governor Rick Perry. Then, all Texan voting laws and many of those across the post-Jim Crow South were still subject to "preclearance," or oversight by the Department of Justice and federal courts, based on Section 5 of the Voting Rights Act. The political maps were immediately caught up in judicial review and have been ever since. The voter-ID law, however, was blocked until the Supreme Court of the United States, in the 2013 case of Shelby County v. Holder, essentially struck down the preclearance requirement. After that decision, Texas immediately enacted the law, and the Department of Justice and several other voting-rights organizations sued to block it.
The six years since have been a blur of court cases and appeals, resulting in almost comically drawn interim districts and a robust conversation about the legal differences between political and racial gerrymandering. Two separate considerations of the voter ID law—whether it was racially discriminatory and whether that discrimination was purposeful—proceeded up and down federal courts. After Donald Trump was elected president and appointed Attorney General Jeff Sessions to lead the DOJ, the department famously withdrew its claim that the law had a discriminatory intent.
Now, with the dust settling on this latest round of court cases, the federal findings so far are clear. Both sets of political maps drawn in 2011 and the voter ID law had discriminatory impacts that violated the Voting Rights Act, and all three were enacted with intent of discriminating against minority voters, particularly Hispanic voters. Those findings of widespread discriminatory intent in recent Texas voting laws have been buttressed by some smaller legal flare-ups, like a lawsuit launched last year by Texas officials to defend a law requiring that interpreters for people who aren't proficient in the English or Spanish ballots provided live in the districts where they interpret.
The findings of intent are important, especially since as my colleague Matt Ford notes, their existence essentially invalidates the entire reason the Supreme Court struck down the existing preclearance formulation. Also, after the Shelby County v. Holder decision, under the Voting Rights Act's "bail-in," federal courts and the Department of Justice can still require states or districts to abide by their preclearance requirements if their voting laws show discriminatory intent. Since the Sessions-led Justice Department seems now unlikely to make such a requirement, federal courts are free to consider that intent in future decisions that may restrict Texas's freedom to write its own voting laws.
That's where it gets tricky, because right now it's unlikely that any of these rulings is final. In yesterdays's state district case decision, dissenting Judge Jerry Smith said that people should "stay tuned" for an appeal on the case, which could still go to trial before the 2018 elections. The congressional district ruling also seems headed in the same direction, and the voter-ID case will probably advance through the Fifth Circuit. It's within the realm of possibility for all three cases to reach a full-strength Supreme Court before the 2018 midterm elections, which would add them to a string of voter discrimination cases emanating from post-Shelby County legislation now reaching the nation's highest court.
What might happen next is anybody's guess. With conservative Justice Neil Gorsuch on the bench, and with a raft of new issues before the Court, like partisan gerrymandering in Wisconsin, it's possible that will be an entirely new understanding of the Voting Rights Act by next November. The New York Times reports today that the Wisconsin case is heading to the Supreme Court, and could be consolidated with a number of other gerrymandering cases, including those in North Carolina and Maryland. While other issues dominate the political headlines today, the voting-rights cases currently percolating through federal courts, including those in Texas, are critical considerations for the next elections.
In Texas, for now, there might mean a sigh of relief for minority voters carved into winding districts and exasperation among state Republicans, but both sides expect more battles to come. As Slate's Mark Joseph Stern notes, the 150-plus page documentation appended to Thursday's ruling appears to be a trail of breadcrumbs from the two deciding judges to the Supreme Court, ensuring that the higher court on an eventual appeal will have a play-by-play of every single factor leading to their finding of discriminatory intent. This kind of delicate legal choreography over voting cases not only in Texas, but in a post-Shelby United States will continue through the near future.