Will Republican Hawks Convince Trump to Take a Tougher Line on Syria?
Some GOP senators are urging action in the wake of a deadly chemical attack.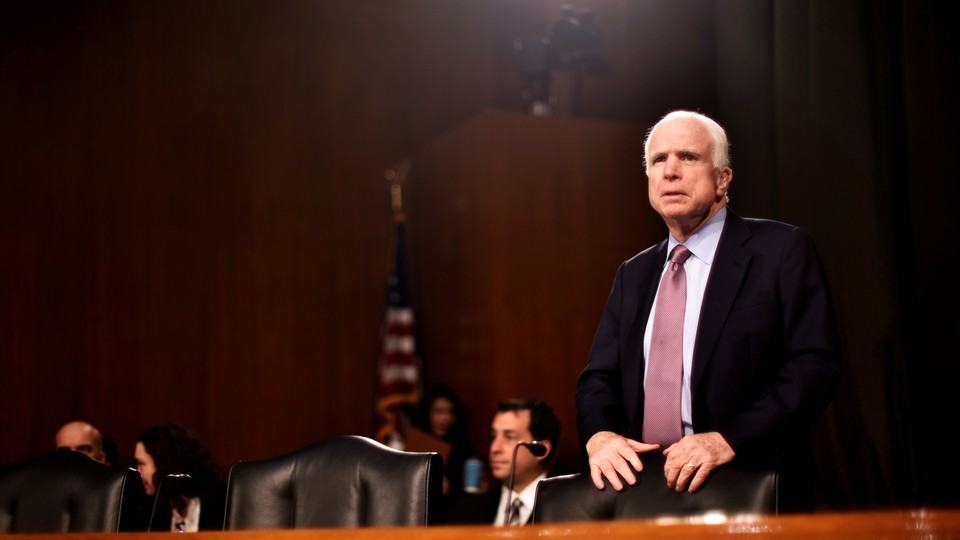 In the wake of a deadly chemical attack in Syria, some Republicans in Congress have called on President Trump to stand up more forcefully to Syrian President Bashar al-Assad—with Senator Marco Rubio going so far as to suggest that the administration's foreign policy has emboldened him. Now, there are indications that Trump may be willing to take a harder line, as the president is reportedly considering the possibility of a military response.
After the strike on a rebel-held town in Syria on Tuesday, several of the Senate's more hawkish lawmakers pushed the Trump administration to make a move. Senators Lindsey Graham and John McCain said in a joint statement on Thursday that Assad "must pay a punitive cost for this horrific attack," and called on the United States to "lead an international coalition to ground Assad's air force." Graham earlier called the attack "the biggest test yet of the Trump presidency," while Senator Tom Cotton said the United States must adopt "a stronger Syria policy" starting "with demanding Assad's departure."
The Trump administration has so far sent mixed messages on Syria, and it's impossible to predict what the president will ultimately decide to do. But CNN reported on Thursday that "Trump has told some members of Congress that he is considering military action in retaliation," citing an unnamed source. The story added that "the president had not firmly decided to go ahead with it." Citing a U.S. official, Reuters also reported on Thursday that "the Pentagon and the White House are in detailed discussions on military options" in response to the attack.
On Wednesday, Trump said during a press conference that his "attitude toward Syria and Assad has changed," and he hinted at the potential for action without offering specifics. "Militarily, I don't like to say where I'm going and what I'm doing," he said. On Thursday, Secretary of State Rex Tillerson said that "steps are underway" when asked if he and Trump would organize an international coalition to remove Assad.
Public pressure from hawkish Republicans can, in part, be traced to administration comments prior to the attack suggesting that Trump had no intention of trying to oust the Syrian president. Last week, Tillerson said that Assad's fate "will be decided by the Syrian people," signaling that the United States would not push for his removal from power. U.S. Ambassador to the United Nations Nikki Haley went further last Thursday when she said that "our priority is no longer to sit there and focus on getting Assad out."
Some of the same Republicans now pressuring Trump to act in response to the chemical attack criticized those earlier remarks. Arizona's McCain called Tillerson's comments "incredible." South Carolina's Graham said that "to suggest that Assad is an acceptable leader for the Syrian people is to ignore the wholesale slaughter of the Syrian people by the Assad regime."
After Tuesday's strike, Senator Marco Rubio implied that the current administration may even shoulder some responsibility. The Florida senator told a Tampa Bay radio station on Wednesday that he found Tillerson's remarks "concerning," describing his message as a nod "to the idea that Assad was going to get to stay in some capacity." He continued: "I don't think it's a coincidence that a few days later we see this. Assad believes, and sadly he may be right, that he can gas his people … and he'll stay in power … And I hate to say this, I think he's going to get away with it."
Senator Tom Cotton of Arkansas responded to the attack by swiftly calling for Assad's removal from power. "It is time for a stronger Syria policy, one that holds the Assad government, Russia, and Iran accountable for their brutality," he said in a statement. Cotton added: "That policy begins with demanding Assad's departure from Syria."
The ongoing Syrian civil war—and Tuesday's chemical attack—highlights another fault line in the GOP. On the campaign trail, Trump's approach to foreign policy veered from promises to "bomb the shit" out of ISIS to criticism of past U.S. military intervention. Overall, though, Trump emphasized that the United States had for too long neglected domestic issues, and emphasized that rebuilding material prosperity at home should be the country's top priority. He suggested that the country should not be the world's policeman—an approach to foreign policy at odds with the interventionist strain within the Republican Party.
Recently, Trump has tried to shift blame to his predecessor for the situation in Syria. In a formal statement reacting to the chemical attack, Trump said the "civilized world" can't ignore what happened, but offered no indication of what comes next. Instead, he invoked former President Barack Obama, calling the "heinous actions by the Bashar al-Assad regime" a "consequence of the past administration's weakness and irresolution."
The next day, Trump seemed to suggest he'd be tougher on Syria than Obama had been. The attack "crosses many, many lines, beyond a red line," he said—an apparent reference to Obama's infamous declaration that Assad's use of chemical weapons would amount to "a red line," and that if crossed would trigger "enormous consequences." Also on Wednesday, Haley warned that the United States may "take our own action" if the United Nations fails to act.
If Trump opts for a military approach, that won't necessarily be an indication that hawkish congressional Republicans did anything to convince him. CNN reported on Thursday that "Trump is relying on the judgment" of his secretary of defense, James Mattis, as he weighs his options. But if the president decides not to take action, he will undoubtedly face further pressure from these lawmakers to respond with force. Indeed, he may even be accused of drawing a red line of his own and then failing to enforce it.