A Polarized Political Response to Trump's Syria Strike
Some politicians applauded the president's swift action, while others raised questions about its legal basis, or labeled it unconstitutional.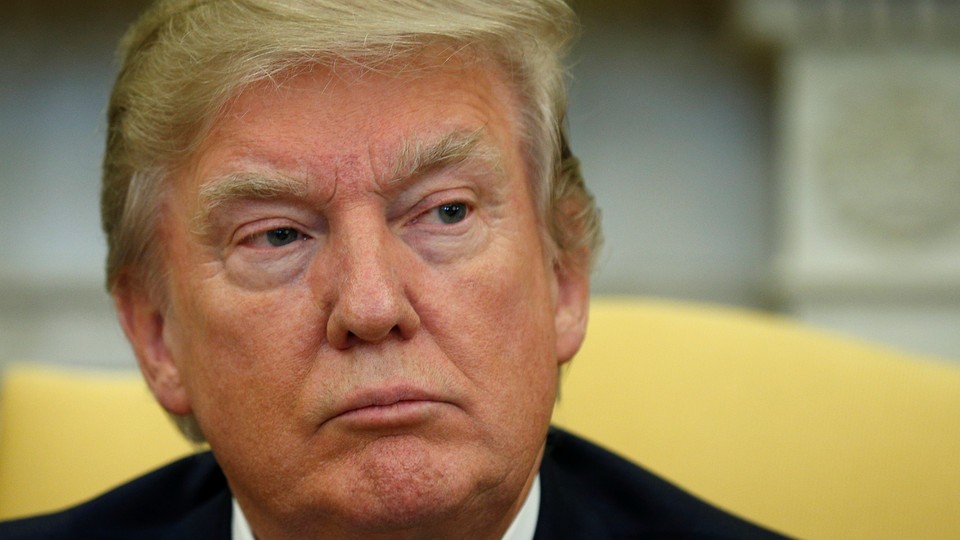 The U.S. military struck an airfield in central Syria on Thursday night in what the Trump administration described as a retaliatory strike for the Syrian government's use of chemical weapons earlier this week.
In Washington, congressional reaction was mixed, with some lauding Trump's swift action, and others questioning the legal and constitutional basis for the strikes. Florida Senator Marco Rubio praised the strike as a "tactical action that furthers an objective."
"I think this is an important, decisive step that was taken," he told CNN. "It is a degrading of the capability of the Syrian regime to carry out further chemical attacks against innocent civilians. This will degrade their capability to launch those attacks from the air, and I think it was an important step, and hopefully it's part of a comprehensive strategy."
Arizona Senator John McCain and South Carolina Senator Lindsey Graham, two of the Senate's more hawkish members, also commended Trump for using military force against Syrian President Bashar al-Assad's forces after the Obama administration's previous refusals.
"Unlike the previous administration, President Trump confronted a pivotal moment in Syria and took action," they said in a joint statement. "For that, he deserves the support of the American people. Building on tonight's credible first step, we must learn the lessons of history and ensure that tactical success to strategic progress."
Speaker Paul Ryan called the airstrikes "appropriate and just," also drawing an implicit contrast with Barack Obama's 2013 decision to not pursue airstrikes against Assad after a similar chemical-weapons attack by his military.
"These tactical strikes make clear that the Assad regime can no longer count on American inaction as it carries out atrocities against the Syrian people," Ryan said in a statement. "Resolving the years-long crisis in Syria is a complex task, but Bashar al-Assad must be held accountable and his enablers must be persuaded to change course."
Some Democrats joined the praise for the Trump administration's move, including Florida Senator Bill Nelson.
But Kentucky Senator Rand Paul, a Republican, raised concerns about the strike's legality.
Michigan Representative Justin Amash, a Republican who shares Paul's libertarian streak, also questioned the strike's constitutionality.
Democratic members of Congress echoed those sentiments in even stronger terms. California Representative Ted Lieu described the strikes as "unconstitutional."
Virginia Senator Tim Kaine was even blunter on the issue.
Illinois Senator Dick Durbin, a member of the Senate Democratic leadership, also urged future congressional involvement, but took a more measured tone.
"My preliminary briefing by the White House indicated that this was a measured response to the Syrian nerve gas atrocity," he said. "Any further action will require close scrutiny by Congress, and any escalation beyond airstrikes or missile strikes will require engaging the American people in that decision."
Most top Democrats took a similar approach, balancing support for Thursday's airstrike with caution against leaving out congressional leaders in future military decisions.
"Making sure Assad knows that when he commits such despicable atrocities he will pay a price is the right thing to do," Senate Minority Leader Chuck Schumer said. "It is incumbent on the Trump administration to come up with a strategy and consult with Congress before implementing it."
Other Democrats, like Massachusetts Representative Seth Moulton, took aim at the president's dissonant response to the victims of the chemical-weapons strike earlier this week and the Syrian refugee crisis as a whole.