Susan Rice's Careful Dance on Trump Surveillance
The former national-security adviser said in an interview she had not conducted any political spying on the president-elect's team, but suggested she may have asked for members' names to be revealed to her.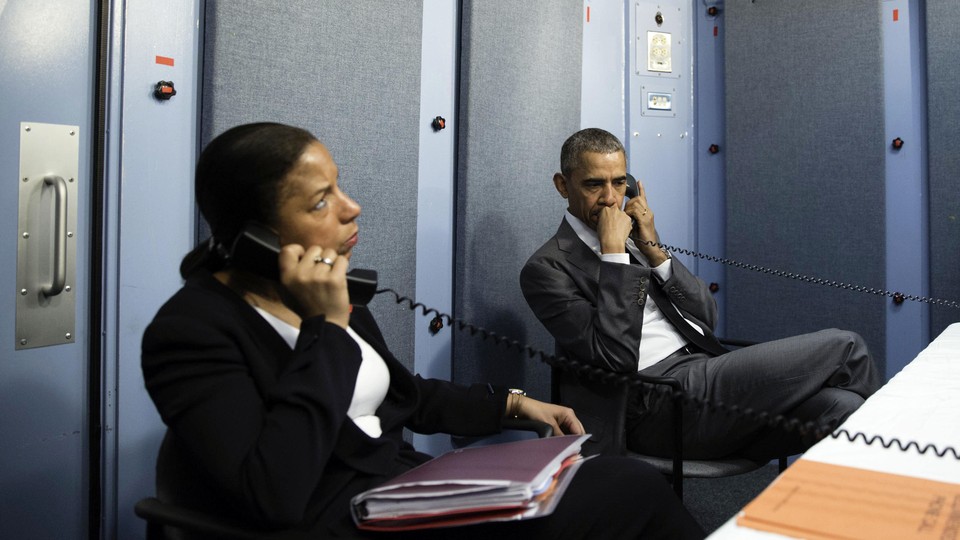 Former National Security Advisor Susan Rice told MSNBC's Andrea Mitchell Tuesday she did not spy on President Trump or members of his team for political purposes, and that she had not leaked information gleaned from intelligence reports about them.
But while she refused to confirm it directly, citing classified information, Rice seemed to imply she requested that members of the Trump team whose names were redacted in intelligence reports be "unmasked," or identified, as a report Monday from Bloomberg View's Eli Lake asserted. The stories focus on "incidental collection," when an American is caught up in surveillance of a foreign target, in which case the American's name is redacted but can legally be revealed at the request of certain officials, including the national security adviser.
"There were occasions when I would receive a report in which a U.S. person was referred to, name not provided," Rice said. "Sometimes in that context in order to understand the significance of the report and assess its significance, it was necessary to request the information as to who that person was."
For example, Rice said, if a hypothetical report dealt with an American trying to sell bomb-making equipment to foreigners, she would want to know whether the American was a "kook" or a credible person, in which case the report would be taken more seriously. She said any unmasking request had to run through an established intelligence-community protocol. Rice also said she never requested reports, but sometimes asked for unmasking in reports sent to her by intelligence officials.
At one point in the interview, Mitchell seemed on the verge of asking Rice point-blank if she had requested unmasking of any Trump team officials, but then added, "in order to spy on them?"
"Absolutely not for any political purposes, to spy, expose, anything," Rice said, adding there was "no equivalence between unmasking and leaking."
She said she had not leaked any information about Michael Flynn, who succeeded her as national-security adviser before being forced to resign for lying to Vice President Mike Pence about his conversations with the Russian ambassador. "I leaked nothing to nobody, and never have, and never would," Rice said. She said she learned only through press reports that Flynn had been lobbying for the Turkish government without disclosing his activity. She would not say whether she had any suspicions about Flynn.
As for Trump's allegation he had been subject to surveillance, ordered by President Obama, prior to the election, Rice said, "There was no collection or surveillance on Trump Tower or Trump individuals, and by that I mean directed by the White House or targeted at Trump individuals."
Rice spoke to PBS's Judy Woodruff in March, and gave an answer that appears contradictory and misleading about any surveillance. Woodruff asked Rice about House Intelligence Committee Chairman Devin Nunes's statements that Trump transition team members were caught up in incidental collection.
"I know nothing about this," Rice told Woodruff. "I was surprised to see accounts from Chairman Nunes on that today."
As Rice was speaking to MSNBC on Tuesday, Representative Adam Schiff, Nunes's Democratic counterpart on the House Intelligence Committee, announced the reports Nunes viewed would soon be made available to both the House and Senate intelligence committees.
On Tuesday, MSNBC's Mitchell noted that some Republicans were suggesting Rice be subpoenaed about collection of Trump officials. Rice declined to say whether she would be willing to testify, saying, "Let's see what comes."
Rice's repeated statements she could and would not reveal classified information point to the central ambiguity in this story. Over time, a very loose image has emerged of what might have been collected or might not have. But that image is severely constrained by the fact that most of the relevant information is classified, and Nunes himself has been accused of improperly revealing classified information. The low-information landscape has made for a fertile partisan battle, but makes it challenging to understand what really happened and who is telling the truth.
It is not clear, for example, whether Trump officials' communications were incidentally collected through conversations with surveillance targets, or were simply mentioned in conversations that were collected. There's also no reliable information on how many times, and when, Rice requested unmasking of Trump officials, nor of whether other officials also requested unmasking.