A Battle Between Nepotism and Nationalism
Stephen Bannon's right-wing populist project is at odds with the interests of Jared Kushner and Ivanka Trump.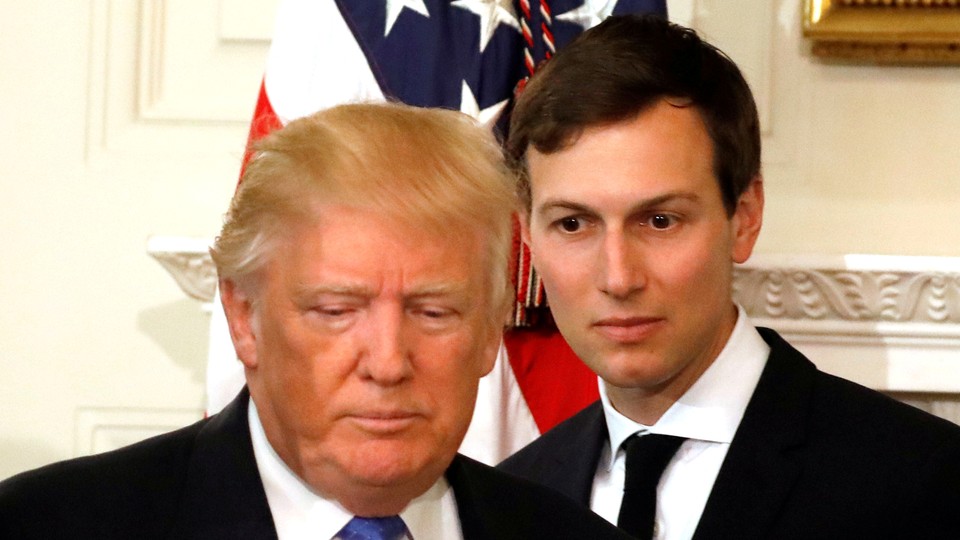 Stephen Bannon presided over Breitbart as it stoked anti-Muslim prejudice and white racial anxiety; saw Donald Trump as a useful vessel for destroying the Republican Party; and steered Trump's presidential campaign toward white nationalism. The 63-year-old once suggested that a war between the U.S. and China is inevitable. And he wants right-wing populists to take power in numerous countries.
Jared Kushner is President Trump's son-in-law. He is 36 years old. Barring a major change to the existing order, he will live out the next 50 years or so with his wife Ivanka Trump, their three children, and hundreds of millions of dollars in assets, participating in global business and traveling the world at their pleasure. One threat to that future is a catastrophic war with China. As a Harvard graduate with three Jewish children, Kushner might worry even more about virulently anti-elite right-wing populists taking power in countries across the northern hemisphere.
Thus the stark divergence in interests between Bannon, the aging, thrice-divorced ideologue, and Kushner, the young man whose grandparents survived the Holocaust.
Then there is Ivanka. She spent a lifetime comporting herself with exquisite poise and propriety in nearly every public appearance, only to see herself portrayed on Saturday Night Live––a show that's produced indelible caricatures of many political celebrities––as "complicit" in the worst misdeeds perpetrated by her crude father. She may be earnest in countering that she wants to make a positive difference. But even if she were thinking only of her personal brand, or her children's future, she would have ample incentives to want Bannon's project sidelined, given that its success requires stark polarization and sharing a coalition with white nationalists.
She is young, too, and will presumably control the Trump brand long in the future, when her father is dead and white people are no longer a majority in the United States.
Bannon is toxic to the brand she wants to maintain.
Those are the factors I thought about when I saw that Bannon has been removed from the National Security Council, and saw Politico report, "Five people, including a senior administration official and several sources close to the president, tell POLITICO that Bannon, one of Trump's closest advisers, has clashed with the president's son-in-law Jared Kushner, who's taken on an increasingly prominent portfolio in the West Wing. Bannon has complained that Kushner and his allies are trying to undermine his populist approach, the sources said."
If the outcome is nepotism, I don't exactly approve. But better nepotism than white nationalism and agitating for war with China, if those are the options these days.