Q of the Week: Where Should Trump Donate His Salary?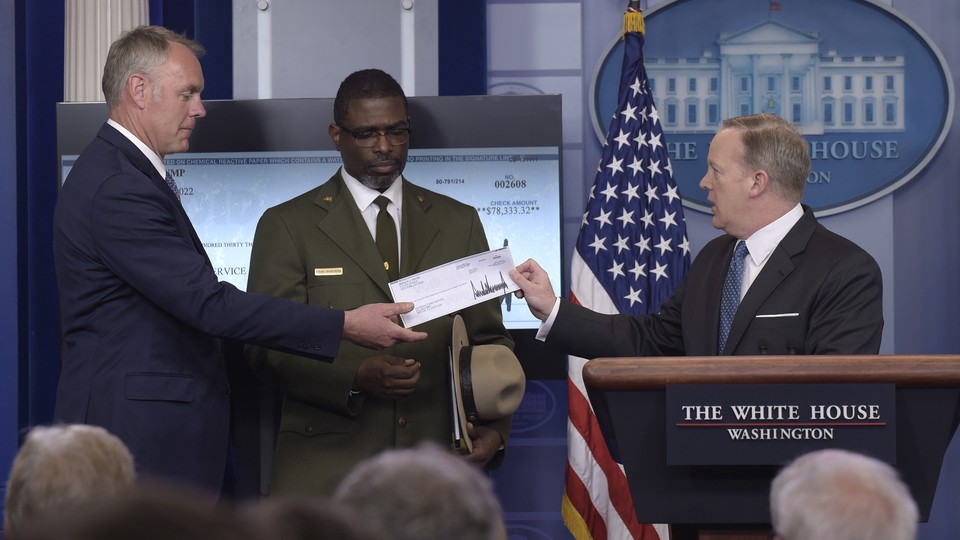 Editor's Note:
This article previously appeared in a different format as part of The Atlantic's Notes section, retired in 2021.
After the election, Donald Trump said he would donate his annual presidential salary to charity. On Monday, White House Press Secretary Sean Spicer announced that the president chose to give away his first-quarter salary of $78,333 to the National Park Service, to be spent on the upkeep of America's historic battlefields. Spicer said Trump was presented with a number of options before coming to his decision. So this week, we asked Politics & Policy Daily readers to suggest recipients for any future salary donations.
Dozens of readers responded that the president should donate his salary to Planned Parenthood, because of recent threats to the organization's funding made by congressional Republicans and members of the Trump administration. Many more of you suggested that Trump donate next to the Meals-on-Wheels program, because of his plans to cut it from the budget. From Diane Miles:
Meals on Wheels is a very worthwhile service for homebound elders who can't leave their homes to shop, don't have enough money for nutritional meals, or find preparing meals difficult. The Meals on Wheels program nationwide is a lifeline for isolated individuals without support systems, family, and/or ability to prepare meals as they had when they were younger.
From Dirk Bloemendaal:
I suggest World Vision, a Christian humanitarian organization that does good work all over the planet.  World Vision feeds children who are starving, supports families that need a source of income through enabling the purchase of animals, and gives families the opportunity to sponsor children around the globe. President Trump needs to begin looking outward—outside of himself—and look to lift others up.  Once one looks to taking care of his neighbor, one stops thinking of himself.
On that note, in light of the recent chemical attack in Syria—as well as Trump's reluctance to allow Syrian refugees into the United States—Bira Chopra suggested he send his salary to a refugee camp overseas, where the money could be used to help young children in particular.
Elonide Semmes suggested Trump should send his money to support job retraining programs in rural areas and the rust belt, especially since his recent budget blueprint outlined major cuts to existing programs. Elonide added that "battlefield park maintenance shows how out-of-touch [Trump] is with the pain and suffering in America."
Louise Hudson thinks the salary should go straight to health care for needy Americans:
The Affordable Care Act passed under the Obama administration, though imperfect, has been the most successful program so far in bringing health-care benefits to millions of people who did not have them before. Trump wants to dismantle this program but has been unable to come up with anything to replace it except  for what we had before the ACA: the "pay up or die" health-care system. Although his donated salary would of little practical help to the yawning need, as a symbolic gesture it would be spectacular.
Instead of donating the money to a charity, Joan Ma suggested Trump should use the salary "to cover the NYPD cost for providing the security detail protecting Melania and Barron Trump while they live in NYC":
Not technically a charity perhaps, but it would be a charitable thing to do for the millions of New Yorkers living in poverty and on the street, not high in Trump Tower, who need the services from the city that that money could provide.
Reader Nan Nalder argued that before anything else, Trump should focus on improving water quality in the nation's cities:
The reminder of excessive lead in the water in Michigan is but a "drop in the bucket" of how our nation's water supply can become a tragedy. I am very concerned about the lack of interest shown on the part of our president in the importance of clean water and clean air.

When I was working for the Environmental Protection Agency in the late 1970s, the EPA gave grants to all levels of government to encourage programs for improving water quality management nationwide. The one area I had hoped by now to see more progress in is improving groundwater quality.

With "fracking" occurring throughout our nation in search of ever more low-cost natural gas, I am very concerned that we are losing sight of the onetime goal of "fishable, playable, and drinkable water."
David Deufel had another infrastructure-related idea:
I strongly recommend a portion of that $400,000 [Trump's total salary] go to fixing potholes and crevices in all the states affected by winter weather. Start soon since infrastructure funding is far from being a boon. Prioritize from sinkhole-size on down.
Several other readers suggested Trump spend the  money on his frequent trips to his private Mar-a-Lago club in Palm Beach, Florida. The BBC reports that the weekend trips have cost about $23 million over the past 10 weeks.
Finally, Ross Tortora had interesting advice, albeit advice that Trump will almost certainly not want to heed:
My suggestion for the leader of the Republican Party is to make his next tax-deductible donation to the opposition party.  This would not only represent a monetary sacrifice, but a tangible symbol to all Americans that he is willing to reach out "with malice toward none, with charity for all."