Q of the Week: What Would You Do in Your Free Time as President?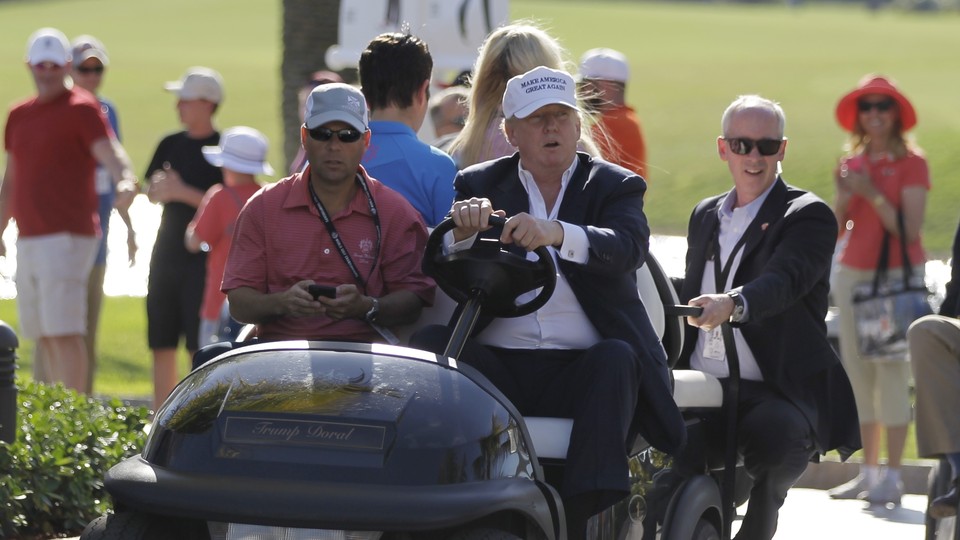 Editor's Note:
This article previously appeared in a different format as part of The Atlantic's Notes section, retired in 2021.
President Trump has reportedly played golf 16 times since taking office—outpacing former President Obama, whose first documented golf outing happened near his 100-day mark. This week, we asked our Politics & Policy Daily readers: If you were president, what would be your preferred leisure activity, and why?
Howard Cohen answered:
Swimming. Unlike many other sports that are taxing on the muscles and bones (especially as we age), swimming is a relaxing, contemplative exercise that allows one to think while immersed under water. Stroke by stroke, lap by lap, it engenders a true cleansing of one's mind of any and all clutter.
Tam McDonald, chose swimming, too:
I would restore the White House pool, although not for the "fiddling and faddling" that JFK made famous.

Swimming is not only a top aerobic exercise but necessitates a stress-busting breathing rhythm that inspires many of its adherents to characterize it as aquatic yoga. It is good not only for the musculature and respiratory systems but for enhanced cognition: clearer thinking, higher creativity, and enhanced capacity for circumspection.
Another reader, Erin Ham, put it this way: "No one can talk to you or call you in a pool.  It would be a fantastic hour of silence with no technology every day."
Christopher Round is an avid judo practitioner, which he describes as a "wrestling art that specializes in takedowns." Round would continue to nurture his hobby in the White House:
I've done it most of my life and would probably ask to have mats put down at the White House. [Russian President Vladimir] Putin and I would have the same hobby—perhaps a meeting on the mat would take down his tough-guy image. (See what I did there?)
Todd Zartman sees volleyball as a good way for the president to blow off steam with friends and colleagues:
It is one of those leisure/sporting activities that gets everyone involved. It is social and involves teamwork. Young and old seem to enjoy it. Not a bad thing for someone in the White House to partake in, in my opinion.
In a similar vein, Stewart Verdery suggests President Trump and company hike the Appalachian Trail: "How about a bipartisan 'Walk in the Woods'?"
Several readers suggested they would spend a lot of time gardening. Marjorie Spaeth had big plans for her leisure time as president, starting with the White House garden:
I would do something original with the White House garden that made a statement about climate change. I would also work with the kitchen staff to learn from them and have much more multi-ethnic culinary offerings at the White House. Healthy foods with a Latino bent would be my preference.

Then, with all this food and gardening, I should exercise, so I would swim—and sit in a jacuzzi and get acupuncture and massage.
Dirk Bloemendaal would play three specific strategy games to keep his brain active during his time off:
Risk: To learn how geo-strategy works (and where Kamchatka is);
Jenga: To learn that later moves are predicated upon earlier moves, and that failure can cause the entire structure to collapse; and
Chess: To learn how to think more than one move ahead.
Several of you said you'd spend time with kids—both as an escape and a way to keep it all in perspective. Here's one "avid sports enthusiast":
I would play different sports with a different class of touring school children every Friday on the White House lawn. I believe that it would be a great experience for myself and our children to interact with the president and get some exercise too.
Finally, Steve Austin would find a way to make regular surprise visits to his supporters:
I'd sneak out of the White House with a minimum of people and drop in on schools or other places where the kind of people who elected me live or work. I might whisper in there on an MH-60 rigged for quiet operation. I'd catch teachers getting their rooms set up in the a.m., try to meet 'em all briefly, and leave before the press showed.