Is There Any Room in the 'Big Tent' for Pro-Life Democrats?
Conflicts over reproductive rights have raised questions about who the party will accept, and who it will reject, in its coalition.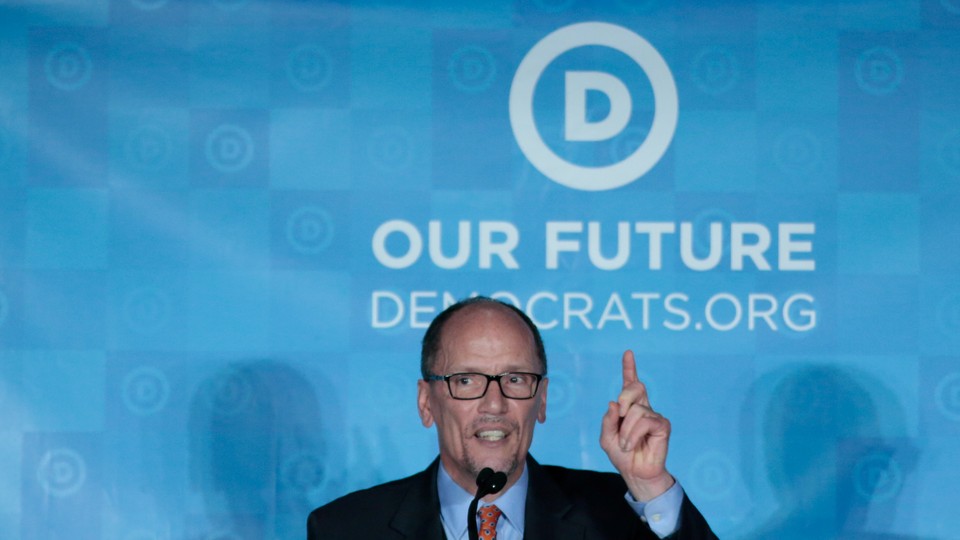 Democrats have become newly divided over reproductive rights as they attempt to decide who they will welcome, and who they will exclude, amid soul searching over how the party should rebuild after its 2016 loss.
Democratic leaders have tried to walk a fine line by emphasizing that the party stands for protecting women's access to abortion, while signaling that there is still room for Democrats who oppose abortion. It's not clear, however, whether and to what extent party leaders will tolerate any deviations, in either personal beliefs or policy stands, from full-throated support for the pro-abortion rights party platform.
Senate Minority Leader Chuck Schumer recently said the party is "strongly pro-choice," but remains a "big-tent party," while House Minority Leader Nancy Pelosi said "of course" it's possible to be "pro-life" and a Democrat, and have the support of the Democratic Party. Tom Perez, the chair of the Democratic National committee, meanwhile is facing harsh criticism within the party for remarks widely interpreted as saying that Democrats who oppose abortion were not welcome in the party.
The question of where the party stands is a crucial one as Democrats seek to take back Congress and the White House. The American public remains divided on abortion, though a majority believe it should be legal in all or most cases. The Democratic party platform unambiguously states that women have a "right to safe and legal abortion" and promises that the party will oppose and work to overturn "laws and policies that impede a woman's access to abortion."
An unequivocal statement from Democratic leaders that everyone in the party must adhere to that agenda would earn support from abortion rights activists, but it could alienate potential voters and Democratic hopefuls running for office in Republican-dominated parts of the country. The result has been a party struggling to clarify its stance.
Perez acknowledged last week that Democrats won't always be in lockstep on abortion. "If you demand fealty on every single issue, then it's a challenge," he said. Yet a few days later, Perez said that Democrats should support the party's pro-abortion rights stance in a statement interpreted in and out of the party as a reversal from his earlier remarks, and a call for ideological purity on abortion.
"Every Democrat, like every American, should support a woman's right to make her own choices about her body and her health," Perez said, adding that "every candidate who runs as a Democrat should" share the "Democratic Party's position on women's fundamental rights."
The DNC's message on abortion may alienate red-state Democrats at a time when the party is trying to expand its reach into conservative parts of the country it may need to win over if it wants to reclaim the White House and Congress. And moderate Democrats representing red states are distancing themselves from Perez's remarks.
"I couldn't disagree more with what Tom Perez said, I think it's not correct that our party should have litmus tests about who wants to join our party," Democratic Senator Claire McCaskill of Missouri, who has a 100 percent rating from Planned Parenthood Action Fund's congressional scorecard and represents a state Donald Trump won, said in an interview. "We may disagree on various issues, and I just don't think we should say ever anyone is not welcome in our party based on one of those issues."
"What Mr. Perez said makes no sense to me. This is a deeply personal issue, and we should be about respecting one another," Indiana Democratic Senator Joe Donnelly, who identifies as pro-life and has a 60 percent Planned Parenthood rating, said in an interview.
"I don't know why we would want to start walking away from folks, like myself, who have a personal conviction on the pro-life issue," Donnelly said. "We ought to be able to include everyone, as opposed to saying 'no, we don't want these folks, even though they fight with us on jobs, even though they fight with us for economic rights, even though they fight with us on healthcare.' It just seems to me to be very, very short-sighted."
To some extent, progressive Democrats are also divided over whether the party should embrace Democrats even if they have convictions against abortion, or make clear that there's no place for any lawmaker unwilling to strictly adhere to the Democratic Party platform.
"Pro-life Democrats need to be welcomed into our party," said Jane Kleeb, the Nebraska Democratic Party Chair and a board member of Our Revolution, the group that formed out of the embers of the Bernie Sanders presidential campaign. Kleeb added that "Tom Perez  put every Democrat who is leading our party at the nationwide and statewide level in a very difficult position" by issuing a statement "that is now being interpreted as him saying he does not accept pro-life Democrats in the party."
Kleeb, who identifies as pro-choice and progressive, said she was not consulted by Perez before he put out the statement, and called the DNC afterward to register her disappointment. "I think the demonizing of people who are pro-life is deplorable," she added.
Erin Matson, a self-described progressive Democrat and feminist, had a very different reaction to what Perez had to say, and welcomed his statement.
"It was great to see Perez discover a spine," she said, though she added that "Schumer and Pelosi's recent comments are cowardly." Matson, who works as a reproductive rights advocate based in Virginia, put it this way: "It's about policy, not feelings or labels, and anything less than a bold stance that makes clear that the Democratic Party must be united in protecting a woman's right to an abortion is a betrayal of a core constituency of the party." Spokespeople for Schumer and Pelosi declined to elaborate on their views, though both lawmakers have a 100 percent Planned Parenthood rating.
Perez's pointed and controversial statement came after abortion rights advocacy organization NARAL Pro-Choice America criticized the DNC last week for what the group called its embrace of an "anti-choice candidate" in response to news that Sanders, one of the most high-profile figures in progressive politics, and Deputy Democratic National Committee Chair Representative Keith Ellison would attend a rally alongside Heath Mello, a self-described "personally pro-life" Democratic mayoral candidate in Nebraska.
NARAL President Ilyse Hogue warned that "if Democrats think the path forward following the 2016 election is to support candidates who substitute their own judgement and ideology for that of their female constituents, they have learned all the wrong lessons and are bound to lose." Perez's subsequent comments that every Democrat "should support a woman's right to make her own choices," drew quick praise from NARAL. "Women across the country … are breathing a sigh of relief to know that the DNC has our backs," Hogue said in response.
It's hard to pin down exactly how far Democratic leaders are willing to go to enforce a pro-abortion rights stance within the party, however. When reached for comment, an aide to Perez said that the DNC Chair doesn't support a litmus test on abortion, and that he has never said he doesn't support pro-life candidates.
As long as Trump is president, the DNC will face more pressure to define the direction of the party than it would if a Democrat was in the White House. The fact that Democrats lack a clear leader means that mixed messages and competing priorities may lead to confusion over what the party stands for as leaders in Congress, at the DNC, and advocacy groups all attempt to ensure the party does what they want.
Still, the debate over whether Democrats opposed to abortion are welcome in the party may obscure the extent to which there is common ground within the party on reproductive rights.
Sofia Jawed-Wessel, a professor at the University of Nebraska Omaha and a reproductive rights activist who supports the Mello campaign, said in an interview that initial reports characterizing Mello's record on abortion in national media outlets when news broke that Sanders would appear at a rally with him, and subsequent backlash from reproductive rights groups, created a misleading picture of the candidate.
Mello, she said, may be "personally pro-life," but the way he has campaigned suggests he is now also "politically pro-choice." Jawed-Wessel added that the candidate made clear long before the national controversy that erupted last week that he supports Planned Parenthood, and would fight to defend it, and defend women's access to reproductive health care if elected.
A bill Mello supported in 2009 requiring women to be informed of their right to request a list of ultrasound providers prior to getting an abortion, and which he described as a "positive first step to reducing the number of abortions in Nebraska" has received the most media attention.  But while Mello may have legislated based on his "personally pro-life," convictions  in the past, Jawed-Wessel believes that is not how he would govern now. Last week, Mello told The Huffington Post that his Catholic faith informs his personal beliefs, but vowed that he "would never do anything to restrict access to reproductive health care" if elected mayor.
That kind of nuance may get lost when partisans and pundits rush to assign labels like pro-life and pro-choice to politicians. Prominent Catholic Democrats  like Virginia Senator Tim Kaine and former Vice President Joe Biden have also tried to strike a balance between personal conviction and party orthodoxy. "I accept my church's position on abortion," Biden said during the 2012 vice presidential debate, "but I refuse to impose it … I just refuse to impose that on others."
"I think some of this confusion is that people don't understand that being pro-choice and pro-life are not mutually exclusive. An individual can find abortion morally problematic, but still support a person's right to choice without government interference," Jawed-Wessel said.
Not everyone may agree with that assessment, but polling indicates that labels like pro-choice and pro-life fail to capture the full spectrum of voter sentiment. According to a Vox survey from 2015, 39 percent of Americans don't identify as only "pro-life" or "pro-choice," a larger percentage than either the 32 percent of respondents who called themselves "pro-choice" or the 26 percent who described themselves as "pro-life."  A majority of Americans, at 59 percent, support legal abortions, according to Pew Research Center data, despite the fact that 44 percent of Americans say abortion is morally wrong.
That spectrum, and the complexity it creates, makes it more likely that Democrats will end up talking past one another, and that rifts will deepen as a result.
Some reproductive rights advocates feel that Democratic leaders, and Sanders in particular, who has a 100 percent Planned Parenthood rating and championed womens' rights during his presidential primary, have not done enough to connect reproductive rights to a message of economic populism or articulated that reproductive healthcare, including abortion access, is a prerequisite for economic equality. "Sanders has made it sound like reproductive rights are negotiable. That is wrong, and he will face protest until he includes reproductive justice in his economic justice message," Matson said.
A spokesman for Sanders pointed to the senator's recent comments on Face the Nation saying he hopes Mello wins, and will do everything in his power to "see that Republicans do not get away with their horrific effort to defund Planned Parenthood." When Sanders was asked on MSNBC last month if Democrats should be open to "candidates that may not be rigidly pro-choice," his answer was "yes."
A spokesman for Ellison, who also appeared at the Mello rally last week, said that while the congressman "disagrees with Mello's past positions on abortion rights, Heath has made it clear that as Mayor he will stand up for women's rights." In his statement released last week, Perez added that support for "a woman's right to make her own choices about her body and her health" is "not negotiable and should not change city by city or state by state."
There's also tension within the party over whether it should be acceptable for policy makers to talk about abortion as something that should be legal, and freely available, but also minimized. "I think there are a lot of policies and bills that we could talk about that both lift up women's access to women's reproductive rights and decrease abortions where Democrats could find common ground," Kleeb said.
Reproductive rights activists argue, however, that any suggestion that policy should seek to decrease the number of abortions that take place creates harmful social stigma. "There are exactly as many abortions as there need to be," Matson said. "If anything I worry that people are getting turned away from the care they need because of funding restrictions."
As for whether any kind of shift is underway on abortion, however, even activists who identify as pro-life and Democrat, aren't holding out much hope that the party is poised to change its position on abortion anytime soon.
"The Democratic Party has to look in the mirror and say, where did we go wrong? What do we need to do to start winning again?" said Kristen Day, the executive director of Democrats for Life of America. "This is one of those issues where the party could expand its coalition. I do have some optimism. The fact that we're having this discussion at all is important, and potentially an opportunity to create space for pro-life Democrats within the party, but so far it doesn't seem like that's the direction the party will take."