The Painful Syrian Education of Barack Obama and Donald Trump
The former president said he was proud of a deal to remove chemical weapons without military intervention. If that didn't work, what will his successor do?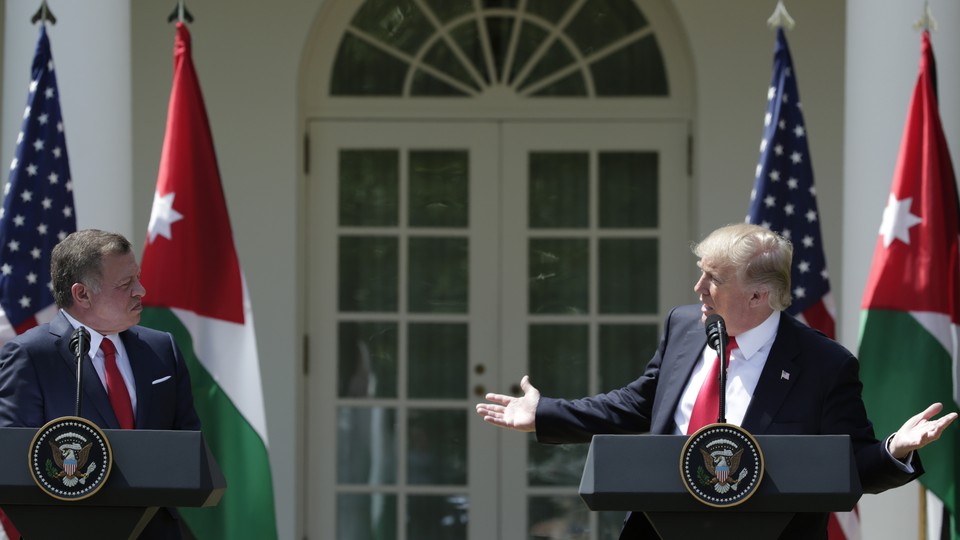 In August 2013, there was a gas attack in Ghouta, Syria. The attack, which was attributed to the Syrian government by everyone except President Assad and his Russian allies, killed hundreds of people and outraged the international community. A consensus arose in the West: Something had to be done.
The urgency was elevated by Obama's own statement, in 2012, that the use of chemical weapons would constitute a "red line" that would demand American action. Then-Secretary of State John Kerry reacted accordingly in 2013, with a bellicose speech the day after the Ghouta attack. But Obama ended up following a different path, even as critics argued he was destroying U.S. credibility by opting not to intervene. Instead, he worked with Russian officials to cut a deal in which Assad would surrender his chemical weapons. Meanwhile, the U.S. avoided another open-ended, costly, bloody Middle Eastern war.
In an extensive piece last year trying to hash out what exactly President Obama's overarching approach to foreign policy was, my colleague Jeffrey Goldberg examined the incident in detail. "I'm very proud of this moment," Obama told Goldberg. "The overwhelming weight of conventional wisdom and the machinery of our national-security apparatus had gone fairly far. The perception was that my credibility was at stake, that America's credibility was at stake. And so for me to press the pause button at that moment, I knew, would cost me politically. And the fact that I was able to pull back from the immediate pressures and think through in my own mind what was in America's interest, not only with respect to Syria but also with respect to our democracy, was as tough a decision as I've made—and I believe ultimately it was the right decision to make."
One of the few people who agreed with Obama, in a peculiar way, was Donald Trump, not then seen as a serious political force. "President Obama, do not attack Syria. There is no upside and tremendous downside. Save your "powder" for another (and more important) day!" he tweeted, one of a series of statements in which he argued that intervening in Syria was a bad idea and contrary to American interests.
But pride goes before a fall, and Obama's solution no longer seems so effective. Despite the agreement to remove chemical weapons, Assad has retained some parts of his arsenal and has reportedly used them repeatedly since 2013. Meanwhile, there's a renewed possibility of substantial American military involvement, as the number of U.S. troops in Syria has expanded in the last month.
President Trump now finds himself a situation similar to the dilemma Obama faced in August 2013. Like Obama, he has argued that the U.S. needs to take a more limited role in the Middle East. But with an apparent sarin-gas attack in Idlib, Syria, on Tuesday, Trump now has to deal with a renewed refrain: Something has to be done.
Trump's first impulse was to blame Obama:
These heinous actions by the Bashar al-Assad regime are a consequence of the past administration's weakness and irresolution. President Obama said in 2012 that he would establish a "red line" against the use of chemical weapons and then did nothing. The United States stands with our allies across the globe to condemn this intolerable attack.
That excuse fell short, for the reasons stated above: Whether or not Obama erred by declaring the red line, the record shows that Trump was imploring him not to attack.
On Wednesday, during a press conference with King Abdullah of Jordan, Trump sounded a different note.
"It's already happened that my attitude toward Syria and Assad has changed very much," he said. "And if you look back over the last few weeks, there were other attacks using gas. You're now talking about a whole different level."
During the presidential campaign, and again earlier this year, Trump has suggested that the solution to the Syrian civil war is a closer partnership between the U.S. and Russia. But in an interview with The New York Times on Wednesday, Trump was critical of Moscow. "Well, I think it's a very sad day for Russia because they're aligned, and in this case, all information points to Syria that they did this," he said.
Trump's newfound horror at slaughter in Syria, and his apparent realization that Russia is enabling Assad, are puzzling, since both go back years. What his awakening might mean for U.S. policy is unclear. Speaking alongside Abdullah, Trump said he wouldn't say what he was going to do lest he tip his hand. But this has been a frequent excuse for the president when he actually has no plan on hand.
His reticence is understandable, because there aren't any good options. Trump's first two ideas were the same as Obama's: Don't intervene militarily, and work with the Russians instead. But that didn't prevent chemical weapons attacks, or bring the civil war in Syria to an end. Now, the U.S might end up sending troops in anyway. Obama was proud of finding what looked like the least-worst choice in 2013. The events of 2017 are calling that choice into question, and presenting Trump with a similarly unappealing menu.